9/5/2023
Tumwater 3, Union 0 (25-10, 25-20, 25-13)
(Tumwater, WA) Change. Change is the name of the game for the Union Titans and right now their school along with their sister High Schools in the Evergreen School District are in the midst of much upheaval. Here is what the players in all sports are dealing with in the Evergreen school district as of this writing. A district wide teachers strike so all classes are cancelled until further notice. All 4 high schools have no official Athletic Director. The Evergreen school district eliminated those 4 positions last Spring due to budget cuts, despite passing their levy they still could not afford the AD position. Their duties have been re-assigned to current administrators and a single District Athletic Director.
This no doubt has led to confusion, issues of who to talk with about sports and who to get answers from. For Union's Volleyball team they also have a new Head Coach. Fortunately for the Titans it's former Union assistant vball coach Charlie Rosa. However, no matter how familiar a new coach is going to bring some new things to the table and it's just yet another change and a challenge for Coach Rosa and all his players.
There is change for the Tumwater Thunderbirds as well with a new AD in Jordan Magrath, a new Principal and new staff handling all the dealings the athletes have to work with to be eligible to play. However, Head coach Molly Cichosz is back and looking to get her squad back to the State tournament in Yakima after missing last season.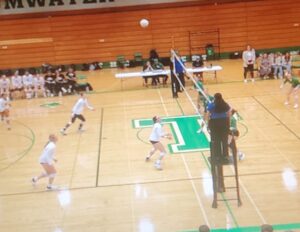 The T-Birds got off to a fast start against the Titans with a 25-10 win in the 1st set. There were 2 big runs for Tumwater when Lalie Betschart a sophomore, ran off 6 straight points with 3 aces to push their lead to 7-0. 2 servers later senior Brooklyn Hayes fired off 7 straight points that featured a terrific drop shot on the front line from senior Whitney Van Gorkum and a big kill shot from junior Natalie Montoya-Kilmer for a 17-3 lead and the T-Birds cruised to the easy 1st set win.
In the 2nd set, Union showed up. Early it looked like Tumwater would roll again with an 11-4 lead. But the Titans dug in and showed they have it in them and made a big run picking off a point her and a point there to get back into the set. The Titans had closed the gap to 3 points trailing 16-13 when Emily Fleetwood picked off 2 points for Union to pull within 16-15 with 2 aces. Tumwater got the next point to make it 17-15 but quickly went right back to Union now down just 1 17-16. Bella Brustad then fired an ace to tie the match and then scored the next point to give the Titans their 1st lead of the match 18-17.
Coach Cichosz then called a time-out and re-grouped her squad and the defense tightened and enough offense to go on an 8-2 run to finish the 2nd set with a 25-20 win. Betschart had a couple of service points as did McKayla Clary. But some strong work up front from the T-Bird front line of Tove Hugus, Paige Henderson and Emily Robello stymied the Titans from completing their full comeback.
In the 3rd set it was Tumwater's consistency that simply kept adding to their lead to pull away for the 25-13 win and the 3-0 victory. Robello ran off 3 at the service line for a 9-4 lead, Betschart had 3 to push their lead to 17-8 and Briana Zavala scored 2 in her 1st trip to the line and then finished off the match scoring the final 2. Robello came up with a brilliant kill shot for the winner.
Union struggled at times but battled hard with strong performances to grow from senior McKinley Ermshar, junior Jadea Jones, junior Kate West and sophomore Keira Limbrick.
Our "Education as a Career" MVP award went to Tumwater's Whitney Van Gorkom. Tumwater is 1-0 and will next host North Thurston on Thursday at 7pm. Union is 0-1 and will host Mountain View on Thursday also at 7p. Both matches are non-league.
ESN talks with MVP winner Whitney Van Gorkum
ESN talks with Tumwater Coach Molly Cicosz
Video Highlights
T-Birds reel off 3 straight aces to get started
Union battles back takes lead in the 2nd set
T-Birds puts away Titans with strong 3rd set
www.elisportsnetwork.com