9/17/2023
(Auburn, WA) Sunday was closing day of the 28th season of racing at Emerald Downs and it closed with plenty of sunshine, the Seahawks won in OT and 3 great Stakes races capped off by the historic Gottstein Futurity, the 83rd running of the jewel of the 2-year-old races.
Of course with the end of the season comes all the post season awards but we will be covering the awards in a later post. This is all about the racing on closing day.
There were 11 races with a total of 92 starters for an average of 8.4 starters per race a season high. A total of $2,720,587 was wagered for an average handle of  $247,326 per race both also season highs.
(Special Thanks to Wayne Nagai for the Stakes races photos)

83rd running of the Gottstein Futurity
There hasn't been more of a lethal combination for the last few years in the Gottstein as the colors of owner Dr George Todaro and trainer Tom Wenzel. These two teamed up winning the 2021 Gottstein with Midnight Mojo ridden by Eddie Martinez followed by Lloyds Logic in 2022 with Jose Zunino up. Shooting for 3 in a row the Todaro/Wenzel combination sent out Miner League with Carlos Montalvo aboard.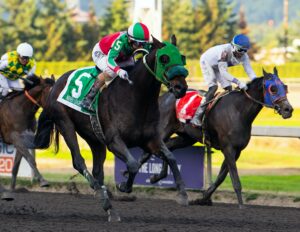 Miner League was barely the 2nd favorite at 3.2-1 just behind Rimrock Lake at  3-1. Rimrock Lake did not fire as he looked ready to make a move on the far turn but flattened out. Rider Jennifer Whitaker told ESN that the young "Lake" was taking some dirt in the face and got jostled around between horses and was not responding. Whitaker says this was the first time he felt that type of competition and definitely needs to do some maturing. She says she will be excited to see his growth as a 3-year-old next season.
Meantime, Miner League started well sitting 4tgh into the 1st turn staying within a couple of lengths of the early leader 29-1 Chancellors Boom. The front end was setting some quick fractions of 22.66 and 46.71. By the time they hit the 6-furlong mark of the race that pace caught up with the front runners and Montalvo had Miner League in perfect position and had the lead at the 3/4 mark in a time of 1:12.12.
Montalvo and Miner League got first run and tried to steal the race right then and drew off to a 2 length lead. As they hit the stretch Montalvo had Miner League all out and had just one adversary to be concerned with in 5-1 Bourbon Dancer with Silvio Amador. Amador had Dancer well back in 10th place early on and began picking off runners one by one as they entered the far turn.
At the 1/8th pole Amador and Bourbon Dancer were closing on the outside and were within 1 1/2-lengths. Montalvo could feel the pressure coming and asked Miner League for more and got it. Inside the 16th Miner League was hoping for that finish line as Bourbon Dancer surged and Miner League got to the wire first by a neck.
General Crook with Kenneth Deonauth at a massive 64-1 ran on well to be 3rd and 5-1 Whiskey Harbor with Kevin Radke capped off the superfecta. Miner League stopped the clock in 1:46.77.
Todaro and Wenzel also captured their 3rd straight Gottstein using 3 different riders. Miner League earned $33,550 for his win and is now 2-0-0 from 3 lifetime starts and now has $48,910 in his bank account.
Gottstein Stretch run
Gottstein Winners Circle Ceremonies
Gottstein Futurity Photo Gallery
WA Cup Filly and Mare Stakes
A field of 7 went 1 1/16 miles with invader Anthony's Cleopatra drawing the most interest from the bettors especially early. The 4-year-old would go off at 1-1 with Blazingbellablu the second choice at 6-5. Though that money came in very late as the defending Champion was as high as 7-2 with about 3 minutes to post.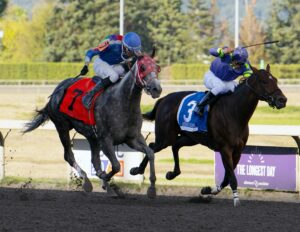 Breaking from the 7 hole Bella and Cruz ended up 4-wide on the 1st turn while the early speed of the favorite along with outsider Brilliant Bird Zippin Sevenz. The trio set fractions of 23.27, 46.21 and 1:10.34 through 6-furlongs. Meantime Blazingbellablu was loping along about 7 lengths back in 4th. Going around the far turn Anthony's Cleopatra began to pull away from everyone except Blazingbellablu. Cruz had Bella firing and in the clear on the outside. Cruz and Bella engaged Cleo and Alvarado and pulled ahead by about a neck when Cleo had something left and came back on the inside but the wire came before she could regain the lead and Blazingbellablu defended her title by a short neck.
25-1 Emerald Sea ran on for 3rd with Rocco Bowen up and finishing 4th was Zippin Sevenz and Kevin Radke. Bella ran the 1 1/16 in 1:43.60 and she races for Petra Lewin and Charles Essex and trained by Essex. She's a 5-year-old Washington bred mare by Grazen out of Bellomesa by Sky Mesa and was bred by Essex and Lewin.
Blazingbellablu is now 8-7-3 from 22 lifetime starts and picked up $27,500 for the win to boost her career earnings to $293,061.
WA Cup Fillies and Mares Stretch Run
WA Cup Fillies and Mares Winners Circle Ceremonies
WA Cup Fillies and Mares Photo Gallery
79th Running of the Muckleshoot Tribal Classic
Local bettors don't get very excited when a 1-9 shot wins but sometimes there is a reason for those overwhelming odds and maybe you take a shot a longshot coming in but there weren't many sad faces watching local star Slew's Tiz Whiz come rolling down the stretch gobbling up chunks of real estate in the Muckleshoot Tribal Classic to win going away by 3 lengths.
Regular rider Jose Zunino timed the 1 1/16-mile run perfectly allowing the pace to be set 27-1 Its Kraken Time with Kevin Radke and 7-1 2nd choice Gold Crusher with Rocco Bowen. Those two were heads apart at the 6-furlong mark but that ominous feeling had to be settling in their guts as Slew was given the go-ahead from Zunino who eased him to the outside and released the emergency brake and by the 1/8th pole you could have started to walk to the ticket window as the local favorite did not disappoint his backers and fans.
Slew's Tiz Whiz ran the 1 1/6th in 1:42.90, running 2nd was Gold Crusher, It's Kraken Time held 3rd and Naval Escort closed from last to be 4th.
Slew's Tiz Whiz is owned by Slew's Crew Racing and trained by Tom Wenzel. The 5-year-old gelding is a Washington bred by Slew'sTiznow out of Ros's Girl by Roseberg and was bred by Karl Krieg. Slew's Tiz Whiz is now 8-3-3 from 19 lifetime starts and earned $27,500 and pushes his career earnings to $268,357.
Stretch run of the Muckleshoot Tribal Classic
Muckleshoot Tribal Classic Winners Circle Ceremonies
Muckleshoot Tribal Classic Photo Gallery
The other 8 races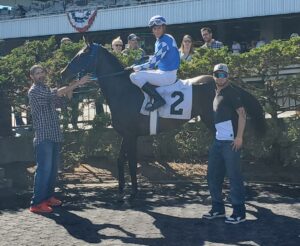 The rest of closing day began with an Alex Cruz Daily Double. Cruz was aboard Goin' Coastal in the 1st race going a mile against 5 others. The 4-1 shot battled with odds-on choice Malice Toward None with Frank Alvarado. Cruz and Goin' Coastal pulled away in the stretch to win by nearly 3 lengths running the 1 lap in 1:40.65. Goin' Coastal is owned by Ron and Nina Hagen and trained by Steve Bullock. Goin' Coastal is also a Washington bred by Coast Guard out of Go Jacky Go by Matty G and bred by the Hagen's.
Cruz would grab the 2nd race as well with 1-2 favorite Pedal to the Metal with a front running win at the 6-furlong distance in a time of 1:11.07. 5-1 First Endeavor was closest with Rocco Bowen about 2 lengths behind. Pedal to the Metal is owned by Carl and Debbie Seymore and trained by Preston Boyd. Pedal to the Metal is a Washington bred by Harbor the Gold out of Slews Fancy by Slewdledo and bred by Carl Seymore. The Alex Cruz daily double paid $10.10
In the 3rd Tribal Impact took the victory with Jose Zunino up at a healthy 11-1. It was Tribal Impact's 4th win of the season coming from just off the pace wearing down the front runner 6-1 New Every Morning and Frank Alvarado to win by a neck running the 6-furlongs in 1:10.30. Tribal Impact is owned and trained by Jesus Garcia and paid $25.80, $11 and $5.80 or $42.60 for the $2 combo. Then $1 exacta of 11-1 to 6-1 returned a hearty $120.60.
Shesaheatwave won the 4th with Rocco Bowen aboard as the 5-2 favorite by nearly 4 lengths running the 1-mile in 1:38.98.  La Popis ran on for 2nd with Carlos Montalvo, Warrens Memorable was 3rd with Alex Cruz and 65-1 Laker Jet ran 4th. Shesaheatwave is owned and trained by Michael Bullene. The 65-1 4th place finisher triggered a $145.93 10-cent superfecta pay-off.
Alex Cruz got his 3rd win of the day on his wife's horse Rousing Rubble with a front running win at 5 1/2-furlongs. The 9-5 2nd choice stopped the clock in 1:03.59. Favorite Crooked Finger Ray and Rocco Bowen ran 2nd with Mojave and Kevin Orozco running 3rd. Jaymie Pearman Cruz owned and trained Rubble but lost him to a claim by Emil Abrahamson for new trainer Hilario Perez. Owner-trainer Marvin Abrahamson took the 2nd place Crooked Finger Ray, both horses were claimed for $2,500.
In the 6th race, Kevin Orozco was on the odds on choice Big Fashion and did not disappoint sitting just off the pace until the stretch and rolled to a 3+ length win running the 6-furlongs 1:10.27. Tennessee Moon with Neptali Ortiz closed well but was wide the whole way settled for 2nd while Shelby Gold and Isaias Enriquez took the show. Big Fashion was owned by Ron Schmid and trained by Frank Lucarelli. Lucarelli also trains Shelby Gold. Big Fashion was claimed for $8,000 by Harris Farms Inc for trainer Debbie Peery.
ESN talks with jockey Kevin Orozco
The 10th race featured a solid field of 9 of the better claimers at the track and old reliable showed up again Muncey with Jennifer Whitaker came from far back and the track played extremely fair on closing day. Muncey at 25-1 lit up the tote board with a $53.20 win pay. 2-1 Miss the Boat with Frank Alvarado was 2nd and 5-1 Jin Tong ran 3rd with Jose Zunino. The $2 combo ticket on Muncey gave backers $75 even. The $1 exacta paid $127, the 50-cent trifecta $237.90 and the $1 superfecta $1,454.30. Muncey is owned by Rising Star VII and trained by Howard Belvoir and ran the 1-mile in 1:37.31.
ESN talks with jockey Jennifer Whitaker
The 11th and final race of the 2023 season went to the 2-1 favorite Western Dream with Rocco Bowen running the 1-mile in 1:39.40. Running 2nd was 9-1 Kerralia with Kevin Radke, 3rd went to 9-1 Red Panty Night with McKenna Anderson, 4th place was Cocoa Cents at 5-1 and 5th place to complete the Super Hi 5 was 5-1 Mischief Mama. Western Dream is owned by John Parker and trained by Candi Cryderman.
The final pay-outs of the year included $122.90 50-cent trifecta and 10-cent super $119.38. The horizontal pays were the $1 daily double $106.50, the 50-cent pick 3 $355.15, the 50-cent pick 4 $243.05, 50-cent Pick 5 $557.90 and the 20-cent Jackpot Pick 6 which was a must pay returned $784.40.
Closing Day Photo Gallery
www.elisportsnetwork.com