The winners of each week will be posted here and we'll add a little description as to how they won and their winning picks.
Week 3 Down to the Wire, Katie King wins it on the final game of the week! The Professor disappoints again.
Week 3 was very competitive with many pickers agreeing on a lot but it was those who went their own way that got into position to win. It came down to Katie King and Cliff Nichols. Both had 10 correct going into the Monday night double header. Both had picked Philadelphia who won easy so both had 11 with the LA Rams at Cincinnati. Katie went with the Bengals and Cliff took the upset with the Rams. The Bengals won 19-16 giving the weeks win to Katie.
Had they tied Cliff would have won the tie breaker guessing a total of 469 points would be scored in all 15 games with Katie being careful not to go over with a guess of 237. The total was 664. Katie's picks of Cleveland, the Chargers, Pittsburgh and HOUSTON is what separated her from the core of the pickers. Cliff was the only one to have Indy over Baltimore and also had Cleveland and Pittsburgh to make it close but the Rams fell short. 
Professor DW was disappointing with a sad 8 correct but was nearly on the money with the total score guess of 660 missing by 4 points, too bad he can't pick winners like he can guess total points! 

Katie wins the 12 $2 bills and gets the bonus prize of an Eli Sports Network T-Shirt or Polo Shirt plus she is now qualified for the Prof DW Post Season Tournament. Be sure to get signed up for next week's the new entry form should be up by Tuesday afternoon.
Week 2 Brian Permann wins with 10 correct and hands Prof DW his 1st loss to win bonus prize!
Week 2 so a big uptick in contestants and Brian Permann squeaked out a win hitting 10 of 15. Permann went against the grain on several picks that made the difference. Permann began with Atlanta, then had Indianapolis got bailed out with the Arizona collapse and finished strong by sweeping Monday night with New Orleans and Pittsburgh.
Permann wins the 12 $2 bills and either a T-Shirt or Polo Shirt and joins Dave Pavletich in the exclusive post-season tournament. To get in the post season tournament you must be a weekly winner. You can only qualify for 1 post season entry but you may win multiple weekly contests.
Week 1 Dave Pavletich of Centralia 6 of 15 wins by tie-breaker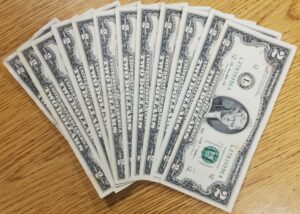 Believe it or not it came down to Monday Night Football for our 1st winner to be determined. We had just 4 entries but it ended in an unbelievable 4-way tie! The winner was determined by the tie-breaker point total guess. The 1st entrants were not all that successful in selecting as it was a 4-way tie with just 6 correct. Going into Monday night Pavletich had just 5 correct while the others already had 6 but Pavletich was the only one to select the NY Jets to win Monday night football to tie him with the other 3. 
So it came down to tie-breakers and Pavletich predicted a total of 432 points would be scored by all 30 teams over Sunday and Monday. He was the closest without going over as a total of 607 points were scored. The other predictions were 240, 310 and 690. Although 690 was closer we have the "Price is Right" rule, you can't go over so the win goes to Pavletich. 
However, none of our contestants were close to Professor DW's expert picks hitting 10 of 15 or 67% and his tie-breaker prediction was closest of all but was also over at 667. So no Bonus prize in week 1 but congrats to Dave Pavletich for being the inaugural winner of Professor DW's Football Challenge!
www.elisportsnetwork.com