9/28/2023
There 3 SPSL games on Thursday night and the showdown in the Valley was a thriller going to OT were Graham-Kapowsin and Sumner. Bethel continues to demand respect with a crazy come from behind win over Olympia and Emerald Ridge got back on-track offensively at home against South Kitsap. Here is our coverage.
Graham-Kapowsin 38, Sumner 31
(Sumner, WA) Graham-Kapowsin came in with a 4-0 record to face the 2-2 Sumner Spartans. Sumner was one of the teams many thought might be 4-0 at this point but missed opportunities and injuries have given the Spartans some extra challenges this season. But the Eagles did not expect an easy time at Sunset Chev Stadium Thursday night. Sumner was missing 2 big pieces coming into the game starting with RB and LB Matthew Spurbeck who is out with a knee injury and Jaidon Ortiz a starting reciever and RB and corner on defense and their return guy was in the concussion protocol and not available.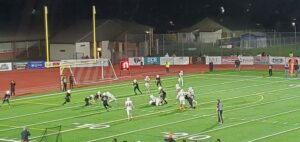 G-K got off to a fast start scoring on their first two possessions. Taking the opening drive from their own 30 and diligently working down the field in 12 plays with 10 on the ground and 2 passing plays punching it in from the 4 yard line with starting RB Alele Fa'Apito. Aidan Skolrud added the PAT and it was 7-0 with 7:23 to go in the 1st quarter.

After holding Sumner on downs they took-over on the Spartan 42 and took 3 plays to jump out to a 14-0 lead when QB Daveon Superales hit Malachi Durant on a 35-yard TD strike and it looked like the Eagles were going to cruise over a beat-up Sumner squad. 
But the Sparts had other ideas and began to put it together offensively. On their 2nd drive they began on their own 27 and went on their own lengthy drive of 11 plays with 7 on the ground with Steele Isaacs gobbling up chunks of yardage and finishing the drive with a 10-yard TD run. Austin Ferencz added the PAT and it was now 14-7.
Sumner's defense came up with a big stop and got the ball back on downs on their 34 yard line. Another impressive drive of 7 plays capped off with Isaacs plowing in from the 1 yard line to even the game at 14-14 and that's how it would go into halftime.
Sumner would get the ball to begin the 3rd quarter but a high pass ended up in an interception and G-K took control on their own 34. The Eagles drove it down inside the 20 and scored but was called back on a holding call. The Eagles would get into position to attempt a 29-yard field goal and Skolrud did not miss giving G-K the lead back 17-14. 
Sumner came storming back and would take their 1st lead in the game when Tristan Rebar hit Kainoa Grounds in the flat about 10 yards downfield and he broke a couple of tackles racing 56 yards in total for the score and the Spartans were up 21-17. 
The teams began answering each other as G-K didn't back down and came right back with a 10 play drive with Fa'Apito, Nikoh Rivers and Superales running the ball and the Eagles passing attack relegated to a short passing attack of a flip pass forward to Jabez Woods who would hit the edge and made big gains all night. Woods finished with 10 catches for 97 yards. Superales would finish off this particular drive with a nifty 6 yard scramble and the Eagles went back up 24-21.
Sumner responded taking advantage of an ill-advised gamble by G-K who kicked an on-side kick trying to catch the Spartans off guard but Kaden Mallisis was not fooled gathering in the loose ball on the Sumner 47-yard line. Sumner would take 9 plays to drive inside the 5. Rebar then tossed a pass to TE Carter Cocke` for a 3 yard TD and went back up 28-24. Cocke`  had a big night for Sumner grabbing 6 passes for 94 yards and the TD.
G-K came roaring back and with 7:16 to go in the game went on another methodical 11-play drive with a huge 4th down conversion to keep the drive alove from Superales to Khris Norris down to the 16-yard line. Faq'Apito would crash in from the 2 and G-K led 31-28 but lft 2:08 on the clock.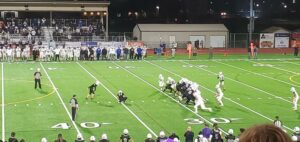 Sumner looking for the win rolled down the field and got inside the 20. But a tackle for loss and a penalty drove Sumner back to the 28 yard line and facing a 4th and long with about 45-seconds to play in the game. Sumner Coach Keith Ross decided to let his kicker Ferencz have a shot at tying it with a 45-yard field attempt. He lined it up and unloaded a perfect kick which may have been good from 50 yards and tied the game at 31 forcing overtime.
In the 1st OT G-K lost the coin toss and Sumner had them go first. The OT starts on the 25 yard-line and each team gets a chance to score from 25-yards out. You can get 1st downs but you go until either you score, turn it over on downs and turn the ball over with a fumble or interception. 
The Eagles picked up a 1st down and got down to a 1st and goal from the 5 and Superales scrambled in for the score, Skolrud added the PAT and G-K went up 38-31.
It was now up to Sumner to answer and they got off to a good start with an 8-yard run from Isaacs to the 17. On 2nd and 2 the Spartans decided to play-action but did not fool the Eagles who sacked Rebar for a huge loss and they could not get a 1st down to extend the drive or score and the Eagles defense held for the thrilling victory.
G-K Coach Jeff Logan says he was exceptionally proud of especially his offense as they practiced all week thinking they would see one defense from Sumner only to see something completely different. Logan says they had to start from scratch on the fly and credits Superales with his leadership in making it happen.
Graham-Kapowsin improved to 5-0 on the year while Sumner dropped to 2-3. The Spartans will try to bounce back next week on Thursday at Rogers while G-K will show down with unbeaten Curtis (4-0) at the Vikings. Curtis is set to face Bellarmine Prep Friday night to try and get to 5-0.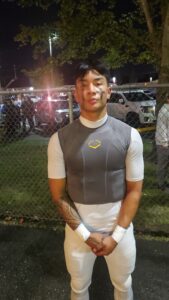 There were many up for our MVP and many would have won a play of the game like the big 4th down catch of Khris Norris or the 45-yard field goal tying kick by Austin Ferencz but Daveon Superales finished the game going 18-27 throwing the ball for 219 yards and a TD while running for 131 yards and 2 scores. 
Fa'Apito ran the ball 17 times for 55 yards and 2 TD's, Rivers also had 55 yards on 8 carries. Leading the receivers was Woods with the 10 catches for 97 yards. Durant hauled in 4 for 66 and the lone receiving TD. The Eagles put up a total of 484 total yards.
Sumner countered with 366 total yards with Steele Isaacs leading the way rushing for 157 yards on 28 carries and 2 scores. Rebar was 15 of 21 for 217 yards and 2 TD's. Carter Cocke` led the Sparts with 6 catches for 94 yards and a TD, Kaonoa Grounds had 4 catches for 88 yards and a TD.
Both kickers were exceptional on this night with G-K's Aidan Skolrud going 1-1 in field goal attempts hitting from 29-yards and going 5-5 in extra points. Sumner's Austin Ferencz was 4-4 in PAT's and hit that monster game tying 45-yard field goal. Ferencz also kicked 3 kick-offs into the endzone giving the ball to G-K on their own 20.
To watch the full game replay click on the following link to watch it on the NFHS Network (a subscription is required.) Graham-Kapowsin at Sumner
ESN Post Game Show
ESN talks with MVP Daveon Superales
ESN talks with G-K coach Jeff Logan
Video Highlights
G-K goes up 14-0
Sumner gets on the board
Spartans take the lead
Eagles convert huge 4th down play
Spartans Ferencz hits tying field goal from 45 yards
G-K puts in the winning TD
Bethel 32, Olympia 30
The Bethel Bison are now 3-2 after a hard fought game against an improving Olympia Bears team. The Bears came into the season dinged up and without their starting QB who is gone for the season with a knee injury. The Bears have scrambled after starting 0-2 playing undefeated G-K tight losing 27-13 then getting their 1st win last week against South Kitsap.
Bethel's coach Travis Domser is the 4th head coach for the Bison in 4 years and he and his staff are putting together a solid team that is going to have to be dealt with by all teams. Domser pulled off what looked like the winning call in this game when Bethel took a 29-20 lead over Olympia when they converted a surprise on-side kick early in the 4th quarter.
However, Olympia's defense was ready and scooped up a fumble returning it 55 yards for the touchdown to pull within 29-27. The Bears held and got the ball back driving it down with less than 2 minutes to play and booted home the go-ahead field goal and led 30-29.
There was still 1:35 on the clock and Bethel refused to give in and battled right back driving down inside the 30 with about 20-seconds to play. A critical P-I call and with little time left to play Bethel lined up to kick a game winning field goal and did just that to win 32-30 in an exciting SPSL slugfest. 
Coach Domser gave us his thoughts on this huge win for the Bison. "Great physical game both teams. We both should have won and we both should have lost. One of those types of games. Both teams flew around all night. Was a very cool game to be a part of."
Logan says "Winning a game like that is big for us especially only being months into the 4th coach in 4 years here at Bethel. We have great kids and school. Zaydrius Rainey Sale, Elijah Pula, Roy Lockey, and Makai Washington never come off the field and are playing at high level. Our QB really showed poise late in the game."
Logan was simply proud of his team and of their opponents saying both teams left it all out on the field, "We are really trying to build a culture of being thankful, cleaning up after ourselves, being consistent, and being disciplined.  Both teams' players deserve a ton of credit for how hard they played and how they never gave up."
Bethel again is now 3-2 and sitting in 4th place. The Bison will next host the tough Emerald Ridge squad next Friday. Olympia no doubt heartbroken dropping this one but Coach Nick Mullen has his team giving all they have as they drop to 1-4 and will try to rebound at home next week against Puyallup.
Emerald Ridge 55, South Kitsap 0
The Jaguars offense exploded Thursday night for 8 touchdowns and more than 450 yards. QB Jake Schakel threw 6 TD passes with Tony Harste catching half of them. The Jags bounced back after suffering their only loss of the season the week before at Curtis.
Emerald Ridge now 4-1 will travel to face the 3-2 Bethel Bison next week while the 1-4 South Kitsap Wolves will try to rebound at home against Bellarmine Prep.
Emerald Ridge wraps up their scoring frenzy Thursday night
www.elisportsnetwork.com