10/17/2023
Sumner 3, Puyallup 0
(Sumner, WA) Sumner came into the night off a 6-0 ship righting game against South Kitsap. Puyallup came into Sunset Chev Stadium off a 0-0 tie with Graham-Kapowsin. The Vikings also tied Sumner 1-1 in their earlier meeting this year.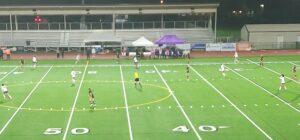 Sumner came out with an offensive flurry led early by the trio of Julia Reitan ,Carissa Carl and Caroline Calkins. The Spartans would spend a majority of the half on Puyallup's side of the field earning 3 corners in the half only to be turned away time and again but the staunch defense of the Vikings. Rose Spagnolo and Kamryn Clark locked down the center back spots while junior goal keeper Olivia Weidner made several big saves to keep the clean sheet in the first half. Check out the highlight below to see her big save in the 31st.
The Spartans came out of the half with the same enthusiasm and Weidner continued to make big saves. In the 47th minute the Vikings keeper was able to get a hand on a cross and just forcing it wide of goal surrendering the 4th corner of the game. The Spartans Sydney Garonzik took the corner it bounce into the box and Ava Morton redirected it into the back of the net for the 1-0 lead. 

Sumner struck again in the 61st off a free kick taken by Khloe Mahaffey went off the post and bounced around the 6 yard box and Morgan Sandmire put it home for the 2-0 lead. Puyallup's best chance to score came in the 64th minute after a foul Ella Bach (who had an outstanding game) took the free kick Sumner's 2nd half goalie freshman Devon Bankers made the save and another one immediately after as Melanie Torres got on the end of the rebound only to be denied. Khloe Mahaffey would finish the scoring in stoppage time with a beautiful run along the goal line to a shot off the back post and in for the 3-0 win for Sumner.
Sumner is now 8-1-1 in league play with games at Bellarmine and at Emerald Ridge left on their schedule. Puyallup is now 5-2-3 in league play with home games against South Kitsap and a tough final game against Curtis. 
Our Education as a Career MVP went to Sumner's Ava Morton for her overall play and goal in the 47th minute.
To watch a replay of the match on the NFHS (Subscription) Network click on this link: Puyallup at Sumner Soccer 10/17/2023
Aldersons Awards West Post Game Show
Puyallup's Olivia Weidner Big Save
Sumner Scores the First Goal on a Corner
Khloe Mahaffey with the finish for Sumner
elisportsnetwork.com