(10/31/2023)
The Greater St Helens League continued their dominance in the District 4 2A girls soccer tournament with a clean sweep over all the EVCO 2A teams including the #4 seed Hockinson Hawks stunning top north seed Tumwater 1-0. Below are the scores from last night and a re-cap of our broadcast at Tumwater with video highlights and our full post-game show for more on the game.
Tuesday Night Games
Ridgefield 2, Aberdeen 0 (The Columbian Round-Up)
RA Long 6, WF West 0  (Game Story from The Daily News TDN)  (The Columbian Round-Up)
Columbia River 7, Woodland 0 (Game Story from The Daily News TDN)  (The Columbian Round-Up)
Hockinson 1, Tumwater 0
(The Columbian Round-Up)
(Tumwater, WA) The 4-seed Hockinson Hawks came to town to face the undefeated Tumwater T-Birds and had given up exactly 1 goal all season. Hockinson was not intimidated and came out firing against the heavy favorites. It didn't long for the Hawks to break through the stingy T-Bird defense when Abigail Dombrow launched a shot from the right side 30-yards out with a perfect bending goal into the upper left for a 1-0 lead just 11 minutes into the match.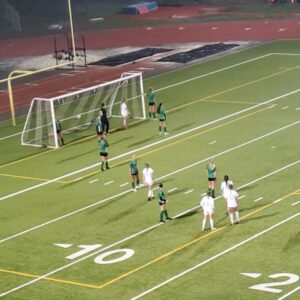 That score held up with a brilliant performance in goal from the Hawks freshman Audrey Armstrong who finished the night with 13 saves in the game including a series where the T-Birds best chance to score with a hard shot off the crossbar and then moments later Armstrong comes up with a terrific kick save to deny Tumwater. Armstrong was named our Thorbeckes MVP. To watch the full replay and broadcast of this game on the NFHS (subscription) Network click on the following link: Hockinson at Tumwater
2nd Round Brackets
Thursday, Nov 2
Semi-Finals Winners to State
Hockinson at Ridgefield 6pm Kick-Off
RA Long at Columbia River 6pm Kick-Off
Consolation Bracket Loser Out
Aberdeen at Tumwater 6pm Kick-Off
Woodland at WF West 6pm Kick-Off
District Championship and 2 winner to state/loser out matches will be contested on Saturday.
Awards West Post Game Show
Abigail Dombrow Scores in the 11th for Hockinson
Audrey Armstrong with a Big Save for the Hawks
Tumwater Defense Makes Big Play on Corner Kick
elisportsnetwork.com