9/9/17
Woodland 2, Kalama 0
(Woodland, WA) All the statistics pointed Woodland's way but visiting Kalama had enough grit to hang in with a team two classifications higher before falling, 2-0, in girls soccer Saturday afternoon.
The 2A Beavers outshot the Chinooks, 25-3, and had more corner kicks, 7-1, but the young Kalama team, which returns only two seniors from last season's 2B state runners-up, hung around.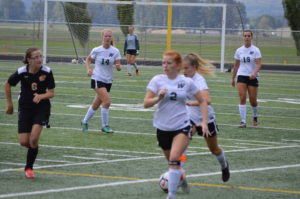 At the outset it appeared Woodland might run away with the match as defensive miscommunication by Kalama allowed Hannah Landrigan to push a slow roller into the next only five minutes in.
But with one of those two Kalama seniors, Emily Mickelson, leading the way defensively, the Chinooks kept Woodland's shooters just off balance enough to keep the deficit at a single goal until midway through the second half.
In the 62nd minute, Landrigan dropped the ball back to Mikayla Upson, who blasted home a 20-yard shot to seal it.
Landrigan was named  Pacific Sports Spa Player of the game for Woodland while Mickelson earned the honor for Kalama.  Upson's goal was selected the ProActive Physical Therapy Play of the Game.
Photo Gallery