Day 2
11/11/17
State Championship
Burlington-Edison 3, Lynden 1 (25-12, 27-25, 21-25, 25-19)
Burlington-Edison never carries a big volleyball roster, just eight girls dressed for this weekend's 2A state championships at St. Martin's University in Lacey.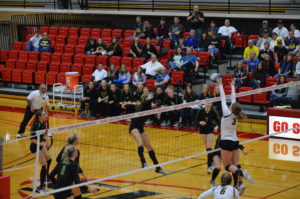 So when half the Tigers' duo of big hitters, senior Afton Field, fell to the court crying midway through the second set of their title match with Lynden, fans behind the B-E bunch mixed worried chatter among themselves with shouts for the remaining seven to keep battling.
They shouldn't have worried.  The San Francisco Giants were famous for winning World Series on three consecutive even numbered years.  The Tigers, ranked second in the Washington State Coaches Association poll before the tournament, beat fellow Northwest Conference member Lynden, 3-1.  B-E has now won the 2A championship in four consecutive odd-numbered years:  2011, 2013, 2015 and 2017.
The game scores were 25-12, 27-25, 21-25, 25-19.  It was the Tigers (20-1) third win of the season over Lynden (16-6).
Field went up for a kill at mid net, but landed on the ankle of setter Allyson Ray when she came down.  B-E led 15-13 when she was helped off the court.
A few minutes of treatment later, she came back to a roar from the B-E fans and quickly proved, despite hints of pain showing on her face when she jumped, her comeback wasn't meant to simply be inspirational. Lynden had just scored to cut the margin to 19-18 when Field subbed in.
The Lions tied it at 20-20 on a block by Faith Baar.  A lift call against Lynden gave the serve right back to B-E and after two kills by Bronte Lacey, the stage  was set for Field to make her presence felt.  The set went into overtime but two kills by Field, one up the middle and one down the line, were key to the Tigers coming out of it with a 2-0 lead.
"It hurt a lot," said Field of playing on an a rolled ankle.  "I needed to play for my teammates.  We worked hard every single game, every single practice to win this championship."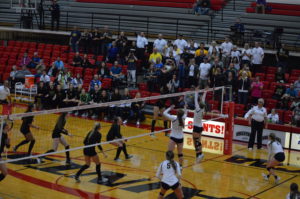 Lynden rallied to win the third set behind the hitting of Isabel Jacob and Abi Broussard along with a flurry of aces down the stretch from Jacob, who had three, including the final two points of the set, Savonne Sterk and lefthanded Kyla Bonsen, who gave B-E trouble all night from the service line.
But Tiger coach Tawnya Brewer wasn't worried. "This team is so confident.  They never get overwhelmed," she said.  "They've been that way all season.  They're able to stay within themselves and come back."
With sophomore Katie King, B-E's other big middle hitter, serving, the Tigers took a 1-0 lead in the fourth set.  The Lions quickly tied it 1-1, but a kill by Field started a six-point run with Lacey serving and B-E never trailed again.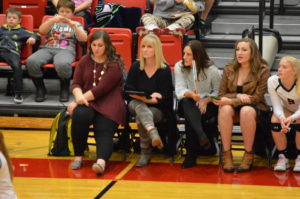 "Having that edge in state experience helps us," Brewer said.  "Our girls know to take it one point and one set at a time."
Well-wishers joked with Brewer afterward about her team's every-other-year championships, but she explained those results aren't random.  When the Tigers won the 2015 crown, blowing past Ellensburg 3-1 in the final after surviving an epic five-set match with 2014 champ Tumwater in the quarterfinals, they lost most of their offense from a seven-player varsity with the graduation of outside hitter Alana Handy and middle blocker Carly Watson. Ray and Field were key sophomores to build around.
"We said after the last championship we were starting out on a two-year plan to win the next one," Brewer said.  "Sometimes plans work out."
Burlington-Edison reached the championship match by knocking off previously  top-ranked White River in a four-set semi-final, 25-16, 25-20, 22-25, 25-18. King led the Tigers in kills with 25 and contributed five blocks.  Field was right behind with 24 kills, 3 blocks and 21 digs.  Ray assisted 53 times and had 16 digs.  Hali Rainaud-Hines contributed 19 digs.
Trophy Round
3rd-4th Place Ridgefield 3, White River 1 (21-25, 30-28, 25-23, 25-20)
Ridgefield's comparatively rapid defeat in the semis may have helped fuel its 3-1 victory over a determined White River in the third/fourth place match by 21-25, 30-28,  25-23, 25-20 scores.
With the consolation match beginning less than an hour after the conclusion of the semi-finals, the District 4 champion Spudders (17-4) benefitted from the extra minutes of rest as well as a determined performance by senior middle blocker Anika Nicoll who pounded down key kill after key kill throughout.
Nicoll's sophomore sister Delaney Nicoll and senior Haley Paul also helped fuel Ridgefield's offense.  Libero Kenadi McCaskill anchored the back row.
"I can't complain," said White River coach Lina Randall after her team lost the match after winning the first set. "We've had a great season.  A lot of people would be happy with back-to-back fourth place finishes at state.  We had higher expectations, but it's OK, our girls loved each other through it."
The semi-final loss stung the Hornets who finish the season 19-3 and ranked ninth in the final coaches' poll. "That was tough," said Randall.  "We really wanted to go to that final championship match." Just as tough as the defeat were the hurry-up conditions it created. "We were feeding our girls cookies on the bench trying to get them energized.  It's not supposed to be that way," Randall said."
The Hornets showed the strain, falling behind 8-1 in the first set before rallying to win it. "We told them 'hey you've got nothing to lose.'  Our motto all year has been 'be fearless,'" Randall said.
The Hornets responded with the first set win and took a 23-20 lead in the second on an ace by Morgan Budinich.  But with Anika Nicoll pounded down two kills and a block, the Spudders shot past to take the lead and ultimately send the set into overtime before winning the longest game of the tournament.
Ridgefield led the entirety of the third set, but White River made it close at the end on kills by Hannah Nelson and Baldyga.  In the fourth, White River led by as many as six points early, causing the Spudders to use both their timeouts by the time the score was 11-5, but after three ties, Ridgefield pulled away.
5th-6th Place Fife 3, Sehome 2 (25-15, 26-28, 25-27, 25-18, 15-9)
Sehome was not expected to get out of day 1 with their 5-9 regular season record but the Mariners certainly showed how a team can come together and get better as the season progresses. They found themselves in the 5th place match and guaranteed to take home a trophy. Sehome hasn't been to State since 2014 but the Mariners do have quite a bit of success in their history including a 2nd place finish.
Fife not only has a history of State Volleyball but it's more of an expectation. Prior to 2000 Fife owns 3 State Titles since 2000 they have appeared in 15 of 17 State Tourney's with a best finish of 2nd. So the Trojans have the pedigree and it showed in a 5 set battle for 5th place.
After losing to OT sets and falling behind 2-1 the Trojans led by Maddison Licari, Annika Linden, Elsa Linden with Cassandrah Polo and Yasmyne Valladares would not give in and came back with convincing wins in the 4th and 5th set for the 5th place trophy.
Sehome certainly can not hang their heads with gutty performances and a never give up attitude, Head Coach Kristy White has to be proud of her teams performance. Some of the Mariners who had great performances were Cameron Hodges, Dana Ruggato, Aspen Garrison, Amaya Roberts and Lily Gould.
7th-8th Place Liberty (Issa) 3, East Valley (Spo) 1 (25-16, 25-23, 16-25, 25-19)
Both teams dropped their openers and then clawed their way back into the trophy round. Liberty jumped on the Knights quickly in the 1st set and pulled away for the win. It was the 2nd set that was key as the Patriots held off the Knights to grab a big 2-0 lead with a tight 25-23 win. Presley Sweeney, Hannah Wagenblast and Alena Rozewski were key in the Patriots success.
East Valley did battle back and got the 3rd set win never giving up but ran out of gas in the 4th set as Liberty surged late and they could not resist the winner. The Patriots 7th place trophy is the best finish in school history. East Valley settled for 8th their 2nd ever trophy at the State Volleyball Tournament.
Semi-Finals
Lynden 3, Ridgefield 0 (25-20, 25-17, 25- 21)
Lynden Lions new Head Coach Chris Elsner has set the bar pretty high after her Lions rolled into the State Championship match sweeping a very good Ridgefield team 3-0. The Lions overcame a quick start from the Spudders in the 1st two sets and then controlled the 3rd set from the beginning keeping Ridgefield at bay and completing the sweep as the Lions get to the State Championship for only the 2nd time in their history, the 1st time in 1999.
Lynden's Abi Broussard, Isabelle Jacob and Savonne Sterk continued to have impressive tournaments with all-around play from the net with powerful kill shot to setting to serving including a heck of a service run by Sterk.
Ridgefield has had great success in recent years and this year was no different with leadership from Seniors Anika Nicholl, Haley Paul and Kenadi McCaskill but simply ran into a buzzsaw in the Lynden Lions. The Spudders would fall into the consolation bracket and play White River for 3rd place.
Lynden will get their 3rd chance at Burlington-Edison and they believe the result will be different from the 2 times they already faced the Tigers losing both matches 3-0. Elsner says this team has been growing and getting better and better each week and are ready for the challenge against the Tigers.
Burlington-Edison 3, White River 1 (25-16, 25-20, 22-25, 25-18)
The last 3 odd numbered years the B-E Tigers were in this same position and in all 3 years won and advanced to the State Championship and in fact won the Title in each of those other years. Would history repeat itself again? If so the Tigers would have to win this one against one of the best teams in the state the White River Hornets.
This was a match-up many were excited to see but the Tigers quickly threw cold water on it with their usual performance. Take an early and build on it and before you know it you are down 5-6 points and trying to close that gap on the Tigers is a tall order. In the 1st two sets the Hornets could not overcome fast starts from the Tigers and they jumped out to a 2-0 lead. The usual suspects leading the Tigers including both Seniors Afton Field and Allyson Ray with Katie King and Bronte Lacey.
However, the dreaded 3rd set did find a glimmer of hope for Hornets fans as Keegan Strobeck, Hannah Nelson and Megan Vandergrift's efforts kept their finals hopes alive with a 3-point win. However, the loss simply seemed to re-focus the Tigers and they controlled the 4th set from start to finish and claim their spot in the State Championship match against familiar foes Lynden. White River would have to turn around and play Ridgefield for 3rd.
Consolation Bracket (10:30am)
Sehome 3, Pullman 2 (18-25, 25-17, 25-21, 16-25, 15-7)
The clock did not strike midnight on this year's Cinderella story the Sehome Mariners who finished the regular season with a 5-9 record got hot at Districts to qualify for State and went home with a trophy. It looked like maybe the fairytale was over after dropping the 1st set to a very talented Pullman team but like all-tournament long you could never count out the Mariners and they came back with back to back wins.
Pullman answered with their backs against the wall to force the 1st 5-set match of the tournament. Berklee Child, Kelsey Nestegard and Haylie Utzman were key in the Greyhound comeback. In that final 15-point set that would send 1 team to the trophy round and 1 home it was Sehome jumping out to a quick start and never looking back cruising to the 15-7 win. The surprising Mariners continued to get strong play from Lily Gould, Dana Ruggato and Amaya Roberts. Sehome will play Fife at 2:30 for 5th place.
Fife 3, Ellensburg 1 (23-25, 25-16, 25-22, 25-12)
After getting knocked into the consolation bracket by powerhouse Burlington-Edison but also beating the Tigers in one set giving them the confidence they can compete with any team in this tournament. The Bulldogs were also stinging a bit from a quarterfinal loss to White River in straight sets and were looking for redemption.
Ellensburg appeared on their way to that redemption with a hard fought 25-23 opening set win over the Trojans. Tia Andaya, Shauny Fisk and Payton Lyski led the Dogs and were hoping to extend their season.
Fife had other ideas and reeled off 3 straight wins including a dominate 25-12 win in the 4th sending Ellensburg home while moving on to face Cinderella Sehome for 5th place. For Fife, Maddison Licari continued to lead while Tevlin Britton and Casonndrah Polo also were key in this win.
Consolation Bracket (8:30am)
Liberty 3, Selah 0 (25-20, 25-23, 25-23)
The question is who can get up and be ready to go full tilt early the 2nd day of the tournament and the answer in this match was Liberty. The Patriots got off to a fast start in the 1st set and kept the Vikings at bay. Presley Sweeney, Alena Rozewski and Hannah Wagenblast were again leading the Pats and quickly took a 1-0 advantage.
In the final 2 sets Selah battled but they were also battling a bug or something they ate from the night before as several parents told us many of the girls were running back and forth to the bathroom. Watching this match you could tell the Patriots kept one step ahead of the Vikings and ground out 2 hard earned 2-point wins to advance to the trophy round. Selah hung in there due to the play of Maddy Quigley, Taylor Beksinski and Catherine Bechard but fell short of their goal of bringing home a trophy.
Liberty will play East Valley Spokane for 7th place at 2:30.
East Valley (Spo) 3, North Kitsap 1 (27-25, 18-25, 25-18, 25-23)
The Knights and Vikings wasted no time in getting into play-off mode at 8:30 in the morning with a spectacular 1st set going overtime. East Valley got lots of strong net play from Genesis Wilkinson and McKenzie Whallon. They came up with some key blocks to get the Knights day started with a big win.
North Kitsap came right back in the 2nd set with strong performances by many including Julianna Benson and Riley Rabedeaux for a 7-point win 25-18. That would not last though and the Knights countered with their own 25-18 win and then held off the Vikings in the 4th set to extend their season by 1 match and guaranteeing a trophy while NK had their season come to an end.
East Valley gets Liberty in a battle for 7th place at 2;30 Saturday.
Day 1
11/10/17
Championship Bracket Day 1
Ridgefield 3, Sehome 0 (25-21, 25-19, 25-16)
The Spudders swept the Mariners and the Cinderella story was over for Sehome as far as winning it all. Ridgefield is an unappreciated Cinderella story due to their historical and recent success in Volleyball but they began this season with only 1 returning starter from last year's state placing team.
Ridgefield Coach Sabrina Dobbs talked with her inexperienced team prior to the match telling them how important a fast start and to put doubt in their opponents mind as quickly as possible. Whether or not it created doubt it did work and in each set Sehome found themselves trying to catch-up and even though they made some nice runs the Spudders had an answer each and every time.
Seniors Haley Paul, Anika Nicholl and Kenadi McCaskill did a great job of keeping their team mates focused and on the job at hand. So far the Spudders have not lost a set here at State. Delanie Nicholl, Kamryn Reynolds and Kohana Fukuchi also were tremendous in this win.
Cameron Hodges continues to lead Sehome with Dana Ruggato and Lexi McGowan have had solid tournament play and will need it tomorrow  morning in a loser out against Pullman. Ridgefield will face Lynden at 12:30 in the Semi-Finals.
Lynden 3, Pullman 1 (25-9, 25-23, 22-25, 25-17)
If the plan for the Lions was to get off to a fast start they did it to perfection. Savonne Sterk started off with 10 points in a row from the service line jumping on the Grayhounds with a 10-1 lead. Pullman simply would not recover and Lynden cruised to a 25-9 blow-out.
The next set is the one Pullman really will remember after giving up a 7 point lead. Lynden would chip and eventually catch the Hounds at 23-23 and surged past for a tough to swallow 25-23 loss and fell behind 2-0. Abi Broussard coming off the bench was quite a spark for the Lions with pounding shots splitting defenders time and again.
In the 3rd set Pullman would keep battling and would find a win 25-22. Kelsey Nestegard, Payton Walker and Haylie Utzman were key in the win for the Hounds forcing a 4th set.
Lynden did not want to go to a 5th set especially after stealing the 2nd set and buckled down with some big time net play from Broussard, Isabelle Jacob and Robin Scarlett and shut down any thoughts of a comeback with a 25-17 4th set win. The Lions get Ridgefield at 12:30 in the Semi's Saturday afternoon while Pullman drops into a loser out consolation game with Sehome at 10:30am. The Greyhounds can finish as high as 5th place.
Burlington-Edison 3, Fife 1 (25-13, 25-13, 21-25, 25-15)
The Tigers ripped through the 1st two sets and simply overwhelmed the Trojans. Katie King went on a huge scoring run in the first set that Fife would never recover from and again in the 2nd set rolled out to a big lead as big as 23-7 at one point. Afton Field and the other Senior Allyson Ray led the Tigers and got plenty of support from their under class team mates like Dylan Isaacson, Bronte Lacey and Hali Rainaud-Hinds.
The Trojans woke up in the 3rd set getting off to a fast start with several Trojans playing much closer to their capabilities. Tevlin Britten, Annika Linden and Maddison Licari came through with solid efforts to help extend the match to a 4th set.
B-E and Fife would battle to a 12-12 tie when Allyson Ray stepped to the line and when she was done it was 20-13 and the match was basically over. The Tigers move on to face White River in the Semi-Finals Saturday at 12:30 while Fife drops into the consolation and gets Ellensburg at 10:30 Saturday morning in a loser out game and can still finish as high as 5th place.
White River 3, Ellensburg 0 (25-20, 25-10, 25-17)
White River has 1 loss on the year in the District Tournament and Keegan Strobeck told us they have used that as motivation to propel them in to the State Tourney and boy has it. After sweeping Black Hills in the opening round the Hornets were well rested and ready for the Bulldogs from Ellensburg.
The dogs gave the Hornets a run in the 1st set staying withing striking distance with some nice plays from Tia AndayaPayton Lyski and Leah Stueckle but White River never allowed to pull even and held them at arms length to get the win.
In the 2nd set the Hornets really got it going with Emma Cash serving, Lace Lisherness at the net with Strobeck and Hope Baldya and the Hornets rolled to an easy 25-10 win to go up 2-0. White River then closed it out with a 25-17 win to sweep the Bulldogs 3-0. White River now faces Burlington-Edison in the Semi-Finals and the worst they can finish is in 4th place. Ellensburg now gets Fife in a loser out in the 5th place bracket.
Consolation Bracket Day 1 (Loser Out)
East Valley (Spo) 3, Washington 0 (25-14, 25-15, 25-18)
After a frustrating loss in the opener to Sehome the Knights re-focused and rolled through the opening round of the consolation bracket beating Washington oin straight sets. The Knights took the lead in each of the sets and never looked back. East Valley is now 1 win away from taking home a trophy and will face North Kitsap Saturday morning at 8:30am.
North Kitsap 3, Tumwater 0 (25-21, 26-24, 25-14)
The Vikings were determined to get to day 2 while the defending State Champion Tumwater T-Birds were knocked out on day 1. The T-Birds inexperience really showed with only 1 returning starter from last year's Title team. But it was a well played match by North Kitsap that shined led by Julianna Benson was tremendous at the net with several change of pace hits for points. Taylor Clodfelder also served the Viks back in the crucial 2nd set in come from behind fashion. The Vikings will play another loser out Saturday morning at 8:30.
Selah 3, Kingston 0 (25-22, 25-20, 25-16)
After a tough loss to Fife in the opener Selah was determined to get the job done in match 2. Maddy Quigley one of 5 seniors told ESN that this team was eliminated on day 1 last year and they did not want that again and came out super focused. It showed as they led start to finish in each set over Kingston. The Buccaneers battled hard for the 2nd time today but were simply over-matched. Selah is still in contention for 7th place but will have to win  their 8:30am match Saturday morning.
Liberty (Iss) 3, Black Hills 1 (25-21, 20-25, 26-24, 25-22)
The Patriots and Wolves battled hard in this loser out contest and in the end Liberty was a little better than the upstart Wolves. The Patriots Senior heavy team showed that experience does count at times while the younger Wolves would not surprise anyone if they get back to State next year with the heart of the line-up returning. Liberty will have to play at 8:30 Saturday morning against Selah in another loser out. Black Hills had their season come to an end.
Round 1
Sehome 3, East Valley (Spo) 1 (25-23, 12-25, 25-8, 26-16)
The Mariners fell behind 17-7 in the 1st set but came roaring back outscoring the Knights 18-6 for the tight won. The Knights took a big lead again in the 2nd set and this time did not relent cruising to the 13 point win and evened the match at 1-1.
Sehome then  ran out to a 14-0 lead in the 3rd set and handled the Knights in the 4th set for 3-1 victory and advances to the quarter-finals against Ridgefield.
Ridgefield 3, Washington 0 (26-24, 25-17, 25-12)
The Spudders were one of the favorites coming into this tourney but got off to a slow start as they trailed the Patriots 24-20 in the 1st set when they rallied for 6 straight points for the come from behind win. The Spudders then settled in and cruised into the quarterfinals where they face Sehome.
Lynden 3, North Kitsap 0 (25-14, 25-21, 25-20)
The Lions swept the Vikings in this 9am opener and simply stayed 1 step ahead of North Kitsap. The Viks would make runs at Lynden but each time the Lions answered and just kept enough of a cushion to get the wins in a rather controlled pace. Lynden now gets Pullman in the quarters while the Vikings face Tumwater in a loser out.
Pullman 3, Tumwater 0 (25-20, 25-22, 25-20)
The defending State Champs felt the lack of experience in this one as Pullman lost to the T-Birds last year in the opening round and waited 365 days to get their revenge and did so in impressive fashion and in straight sets. Berklee Child led off an early rally in the 1st set to set the tone for the Grayhounds. Pullman moves on to face Lynden in the quarters while Tumwater is in unfamiliar territory of an early loser out showdown with North Kitsap.
Fife 3, Selah 1 (25-18, 25-19, 20-25, 25-19)
The Trojans were well in control of this match but Selah wasn't going to roll over and found a way to win the 3rd set. Fife then cranked it up in  the 4th and found a couple of times during the match to make some runs and create space for the 3-1 win. The Trojans now get Burlington-Edison in the quarter-finals while Selah will play for their tournament life against Kingston.
Burlington-Edison 3, Kingston 0 (25-15, 25-11, 25-12)
The Tigers simply overwhelmed the Buccaneers and showed their longtime state experience. The Tigers had little issue taking the lead in each set and simply pulled away from Koingston who tried hard to keep pace. Afton Field 1 of only 2 seniors for B-E was solid as a rock and her leadership clearly had the Tigers in the right mindset. B-E gets Fife in the quarters while Kingston has a loser out date with Selah.
White River 3, Black Hills 0 (25-21, 25-14, 25-16)
When you look at the season of White River all you see are W's after each match. The Hornets did not suffer their first loss until districts and have used that experience as the driver in their pursuit of a State Title. The Wolves are still a young team rounding into form and despite finishing 2nd at their District Tournament saw 1st hand the difference between Districts and State. White River will battle Ellensburg in the quarters tonight while the Wolves are in a must win vs Liberty.
Ellensburg 3, Liberty (Iss) (25-21, 25-17, 25-19)
The Bulldogs weren't about to be left behind as they played the final match of the 1st round and were determined to complete their mission in 3 straight. Consistent play and solid net work led the Bulldogs to a 3-0 sweep of the Liberty Patriots. Liberty certainly battled hard and kept making runs but could never overtake Ellensburg. The Bulldogs next play White River in the winner's bracket while Liberty drops into the consolation bracket and faces a loser out against Black Hills.