3/30/18
Centralia 7, Aberdeen 5
(Centralia, WA) Over the past 2 days the Aberdeen Bobcats had been outscored 20-0 in 2 10-0 losses to WF West and were looking to get their offense on track and against Centralia they did that but the Tigers made sure it wasn't quite enough as every time they got close Centralia came up with a play to hold at bay.
The Bobcats scrapped together a run in the top of the 1st using a walk to Gio Pisani from Centralia starting pitcher Jerod Frias and an error on a grounder from Josh Germeaux to score a run and take a 1-0 lead. A tiny bit frustrating for the Tigers as Frias struck out the side.
Frias would help his own cause however after Jeremy Wood bunt singled to lead off the top of the order and then moved to 2nd on a ground out. Frias then belted a deep shot that bounced off the left field fence for a stand-up RBI double and tied the score after 1.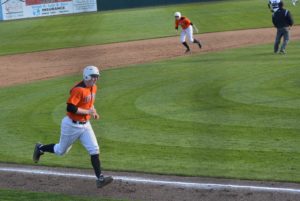 Centralia then took the lead in the bottom of the 3rd after a walk  a fly out a fielder's choice Broc Seltrom scored on an error as Derek Beairsto made it safely to 1st with 2 outs. Colby Steele brought him home with a key RBI single to make it 3-1 after 3.
Aberdeen came right back in the top of the 4th with 2 runs to tie after Germeaux and Tye Williamson walked to lead off the inning Germeaux would steal 3rd and score on a ground out to the right side of the infield from Austin Timmons who got the RBI. Anthony Alexander then drove in the 2nd run with an RBI single to tie the game. Frias then hit a batter to have his time on the mound come to an end and relief pitcher Baeirsto came in to get out of the inning with no further scoring.
The Tigers bounced back in the bottom of the 4th with 2 runs to re-take the lead and they did it small ball style. Nolan Miller led off with a bunt single followed by a bunt from Conner Wasson that moved him to 2nd and an error put Wasson on 1st. A double steal would move both runners up and Jeremy Wood who led off the game with a bunt single bunted again scoring Miller and another error would leave Wood on 1st and a throwing error would score Wasson to make it 5-3 after 4.
Both teams would score a run in the 5th, Aberdeen's starting pitcher Eli Brown slapped a base hit and scored on an RBI single from Williamson and the Tigers Broc Selstrom led off with a single and scored on base hit from Nolan Miller and it was 6-4 after 5.
In the top of the 6th it was a 1-2-3 inning for Beairsto but not in the usual way. After a strikeout and a ground out Kylan Touch drilled a base hit and then stole 2nd to get into scoring position. But Centralia's Jeremy Wood pulled the old hidden ball trick on Touch and when touch led off the bag thinking Beairsto had the ball on the mound Wood tagged him out for the 3rd out ending the scoring threat.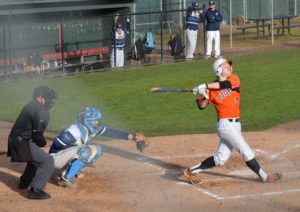 Wood then poured salt on the wound with a lead off base hit and would come around to score on an RBI double from Kolby Sharp to extend their lead to 7-5. Jackson Hull came in to close the game for the Tigers in the top of 7 after Gio Pisani walked to lead off the inning. Pisano would score on a Germeaux double but that would be as close as the Bobcats would get and Centralia recorded their 3rd Evco 2A win to go 3-0 while Aberdeen drops to 0-3.
Our Pacific Sports Spa Players of the Game went to Nolan Miller of Centralia and Josh Germeaux for Aberdeen and our Thorebeckes Sportsmanship Award goes to Centralia's Colby Steele.
Photo Gallery