Southwest Washington state champions ready to defend
Story and photos by Dan Trujillo
Eli Sports content director
Turn on the lights. It's time for a thrilling three months of high school football in Washington.
The Hockinson Hawks, Kalama Chinooks and Union Titans have been waiting for the first game of this new season since capturing their classification's state championship trophies in the Tacoma Dome.
Kalama kicked off the Southwest Washington trifecta by defeating Napavine 34-25 in the 2B state championship game Nov. 30. It was the second consecutive state title for the Chinooks, who finished 12-2.
The next morning, Hockinson outlasted Lynden 42-37 in the 2A state championship game. It was also the second state title in a row for the Hawks, who are 27-0 after the past two seasons.
In the nightcap, Union beat Lake Stevens 52-20 for the 4A program's first state title. The Titans ran the table with a 14-0 record.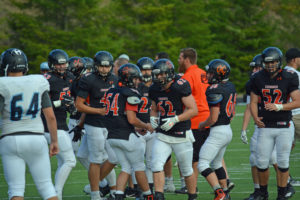 Act like a Chinook
Accountability. Character. Toughness.
Those three traits describe Kalama High School seniors Sutton Moon and Brennon Vance. They have both been key cogs in the Chinooks' two state championship seasons and they want nothing less than a third ring when it's all said and done this fall.
"I want to be remembered as the greatest football team and class to come out of Kalama High School," Vance said. "That's how it's been growing up. If we can get that third, we'll be remembered forever."
Moon and Vance have been playing football together since second grade. They have won championships in Pop Warner, middle school and high school.
"It's going to be hard to outdo the last two years," Moon said. "I'd like to go out with an undefeated state championship. I'll be happy with another ring. Just as long as we work hard and leave it all on the field."
Kalama head coach Sean McDonald's spine tingles when he thinks about the season ahead. He said several sophomores will get the opportunity to start. If they can settle into their roles and come through in the clutch, the Chinooks can continue their tradition of a state championship football club.
"We could come out and take some thumps and be really good by the end of the season or we could just come out and be really good right off the bat," McDonald said. "I'm excited about game one and I'm excited about what these guys can do."
The Chinooks host their 8-mile rivals, the Woodland Beavers, Friday. McDonald said this grudge match has been going on since the beginning of time. Woodland won 48-40 last year in a game that featured several lead changes.
This time, the game is at their house. McDonald, Moon and Vance are proud of the football family they have grown in Kalama.
"I love this community. I grew up here. They always pack the house," McDonald said. "If there's a home game Friday night, you'll see the sidelines packed and people lined up around the end zone. It's a reunion every time you come out on a Friday night."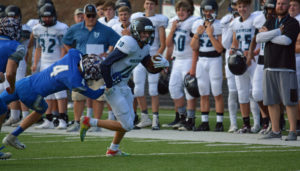 Can the Hawks go 40-0?
Injuries are a part of the game in football and they seem to happen at the worst time.
Hockinson suffered a huge setback before the state semifinals last season 6-foot-5 receiver and defensive back Peyton Brammer broke his foot in the quarterfinal game. Heartbroken, Brammer encouraged the Hawks from the sidelines. The pain was easier to swallow when they won it all again.
"It was tough for me. It was my first major injury," Brammer said. "I had been working all year to this certain point. I was a little bit scared for my team, but I knew they had it in them to pull it off without me."
Now, the Hawks are facing a similar situation with 2A state player of the year Sawyer Racanelli out for the season after ACL surgery. He scored six times in the state championship game, including a record five rushing touchdowns.
Fortunately for Hockinson, Brammer is back on the field looking healthy and determined.
"Without Sawyer, it's going to be a lot different but I think we're going to push through this adversity," Brammer said. "We're going to do everything we can to three peat and make history."
Seniors Brammer, Jeremiah Faulstick and Cam Thelan lead the receiving core that includes junior Makaio Juarez and sophomore Liam Mallory. Seniors Nathan Balderas, Ki Haden and Takumi Veley return to the front lines ready to protect quarterback Levi Crum, who had a breakout season as a junior.
"It's a close group of friends. We've all got the same goal," Brammer said.
"I'm going to give it everything I have. I'm going to play like it's my last play," he added. "And I'm sure my brothers next to me are going to do the same. If they're not, I'm going to scream at them and tell them to do it. If I'm not doing it, I want them to tell me to step it up."
Crum agrees with Brammer. When you're on a team that has won 27 straight games, it's easy to get complacent. The Hawks cannot afford to do that if they want to become three-time state champions.
"Get better every day, even when we don't feel like being out here," Crum said. "Even if we don't want to stretch or lift, we got to do it because it's our last year playing together. We want to make it last as long as possible."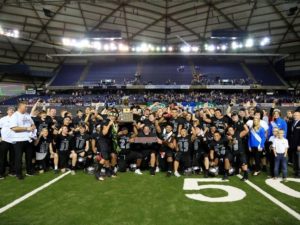 Titans reset standard
After losing in the championship game twice during the school's 12-year history, the Union Titans shattered that glass ceiling in 2018 and brought home their program's first state title.
"Nothing comes close to that moment. It was one of a kind," said returning senior linebacker Tyler Summers. "I played with a lot of those kids growing up. We always thought about it and talked about it. Actually doing it was a whole other thing."
Summers was one of the leading tacklers in the 4A Greater St. Helens League last season. He should anchor the defense again with the help of fellow linebackers Justin Chin and Jack Eggleston, and defensive backs Aidan Hoyt and Daron Ulrich.
Seniors Jack Grimsted and Rocky Mataia are a force on the front lines for the Titans. Whoever becomes the starting Union quarterback has some big shoes to fill after 4A state player of the year Lincoln Victor graduated and headed off to the University of Hawaii. Head coach Rory Rosenbach said there are three candidates who have been making their case all spring and summer.
"The class above us has been super. We've always looked up to them," Summers said. "There's nobody to look up to now. These guys are looking up to us. We have to set a good example for them because they are the future of the program."
There's a message in the weight room that means everything to the Titans. It reads, "You play for those who came before you. You set the standard for those that follow."
"This group understands the legacy that was left to them. They watched that group work and toil and go 4-5 as freshmen and sophomores and then put it all together," Rosenbach said. "These guys got to be part of that state championship last year. They don't want to let that group down. The standard has been reestablished and set. It's important to them to keep it right where it is."