Amid the pandemic that has swept the nation, a group of high school athletes took to the diamond in a fastpitch showcase in Keizer, OR this past weekend. The Fastpitch Northwest Championships were set up to promote some of the best talent in the Northwest area to college recruiters. However, the tournament almost didn't happen due to the COVID-19 outbreak that is still running rampant through the United States. A lot of hard work and a week of scrambling later, the event went on without much of a hitch. Most of that was thanks to Mike Brooks.
Brooks is the FPNW General Manager of Washington. Originally this was supposed to be held in Centralia, WA – but as previously stated, the state and counties guidelines made this impossible. Mike quickly took to action and with the help of the Oregon Director Nicole Christian, they landed on Oregon. Keizer did not have as strict of regulations when it came to sporting events being held within their city and county. They also had a large enough facility, Keizer Little League Park, to hold all the teams and parents. This made it the perfect location for a last minute home.
"We tried different facilities in different places like Idaho, Oregon and Washington." Brooks said. "Keizer was was the only one that really opened the opportunity for us, it was frantic but here we are." He would also go on to say that he truly wanted to get this tournament off because these players deserved it after everything they had been through.
The Showcase had a total of 12 teams participate, 7 upperclassman teams and 5 underclassman. The event was set up for a round robin opening round, with a small tournament happening on the second day.
One of the biggest hurdles to allow for this tournament to be played was that everyone in attendance needed to respect the mask and 6 feet of distance guidelines. All players were required to wear face masks in the dugout and stay 6 feet apart during mound visits or any other meetings where they weren't wearing masks. Spectators were asked to follow the same exact guidelines.
Again, everyone involved made sure to do their part in order to allow for the players to have their time to shine in an otherwise gloomy time. All the participants played hard and put on quite the show for all in attendance.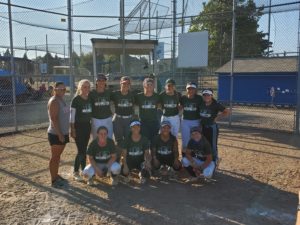 The final for the upperclassmen pitted a team from Washington and a team from Oregon, with the Washington side getting the win. It was the final game of the 2 day event and it was clear that all of the athletes, regardless of their finish, were just happy to be back on the field.
"I think it makes you realize how privileged you are to be able to go out and play the sport you love, and when it got taken away that hurt." Said Christy Grubb of Sequim High School. Grubb was the catcher on the title winning Washington Forest team. When she was asked about how she has gotten through these uncertain times, Grubb said she just tries to stay positive and practice as much as she can on her own.
As the day wrapped up and the players packed their bags, it was clear that this was a needed an event. Not just to give college scouts a look at great talent, but for the players to finally feel normal again. For parents to not have to see their children upset about entire seasons being taken away, even if it was just for two days. The Showcase was a reminder of how much sports help get us through the day and how they help us get away from the world.
Game replays available to watch on our events page.