6/3/2022
The Summer schedule kicked into gear Friday night with 7 races and begins the 3-day a week racing schedule until the final week of the season in September. Fans who attended Friday night received a T-Shirt that will get them free admission when they wear it on any other Friday night.
Preview of the Week
Standings
Coming into the week in the jockey standings its been all Kevin Radke leading the way with 14 wins. Radke is the only jockey in double digits with 2nd place Juan Gutierrez sitting at 9. Alex Cruz the 2 time defending champion was 3rd with 6 wins and no other rider had more than 4 wins.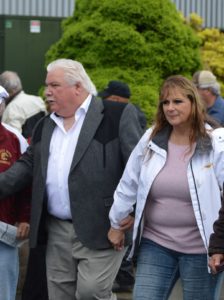 The Trainer standings were a log jam with 4 with 4 wins and 2 others with 3 wins. Defending Champion Joe Toye was one of those with 4 wins along with Candi Cryderman, Blaine Wright and Sam Dronen is off to a fast start. All-time Emerald Downs leading trainer Frank Lucarelli is sitting with 3 wins as is Alan Bozell.
In the Owner's race John Parker, who got off to a bit of a slow start last year with a ton of 2nds has turned that around in 2022 with 4 wins and leads in money won as well. There are 4 owners with 2 wins led by Carol Dronen who is a perfect 2 for 2. Rick Kessler and the Terra Firma Farm along with Oscar Heredia and Purple Rose Ranch all have 2 wins.
Races and Starters
Adding Friday the 3rd day has impacted Saturday and Sunday as they both weekend days have 8 races on the card with the 7 on Friday for a total of 23 races for the week. Prior to scratches there were 54 horses entered to run on Friday, 59 on Saturday and 51 on Sunday for a total of 164 entered.
Friday's Racing
The track was sloppy on Friday night as the soggy spring weather continued and that led to a few scratches. Meantime, the 2-time defending jockey champion Alex Cruz has been consistent with 7 wins over 5 days but was looking to break out this weekend and started strong by winning the opening 2 races.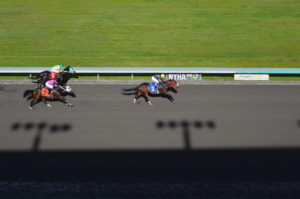 In the 1st Cruz was aboard Heredia boxer and went off as the 1-2 odds on choice. Cruz took Boxer back and raced wide to avoid getting mud kicked up into his face, swept around the far turn and ran them all down taking the lead at the 16th pole pulling away to win by 2 1/2. It was the 2nd win of the season for Heredia Boxer and Cruz who is trained by Jorge Rosales and owned by Oscar Heredia.
Rings of Saturn ran a solid 2nd with Alex Anaya aboard but couldn't resist the winner in deep stretch and Time 'n Time Again ran on late for 3rd with Chester Bonnet aboard, the 2nd and 3rd finishers were both from the Kay Cooper barn. Frontrunner Kind of Gallant faded to 4th.
Linchtown who finished 5th was claimed out of the race from Alan Bozell and goes to the Jeff Metz barn for new owner Jeffrey Jacobs, the claiming price was $15,000.
Cruz cruised to his 2nd win of the night on the 1-5 favorite Lago de Oro with a front running effort pulling away to an easy 7-length victory for trainer Rosie Simkins and owners Celeste Brady and Horse Haven Creek Farm. The $1 Cruz to Cruz Daily Double didn't fool the bettors and returned a paltry $2.60.
Imatoyalflush ran 2nd with Kevin Radke, Nummy Num and Jose Zunino was 3rd with longshot Salty Dan and David Martin completed the superfecta which returned $22.21 on the $1 bet.
Javier Matias put a stop to Cruz's early string winning the 3rd race on 5-1 Master Recovery with a brilliant ride skimming the rail and bursting through taking on 2nd favorite Upper Room with Cruz aboard and ran off to a 3 length win. Master Recovery comes from the Jose Raudales barn and owned by John Guidos. Master Recovery returned a healthy $13.80 on the $2 win.
Upper Room was 2nd with Tapit at Midnight with Leslie Mawing finishing 3rd and 4th went to Crest Drive with Juan Gutierrez. The 50-cent trifecta paid $41.95.
In the 4th race Cruz scored his 3rd win of the day aboard 4-5 Missed the Boat squeezing out a neck victory over Hydrogen with Radke up. Missed the Boat is owned by the Missed the Boat Stable and trained by Kenneth Person. Bernhalino with Gutierrez ran 3rd and finishing 4th was Big City Bane, Anaya with the ride.
Javier Matias grabbed the win in the 5th race for his 2nd of the day putting John Parker's Northwest Rain on the lead and never looking back cruising to a 2 1/2 length win. The Candi Cryderman trained 4 year-old gelding by Atta Boy Roy was the betting choice at 6-5 and returned $4.60 on the $2 win.
Alex Cruz was aboard Union Bliss who ran 2nd while Bailius with Jose Zunino ran 3rd and in 4th Luck's My Name with Kassie Guglielmino. Through 5 races Cruz had 3 wins while Matias won 2 and Cruz finished 2nd in both of Matias's wins.
The Feature Race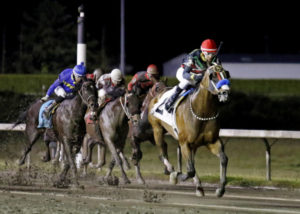 Alex Cruz was red hot on the 1st Friday and did not slow down as he climbed aboard Take Charge Deputy for trainer Jorge Rosales. Deputy was coming off a solid performance finishing 2nd as an odds on favorite. On Friday night Cruz hustled Deputy out of the gate to take a head lead over Western Rule and Cody's Choice. As those 3 remained heads apart heading around the far turn of the 5 1/2 furlong sprint Take Charge Deputy began to ease away from the other two who would fade to finish last and 2nd last.
Meantime a host of mid-pack and deep closers began to line-up to take their shot at Deputy and Cruz, Cruz had saved enough and drifted out to a fast lane over the sloppy surface and had plenty to deny any late charge and won by 3 lengths. Rosales Racing F1 is the owner and it was Rosales's 2nd win on the night.
Getting up late from far back was Candy Zip with Jose Zunino for 2nd a nose better than Mahi Mahi with Radke aboard. Azee Rules with Eddie Martinez at 47-1 took 4th and triggered the best pay-off of the night in the 10-cent superfecta paying $112.09.
Take Charge Deputy ran the 5 1/2 in 1:02.74 and is a 7-year-old gelding, California bred by Take Charge Indy, out of Promoted Deputy by Deputy Minister and bred by Mercedes Stables LLC. Take Charge Deputy earned $9,000 pushing his career total to more than 162k.
The Finale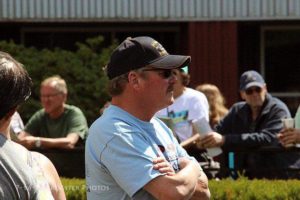 With 4 wins in his pocket Cruz refused to take his foot off the gas and went wire-to-wire in the final race of the night aboard Miss Kitness for trainer Vince Gibson and owners Lusk Racing. Cruz broke clear and maintained a 2-3 length lead all the way around for the 2 1/2 length win and Cruz's 5th win of the night. Beau Rocks closed well to be 2nd for Jose Zunino, Leslie Mawing got My Funny Gal to hold on well for 3rd and Sheza Grinder with Kassie Guglielmino finished 4th.
Cruz explodes up the jockey standings to close within 2 wins of front-running Kevin Radke with 11 wins to Radke's 14. Cruz finished 2nd on his 2 rides, the races that Javier Matias won and pushed him to 6 wins on the season.
Racing resumes on Saturday and Sunday with 1st race post time 2:15 both days.
www.elisportsnetwork.com