6/6/2022
The 1st 3-day racing schedule is in the books and below is our re-cap of Saturday and Sunday racing. We start with Sunday's feature below and then the rest of the Sunday racing re-cap followed by Saturday's coverage where Democrat upset a field of 7 the feature race. Let's get to the races!
Sunday's Races
Sunday Feature The Muckleshoot Casino Purse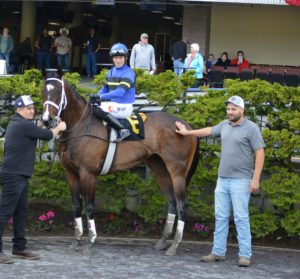 A field of 7 went post-ward in this 6-furlong run with a well matched group and Spittin Image with Juan Gutierrez riding was the choice at 9-5 over 3-1 2nd favorite Makah Lane with Kevin Radke and at 7-2 was El Alto Hombre and Alex Cruz. The others incouded Frank's Fix It, the only entry to have won a race at Emerald this year when he went wire to wire in the opening day feature race with Javier Matias aboard, Stand To and Eddie Martinez, Mr Stang with Jose Zunino and Nationheart with Chester Bonnet aboard.
The race was decided by the 1st quarter mile when front running Spittin Image set the pace and Gutierrez got him to settle and set a reasonable 22-flat. After that Gutierrez nursed the lead and was in total control extending the lead from a length and a half at the top of the stretch to 3 1/2 at the finish line. Spittin Image stopped the timer in a brisk 1:08.35 and races for the One Horse Will Do Corp, Chris Stenslie and Pete DeRaitus and trained by Niccolo Troiani.
The race was for the minors and El Alto Hombre placed 2nd by a head over Mr. Stang while Stand To closed well for 4th completing the superfecta.
Spittin Image paid $11.80 on the $2 across the board wager and the 50-cent trifecta paid $36.80 and the 10-cent super was $24.08. Spittin Image is now 5-3-4 from 14 career starts and increased his bankroll from $74,000 to nearly 88k. Spittin Image is a Washington bred by Harbor the Gold, out of Flying Memo by Memo and was bred by Bret Christopherson.
Spittin Image will also go to a new barn as he was claimed by John Parker for $30,000 and to the barn of Candi Cryderman.
Stretch run of Spittin Image drawing away
Winner's Circle Interview with Joe Withee
The rest of the Sunday card
1st Race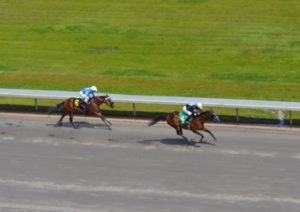 The question was would favorites continue to dominate and after 1 race an emphatic yes. 3-5 Syzslak with Juan Gutierrez rolled to an easy win over front-runner Bobby Buckets. Syzslak broke 2nd and waited for Bobby Buckets to cross over from the outside post with Kevin Radke up and Gutierrez then shifted Syzslak to his outside and gradually pulled away to a 2+ length win. Syzslak races for Todd and Shawn Hansen  and is trained by Blaine Wright.
25-1 Perfect Blend closed well late to nip Tap the Bank with Eddie Martinez by a slim nose for 3rd. The $2 show returned $4.40 well above the $3.20 Syzslak paid on the $2 win.
The exacta horses were also claimed out of the race with Syzslak now headed to the Jennifer Nunnally barn for new owner B Fekkes Dairy and the runner-up Bobby Buckets was claimed by Remmah Racing Inc and will be conditioned by Jorge Rosales.
2nd Race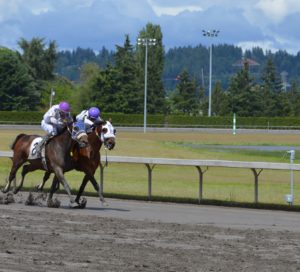 The 2nd race was only the 2nd mile distance race of the season and trainer Mike Pierce along with trainer Shannon Simpson each had 2 entries of the 5 horse field. Sergio Perez had the 5th horse. Pierce's Warriors Hero was pounded late at the betting windows to go off as the 3-5 favorite.
Warriors Hero stablemate Alpine Hypnosis with Kevin Radke aboard sat just behind frontrunner Buhm's Candy Boy with Juan Gutierrez while Warriors Hero trailed the field early on. As they worked their way up the back stretch Buhm's Candy Boy and Alpine Hypnosis were heads apart and Warriors Hero worked his way up to 3rd with Lightning Star running 4th and Keep On Danzing 5th.
Turning for home Buhm's Candy Boy had enough and tossed in the towel while the stablemates locked up in a nose-to-nose battle and appeared Warriors Hero took the lead only to see Alpine Hypnosis dig in and with one final surge Alpine Hypnosis held off Warriors Hero by a slim nose. 13-1 Lightning Star with Kassie Guglielmino ran 3rd and 13-1 Keep On Danzing with Alex Anaya completing the superfecta.
Mike Pierce trained the top 2 finishers and his Purple Rose Stable owns both as well. The all Purple Rose exacta paid $4.80.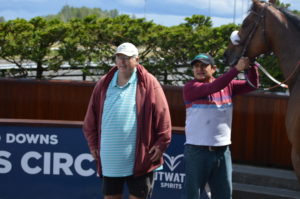 3rd Race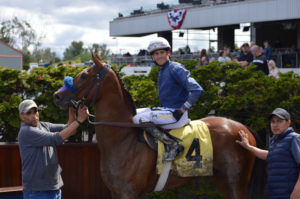 The field of 6 3-year-olds and up had 2 owner-trainer entries and both nearly stole the race. Mike Thompson owns and trains Lochness and had Kassie Guglielmino riding and Kassie took Lochness right to the front with Live a Good Life with Kevin Radke aboard. Trainer Blaine Wright had 2 in the race and 2-1 favorite Darcee's Lovi Dovi with Alex Cruz sat in 3rd followed by 2nd favorite Command Sgt Major with James Wooten in the saddle 4th, Milords Oathkeeper and Juan Gutierrez the other Wright Trainee was 5th and owner-trainer Teena Birdwell's Shakels Destiny and Eddie Martinez was last.
As they hit the far turn the race began to turn with Lochness taking the lead, Live a Good Life throwing in the towel and Darcee's Lovi Dovi making a move on the outside and from far back Shakelas Destiny began to stir. As they turned for home Lochness snuck away to a 2-length lead, Shakelas Destiny was looking for room between horse and had his momentum cut off just enough to allow Darcee's Lovi Dovi to unleash from the outside and would engage with Lochness to squeeze out a neck victory getting up in the final strides. Shakelas Destiny finished with good run to be a clear 3rd and Milords Oathkeeper ended up 4th.
The betting was well spread out with Darcee's Lovi Dovi as the 2-1 favorite, one 3-1, one at 9-2 and the other 3 at 5-1 made for some decent returns with the 50-cent trifecta paying $22.40 and the 10-cent superfecta $15.51 or $155.10 for the $1 bet.
Darcee's Lovi Dovi is owned by Chris Carpenter and trained by Blaine Wright, it was Wright's 2nd win of the day.
4th Race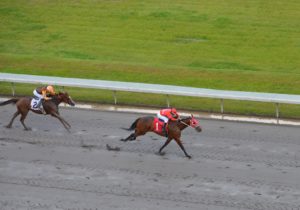 6 maiden fillies and mares battled in Sunday's 4th race and with a drying track it seemed to be playing pretty fair with front speed doing ok but plenty coming from off the pace as well. In this race Donne Cattive was overlooked in the 1 hole at 5-1 and when jockey Leslie Mawing broke from the gate he was on the lead and never looked back. The Robbie Baze trained Kentucky bred had her 1st outing on May 22nd and ran fairly even. This time she broke sharply, settled and turned back a couple of challenges especially the race favorite Paislee's Pulpit with Alex Cruz. Cruz sat off and went wide but looked like he and Paislee were about to gobble up Donne Cattive when Mawing had saved some reserve and sprinted away to win by nearly 3 lengths.
Moscow Lady with Javier Matias also looked poised to pounce at the top of the lane but flattened out to finish 3rd and Mia Casa the 20-1 longshot with Kevin Radke finished 4th.
Donne Cattive is owned by Diana and Luigi DiPietro and paid $12.80 for the win.
5th Race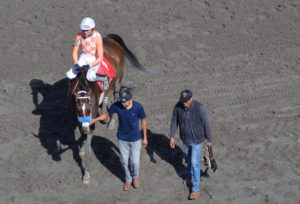 This could have been the feature race on many race days the field of 6 3-year-old and up going 6 furlongs. Fantastic Day from the Jorge Rosales barn got bet down to the 1-1 favorite and had red hot Alex Cruz in the irons. When the gates opened Cruz elected to take back all the way to the back of the pack as he watched the early front speed of Forever Gold and Chumly set the early fractions.
Meantime La Waun and Muncey sat just behind and Brilliant Bird positioned into 5th before you got back to Fantastic Day. As they entered the far turn the early speed of Chumly was used early with jockey Nicolle Disdier pressing Chumly as far as he could go. Forever Gold with Kevin Radke held on to 1st but was under attack and by the top of the lane La Waun and Muncey were even and by mid-stretch Muncey with Jennifer Whitaker had taken control threatening an 8-1 upset. Juan Gutierrez was hoping La Waun had another gear but if he did he couldn't find and he flattened out to settle for 3rd.
Then there was Cruz on Fantastic Day and Cruz had guided Fantastic Day out wide and he found a dry strip and Day exploded down the stretch. It still appeared it would by too late as Muncey had a solid advantage with time running out but Cruz continued to stay busy on Fantastic Day and got by Muncey at the wire to win by a neck.
Fantastic Day is owned by Alan Peterson and paid $4 on the $2 win.
6th Race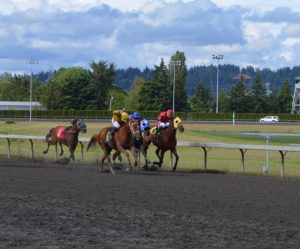 Finally a $20 win pay-off in this field of 8 going 6 furlongs. 9-1 outsider Jersey Red sat just off a heavily contested pace and sprung on the front runners with a bold move from jockey Jose Zunino to run past them for a 1 3/4 win. Whenducksfly was the betting choice at 7-5 and Leslie Mawing got Ducks to the lead quickly but Eddie and the King went with Whenducksfly and neither would Mawing or Alex Cruz give an inch as they threw down.
Those two would remain locked into a hammer and tongs battle until Zunino swooped past them in the stretch and then the pair still battling held on well with Whenducksfly taking 2nd by a head over Eddie and the King but had to deny a late closing Smoke and Burn with Vladimir Jensen just missing and settling for 4th. #1 Clarence Heads lost rider Kevin Radke at the gate when the gelding took a hard left turn out of the gate. The Stewards took a look and ruled Clarence Heads as a starter, Radke was ok as was Clarence Heads.
Jersey Red is trained by Liz Kowalski who picked up her 1st ever Emerald Downs win and owned by Howard Smith. Jersey Red returned $20.80, the 50-cent trifecta paid $77.85 and the 10-cent super was good for $75.96.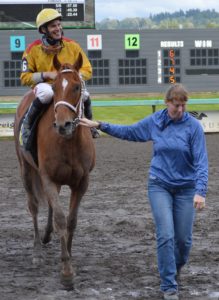 8th Race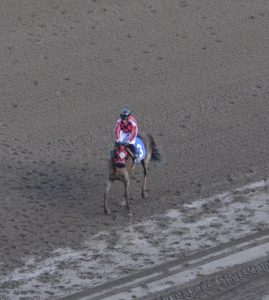 Juan Gutierrez finished the day like he began it with a win giving him 3 on the day. Gutierrez was on Deepingreen for owner-trainer Shelly Crowe and was the 2-1 2nd choice. Gutierrez let Jedi Knight and Dyf go to the front and set the pace for the 1-mile journey. While those two set the pace Deepingreen loped along in 3rd until the top of the stretch, angled out and drew off to a 1 1/4 length win.
Edgar Velasco was on Jedi Knight his 1st ride at Emerald Downs in 2022 and held on well to finish 2nd while 22-1 shot Noumea closed from far back for 3rd and Dyf with Alex Cruz held on for 4th,
The late 50-cent pick 3 paid $99.20, the 50-cent pick 4 was $195.65, the 50-cent pick 5 was a hefty $1,527.75 and the 20-cent Jackpot Pick 6 returned $1,251.98 with a $9,500 carry-over to next Friday.
____________________________________________________________________________________
Saturday's Races
Saturday Feature The Muckleshoot Casino Purse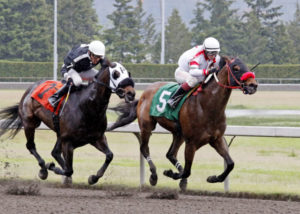 A field of 8 went 5 1/2 furlongs over a fast track with Ice Needs Whiskey as the 6-5 betting choice with Kevin Orozco aboard and Ice Needs Whiskey went straight to the lead. 8-1 and 2nd longest shot Democrat with Kassie Guglielmino was 2nd and even though broke inside of the favorite ended up getting to the rail. Ice Needs Whiskey set the early fractions of 21.4 and 44.1 for the half while Democrat remained close on the rail and by the top of the stretch had pulled even with Ice Needs Whiskey. Guglielmino saved ground every step of the way and at the 1/8th had surged to the lead and looked like the 4-year-old Florida bred may pull away.
Orozco asked for more from the Kay Cooper trained favorite and got more as he dug in and the two pulled away in a 2-horse dual. Despite getting more Orozco and Ice Needs Whiskey could not regain the lead and came up a 1/2 length short to Democrat and Guglielmino who stopped the clock in 1:02.81.
There was a scramble for the minors with 7-1 March On Linch with Jose Zunino grabbing 3rd by a head over 9-2 Ethan's Animal with Alex Cruz who completed the superfecta b y a head over 5th place Ididntseethatcomin.
Democrat returned $19.80 on the $2 win and $32 for the $6 combo ticket. The $1 exacta was good for $32.40, 50-cent trifecta paid $69.95 and the 10-cent superecta was $48.60.
Democrat earned $13,750 and nearly matched his $16,000+ career earning to push him over the 30k mark and is now 2-0-2 from 7 starts for trainer Debbie Peery and owners Kenneth Elison and Vicki Jo Elison.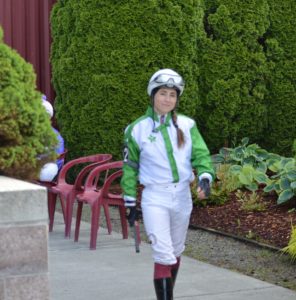 The rest of the Saturday card
The week has been a heavily favorite week with 11 betting favorites winning out of 15 races on Friday and Saturday. There were 2 2nd favorites that also won leaving just Master Recovery at 5-1 on Friday night and Democrat at 8-1 on Saturday.
1st Race
A field of 6 went 6 1/2 furlongs and Willing to Burn with Juan Gutierrez went straight to the lead and was never challenged winning by 2 3/4. Lookout Taylor with Kevin Radke up ran an even 2nd at 6-1 while Tanager closed well and then hung a bit late with Jose Zunino at 10-1 to take 3rd and 2nd favorite Justa Poppin with David Martin completing the super.
Willing to Burn comes from the Jeff Metz barn for owners Saratoga West who had just claimed the 5-year-old from trainer M L Pierce for $3,500. Willing to Burn won her 2nd race in as many tries at Emerald this season but will be moving on to her 3rd barn in 3 weeks as a claim was dropped for Ray for $5,000 and moves to the Charlie Essex barn for new owners Joe Burke and Joe Crawford.
Justa Poppin was also claimed out of the race for 5k by owners Rancho Viejo and Jerry Carmody for trainer Rigoberto Velazquez.
2nd Race
The 2nd race on the card was a 5-furlong sprint for 3-year-olds and up and 2nd favorite Warfront Fighter at 9-5 went gate to wire for Alex Cruz who did not cool off after winning 5 races on Friday night. Odds on choice Bourbonwithatwist was odds on and was a clear 2nd but never challenged for the win with Kevin Radke aboard. 11-1 outsider Starzan ran on for 3rd with Kevin Orozco up and Being a Boss with Javier Matias ran 4th.
Cameron McVay owns Warfront Fighter and is trained by Shannon Simpson who got her 1st Emerald win in her 5th start here in Auburn.
3rd Race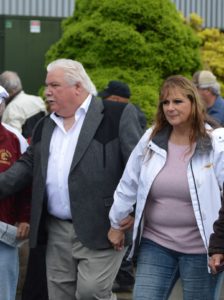 5 were let go at the 6-furlong distance and Crooked Finger Ray won his 2nd race of the season for his 2nd owner. Ray was claimed after winning on May 21st for $5,000 by John Parker for trainer Candi Cryderman from the Purple Rose Ranch and trainer M L Pierce. Kevin Radke won on Ray the first go-round at Emerald and Cryderman elected not to make a change and put Radke up again and it paid off with a 2-length win. Crooked Finger Ray will not be staying with Cryderman though as he was red tagged again this time for $8,000 and now is in the barn of Rigoberto Velazquez for owners Dave Duke and Ron Sutton.
The race was on for the minor awards with all 4 finishing within a 1/2 length of each other with Hey Sequoia at 9-1 getting up for 2nd by a neck with Kassie Guglielmino, 2nd favorite Orcadian Storm with Alex Cruz getting 3rd by a neck, 4th place also by a neck was Wine at Nine with Alex Anaya and The Press with Jennifer Whitaker right there in 5th.
4th Race
The maidens went at it in the 4th race with a field of 8 going 5 1/2 in the maiden special weight class. The well match bunch was still won by the betting choice but it was an  unsure betting public as Itsallabouththeride went off as the slight 5-2 choice. Javier Matias was the pilot for trainer Bonnie Jenne and rode the Harbor the Gold Washington bred in his debut last year to a 3rd place finish and then in his 2022 debut on May 22nd to a 3rd place finish at 6-1. On Saturday, Matias broke from the far outside 8 post just off the front pace and when he turned for home Itsallabouthteride had plenty in the tank and burst away for an easy 3 1/2 length win. The Friendship Stable, the Q Stable and Craig Frederickson are the owners and picked up a nice $13,000 for the win pushing the Itsallabouthteride's earnings to more than $18,000.
11-1 Miss Bella ran a solid race in her 2022 opener finishing a clear-cut 2nd with Kassie Guglielmino aboard, Time to Meddle was 3rd by a nose for Leslie Mawing and Alex Cruz just missed the show money on 4th place Hermiston.
The bigger field and spread odds helped with some good pays in the 4th with the $1 exacta returning $59.20, the 50-cent trifecta good for $139.45 and the 10-cent superfecta a handsome $139.35 or $1,393.50 on the $1 super bet.
5th Race
6 fillies and mares went to the starting gates in race 5 going 5 1/2 furlongs and 8-1 Wahasha went to the lead with Leslie Mawing up while 9-2 Noosita and Kevin Radke sat in 2nd and 1-1 betting choice Big Fashion with Alex Cruz right behind in 3rd. As the trio hit the quarter pole Wahasha had had enough and began to drop out and would finish 5th while Noosita inherited the lead. Cruz was along the rail and looked like he was trying to get outside when the tiring Wahasha drifted out opening a big hole along the rail and Cruz with Big Fashion took the lead from Noosita inside the 1/8th pole and held that position in a driving finish. Big Fashion races for John Parker and trained by Candi Cryderman, their 2nd win of the day.
This was Noosita's 1st race of the year and she ran solid in her 2022 debut for Doris Harwood. 11-1 shot She's My Ride with Kassie Guglielmino closed well for 3rd but was 4 1/2 lengths behind the front 2, Lovely Hussar with Alex Anaya ran an even 4th.
6th Race
7 3-year-old fillies and mares ran in the allowance conditioned 7th race and the public was banking on Collecting Stars to win her 2nd race of the 2022 season and 6-5 favorite did not disappoint. Juan Gutierrez rode Stars for trainer Sam Dronen on May 22nd and won easily by nearly 2 lengths and won by nearly 5 on Saturday running 6 furlongs in 1:09.49. It was Dronen's 5th win from 6 starts and had begun the season 4-4 until finishing 4th Friday night with Luck is My Name.
Mean Sharon with Kevin Radke up was on the lead through the half mile but then Collecting Stars ran by for the easy win but Mean Sharon gutted out the place finish by a neck over the fast closing Daniel the Dreamer with Kassie Guglielmino up. Teaspoon of Pepper, the 29-1 longest shot on the board completed the superfecta with Javier Matias aboard.
8th Race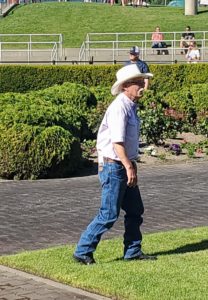 Babtiste Lasalle was favored at 6-5 in the Saturday finale and leading rider Kevin Radke did not allow 2 time defending jockey champion Alex Cruz to cut further into his lead this week after Cruz put up a 5 spot on Friday and had 2 wins on Saturday through 7 races. Radke sent Babtiste Lasalle to the lead and drew away to as much as a 2-length lead but 2nd choice Let It Reign with Jose Zunino came from between horses and had the race not been just 5 furlongs would have gotten the win  but Radke got the head down for the win, his 2nd on the day. Babtiste Lasalle is trained by Dan Markle and owned by MGP Trust.
Rodeo Rose with Leslie Mawing finished 3rd and Shirl's House with Cruz up was 4th. Despite the favorite winning the last race, combined with the 8-1 Democrat winning the 7th the $1 daily double returned $31.30, the 50-cent pick 3 was $40.45, the 50-cent pick 4 paid $76.80 and the 50-cent pick 5 paid a nice $328.55.
www.elisportsnetwork.com