6/13/2022
Saturday Racing
On yet another cloudy, drizzly day 7 races and of course the Belmont Stakes was the big draw. The track was fast all day and after a night of front speed, closers were the name of the game on Saturday. Favorites were shut out on Friday night and they still didn't have their best day on Saturday but 3 did get wins.
It was a break-out day for Jockey Kevin Orozco who tallied a triple while only Alex Cruz of the top 3 scored a win and it was enough to pull Cruz into a tie at the top of the standings with Kevin Radke.
Trainer Howard Belvoir scored another win in as many days to push his total to 4 as well did Jorge Rosales with his 6th win of the season. Valentin Garcia scored his 1st win of the season from 5 starts and all-time leading trainer Frank Lucarelli's barn is beginning to heat up with 3 wins on the day including the feature race.
And there was a meet high $2 win pay-off and some decent pick 3, pick 4 and Jackpot pick 6 pay-outs. And the claiming window was buzzing with red tags going out in every race but the 3rd including a tie for the highest of the year.  Let's get to the track!
Muckleshoot Casino Feature Race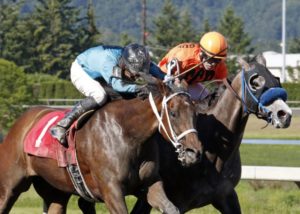 The field of 6 3-year-old fillies went 6-furlongs and there was an overwhelming choice in this race Zazen with Juan Gutierrez aboard went off at adds on at 4-5. Despite several runners coming from off the pace Zazen was the clear early speed and might have it all her own way on the lead. Gutierrez did break her well and she scooted away to an early 2 length lead over Enchanting Way with Alex Cruz and Smiling Salsa with Kassie Guglielmino.
Gold N Glitter the 5-1 2nd choice in the betting with Kevin Orozco was patiently ridden sitting in 4th about 4 lengths behind. Zazen opened up by 2 lengths as Orozco swung Gold N Glitter to the outside and took aim at the favorite. Gutierrez could feel the challenge coming and tried to get Zazen to see her opponent flying on the outside and the pair drifted out but Gold N Glitter had too much momentum and got up to win by a neck. Enchanting Way was a clear 3rd with Salsa smile holding onto 4th by a nose over Akasi.
Gold N Glitter is a 3-year-old filly by Harbor the Gold and out of Minimums Minimums by Storm Boot and bred by Duane and Susan Hopp. Gold N Glitter races for Chad and Josh and is from the Frank Lucarelli barn and ran the 6 furlongs in 1:09.54. Gold N Glitter is now 2-1-2 from 5 lifetime starts and earned $13,750 pushing her lifetime winnings to more than 42k.
Gold N Glitter returned $12.40 on the $2 win and topped off the 3rd highest pick 3 pay-out of the season of $179.30.
1st Race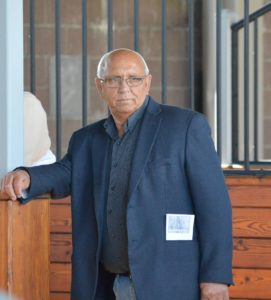 Stanley Ryder was the overwhelming favorite with Juan Gutierrez up and took the early lead in the 6-furlong race with longshot Mobjack at his throat. Meantime 2nd choice Inquisition sat 3rd with Kevin Radke and Javier Matias on Norski, the 3-1 3rd choice broke from the 1 gate and settled behind the front runners waiting for his opportunity.
As they turned for home Matias stuck to his guns and Stanly Ryder drifted off the rail it opened up a hole that Matias was waiting for and blew past the field for a 2 length win. Stanley Ryder held well to be 2nd and Inquisition nosed out a closing Clarence Heads for 3rd. Norski is owned and trained by Howard Belvoir, Belvoir's partner in the ownership is Robert Buchanan. Norski paid $8.20 on the $2 win.
2nd Race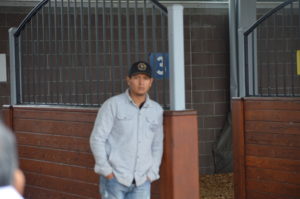 Brony Boy with Alex Cruz went off as the 2-5 odds-on choice and he ran like. Only 6-1 2nd favorite Prince of Luck with Kassie Guglielmino applied any pressure at as those two just continued to add distance between themselves and the other 4 competitors. Cruz and Brony Boy won the 5 1/2 furlong run by 1 3/4 lengths while Prince of Luck was a clear 2nd by 8 lengths. 22-1 Pequeno Monte with Jose Zunino ran on for 2nd and 27-1 Hashtag Bae and Nicole Disdier completed the superfecta.
Brony Boy is a 4-year-old Kentucky bred owned by Base Gods, Tandiama, Jr, Generoso and Rosales Racing F1 and trained by Jorge Rosales. The superfecta had a nice return if you singled the top 2 favorites on the dime bet it returned $13.29 or on a $1 bet $132.90.
3rd Race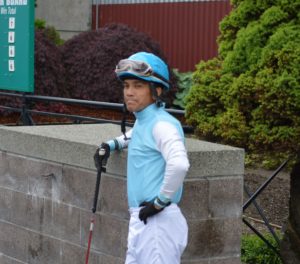 Another odds on choice took the 3rd race when 4-5 favorite Kind of Gallant with Leslie Mawing  went right to the lead in the 5 1/2 furlong run and never looked back. Mawing had it all his own way on the front setting fractions of 21.31 then slowing it down to 44.17 and it was over as Kind of Gallant rolled to a comfortable 3 length lead. Kind of Gallant races for Randall and Rossi LLC and Lucarelli racing and trained by Frank Lucarelli.
New Every Morning with Alex Anaya ran 2nd and Bennyandthechicks with Juan Gutierrez both ran similar races as the winner but New Every Morning was 2nd every step of the race a d Bennyandthechicks 3rd all the way around. Philpie Fast with Kevin Orozco got up for 4th.
4th Race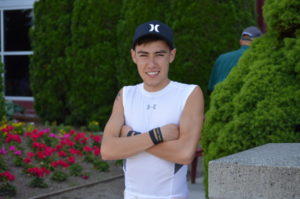 This was the race that began lighting up the tote board and seeing the front speed begin to stop. 12-1 Mojave with Kevin Orozco up flew down the outside and caught odds-on choice All American Hero with Kevin Radke at the wire for a neck win. Orozco sat just behind the front runners and swung to the outside for his final attack.  Mojave is owned and trained by Valentin Picho Garcia and is a Washington bred by Nationhood out of Valouor Road by Honour and Glory.
Pistol Power closed from last with Juan Gutierrez for 3rd and Upper Room and Eddie Martinez took 4th at 10-1. Mojave set a new high $2 win pay-out for the season returning $26.40. The 1st 50-cent pick 4 with 2 odds on winners returned $85.95.
5th Race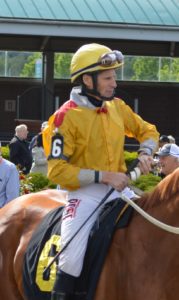 After 2 late scratches and then the 1-1 favorite Imissbaymeadows stumbled out of the gate virtually turned this original 7 horse field down to 4.  It opened an opportunity for the 2nd choice Captain Dashi with Jose Zunino aboard. Zunino didn't rush Captain and sat back about 4 lengths and let the front runners to sort it out and 3rd choice Iowa Kid with Juan Gutierrez took command and led to the top of the stretch when Zunino make his move rolling up on the outside. Also making a move was 11-1 longshot Bubbles is on Fire and Leslie Mawing was moving from dead last.
As they settled into the stretch Captain Dashi had too much momentum and pulled away to a 2 3/4 length win over Bubbles who caught Iowa Kid on the wire for 2nd while 11-1 Coasting with Kevin Radke got up for 4th. Captain Dashi comes from the Tom Wenzel barn for owner George Todaro. The $1 daily double of Mojave to Captain Dashi paid a nice $51.20.
7th Race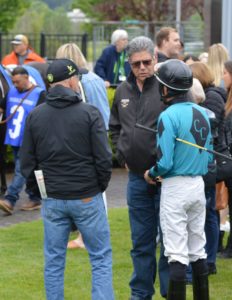 Saturday wrapped up with a 4-5 favorite winning but not in the usual fashion of taking it wire to wire. It's Curlin Time's rider Kevin Orozco sat well off the early pace and allowed Feather Inthe Wind to set the early fractions with Kassie Guglielmino and 2nd choice Shirl's House with Alex Cruz settled into 2nd. As they turned for home Feather Inthe Wind led by a length and a half with Shirl's House was closing in and in front of It's Curlin Time by 2. Orozco swung Curlin wide and set the 4-year-old filly down for the drive and as Shirl's House passed the tiring Feather, It's Curlin Time roared past them both to post a length win. 22-1 Coasting In got up to complete the superfecta.
It's Curlin Time was Orozco's 3rd win on the card and also trainer Frank Lucarelli's 3rd win.  It's Curlin Time is a Washington bred by Lutes Gift and out of Sweet and Speedy by Curlin and bred by Horse Haven Creek Farm.
The late 50-cent pick 4 paid a healthy 487.55 and the Jackpot 20-cent pick 6 returned $746.94 with a $13,262 carryover to Sunday.

Claims on Saturday
The claim window was busy with 8 claims on the day with a whopping $68,000 in transactions.
1st Race
Stanley Ryder was claimed for $2,500 by the Purple Rose Ranch and trainer M L Pierce.
2nd Race
Brony Boy was claimed for $2,500 by Dawn Spillman and goes to the Robbie Baze barn.
4th Race
All American Hero was tagged for $10,000 by Lusk Racing and goes to trainer Vince Gibson.
Upper Room was also taken for $10,000 by new owner James Carter and trainer Jill Soranna.
5th Race
Imissbaymeadows went for $2,500 to owner Johnathon Feron for trainer Bradford Rudolph.
Iowa Kid was claimed for $2,500 by owner/trainer Joe Ortega.
6th Race
Zazen tied for the most expensive claim of the meet with Spittin Image for $30,000 going to Tim and Sue Spooner and trainer Dan Markle's barn.
7th Race
It's Curlin Time was claimed for $8,000 by new owners Paddock Partners Ltd and trainer Joe Toye.
Friday Night Racing
The 2nd Friday night of racing was a 7 race card with 6 as the average number of starters. It has been raining favorites for a couple of weeks but Friday and Saturday would bring some good prices to the bettors. Alex Cruz continued his hot streak with another win inching closer to early leader Kevin Radke.
Trainer Jill Soranno got her first win at Emerald Downs on Friday night while veteran Kay Cooper got her first 2022 victory after several close calls. Veteran Howard Belvoir got his 3rd win, his 1st since winning a pair on opening day and Robbie Baze got his 2nd win of the season after getting his 1st last week. Let's get to the races!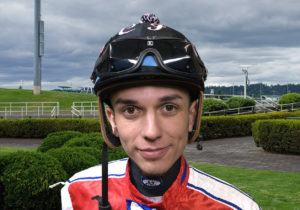 Rider Returns…then doesn't.
Cerapio Figueroa rode full time at Emerald Downs in the Covid 2020 season where he finished 4th in the standings. He came back for a short stint last season before heading back to Southern California. Figueroa has been riding up at Hastings in Vancouver BC which only run on Saturday and Sunday.
Figueroa was set to return to Emerald Downs on Friday night with 3 rides but had to cancel late after getting tossed from a horse during a workout. Figueroa told Eli Sports he was sore but nothing worse and dropped his rides for this week. He does plan on riding regularly on Friday nights at Emerald. He currently is 2-3-7 from 29 mounts at Hastings.
And Jose Zunino won his 417th career win at Emerald Downs in the finale on Friday night and that ties him with Nathan Chaves for 12th on the all-time Emerald Downs list.
Muckleshoot Casino Feature Race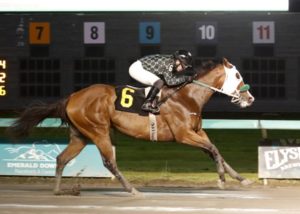 The complexion of the race really changed when morning line favorite Heat Seeking Leta was a late scratch. This left the front end up for grabs and Le Tub took full advantage. Le Tub with Juan Gutierrez aboard went straight to the front of this field of 5 going 6 furlongs and quickly took a 2 length lead. Classic Leah the betting choice had shown some early foot in her first race but laid off the pace in this one and none of the others challenged Le Tub.
Heat Seeking Leta with Alex Cruz up likely would not have allowed Le Tub to have an easy lead that never got less than 2 lengths stopping the timer in 21.73 for the quarter and 44.37 for the half. Gutierrez extended the 5-year-old mare's lead through the stretch to win by a handy 2 3/4 in a final time of 1:09.66.
The rest of the finishers crossed the finish line in a parade like formation with Emerald Sea 2nd with Jose Zunino up, Jennifer Whitaker with 9-1 Sleepy Sue was a clear 3rd, Red Noon Rising with Kevin Radke the 5-2 3rd choice was 4th and the 9-5 favorite Classic Leah with Kevin Orozco just never got going in this one and finished well back.
Le Tub is owned by Paddock Partners Ltd and trained by Joe Toye. Le Tub is a Kentucky bred b y Bodemeister out of Past Twilight by Pulpit. Le Tub was the 2nd favorite at 2-1 and paid $6.40, the 50-cent trifecta was good for $34.40. Le Tub is now 4-2-0 from 14 lifetime starts and added $9,000 to her bankroll pushing it to more than $70,000.
1st Race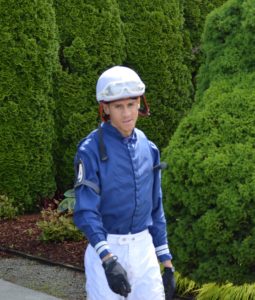 Leading stakes trainer from 2021 at Emerald and longtime veteran conditioner Kay Cooper got her 1st win of the season in the 1st race with 6-1 outsider Suddenly Winning with Alex Cruz up. Suddenly Winning sat off the favorite Pearl River Delta and Kevin Radke about 1 to 1 1/2 lengths while going head and head with 2-1 3rd choice Camden High and Eddie Martinez. As they turned for home Cruz and Suddenly Winning shook off Camden High and took aim at Pearl River Delta gradually wearing her down to win by 3/4 of a length. 12-1 Sharp Curve got by Camden High late for 3rd and 2nd favorite Kind But She Lies trailed throughout in a dull effort.
Suddenly Winning is owned  by Invictus Partners LLC and is a Washington bred by Nationhood out of Sudden Departure by Demons Begone and bred by Mr and Mrs Frederick Pabst. paid off nicely $25.40 on the $2 combo ticket. The 50-cent trifecta returned $47.85 and the dime superfecta $32.36.
2nd Race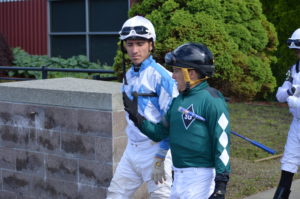 We began Friday with a pair of firsts for trainers, Cooper getting her 1st win of 2022 and Jill Soranno getting her 1st Emerald Downs victory as a trainer and both as oversights by the betting public. Antecedence with Kevin Radke up at 5-1 went straight to the lead over odds-on choice Cutetip with Alex Cruz to lead by a length. Cruz refused to all Radke an easy lead and by the 2nd call was within  a head land the match race was on as neither would give an inch and Antecedence held off the big favorite for a neck win, the pair more than 8 lengths in front of the rest. Longest shot on the board at 16-1 Ashley Beautiful with Alex Anaya closed to be 3rd with 5-1 Fully Compliant and Juan Gutierrez completing the superfecta.
Carter James in the owner of the 4-year-old Kentucky bred a d ran the 5 1/2 furlongs in 1:04.22 in the slop. The Cooper to Soranno $1 daily double paid $35.80.
3rd Race
The front end or nearby was where you wanted to be on Friday night and in the 3rd race Javier Matias sent Firewalker to the front and shook off several early starters before another match race developed with 1-1 betting choice A. P. Pharoah and Kevin Orozco. Firewalker cut out fractions in the 6-furlong dash of 22.35 for the quarter and 44.90 for the half and left enough in the tank to hold off A. P. Pharoah by a head at the finish line as the pair were in front of the rest by 8+ lengths.
The 3-1 3rd choice showed the grit to fend off a furious rally to give trainer Howard Belvoir his 3rd win of the season and 1st since winning 2 on opening day. Abrierwin with Juan Gutierrez was a clear 3rd as the 2-1 2nd betting choice and Moon Circumference at 44-1 with Alex Cruz up was 4th. Firewalker is a Washington bred by Daredevil out of Skydeck by Curlin and bred by Ten Broeck Farm Inc and owned by the Rising Star Stable IX.
4th Race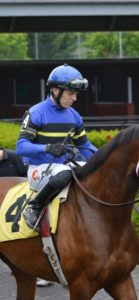 Two late scratches cut this 5 1/2 furlong sprint of 3-year-old maidens to 6 and still made it difficult for the bettors to decide a favorite. Ultimately Brannigan with Alex Anaya was the 9-5 betting choice but that is not what you wanted on Friday night, being the favorite. Brannigan would run hard but ended up 3rd a neck behind 2nd place finisher and 1st time starter Whatsthediff with Jose Zunino who was the 2nd favorite at 2-1.
Neither had enough speed to keep up with Man In Black with Juan Gutierrez who went wire-to-wire. Man In Black broke out to an early head lead over Ain't No Sissy with Alex Cruz but quickly separated to a 1 1/2 length lead. Gutierrez felt the 2nd two coming down the stretch but he had it measured perfectly with Man In Black to win by 3/4 of a length at 5-1. Ain't No Sissy held on for 4th.
Man In Black races for trainer Vince Gibson and is owned by White Diamond Syndicate, Ashley Potts and Lusk Racing and is a Washington bred gelding by Harbor the Gold out of Angel Mary by Shackleford and bred by Valerie Johnson and John Zervos. Man In Black capped off a hearty $675.45 50-cent Pick 4 and the 50-cent Pick 3 of $121.15.
5th Race
The late scratch of 2-1 morning line favorite Buckley Bay tossed the race into an up for grabs dash at 5 1/2 furlongs. The bettors were torn with the 2-1 favorite Zatter with Alex Anaya up, 5-2 Sir Deputy with Alex Cruz, 5-2 The Metal Man with Javier Matias and 3-1 Candied Lute with Kevin Radke. The only horse they agreed on was 7-1 outsider Blue Boy Who with Kevin Orozco.
As the gates opened it became another 2 horse showdown with both 5-2 shot going at it head to head with Sir Deputy having a slight advantage over The Metal Man. The pair would be head and head to the top of the stretch when Zatter came rolling and the 3 were head and head with the other 2 within a length.
The 21.44 and 43.69 did not take anything out of the top pair as they sprinted away quickly leaving the other 3 in the dust and Sir Deputy pulling away the most to win by 1 1/2 over The Metal Man who was now 10 lengths in front of Zatter who finished 3rd and Candied Lute was 4th. Sir Deputy, a New York bred, is trained b y Jorge Rosales and owned by Rosales Racing and Oscar Heredia. Sir Deputy capped another good Pick 4 pay-out of $458.80.
7th Race
8 starters went to the gate in the Friday night finale and another non-favorite and front-runner came out with the win. Tribunal Love broke from the outside 8 gate and jockey Jose Zunino went straight to the lead. Zunino pushed his 11-1 longshot to a 1 length lead at the top of the stretch and then it was a matter of if he could hold on and he did holding off a hard closing Mybestisyettocome with Alex Cruz by a neck.
Devil's Off Duty with Kassie Guglielmino came from dead last to close well for 3rd and the favorite C Jaxon with Kevin Radke was 4th. Tribunal Love is owned by Shannon Fadden and races for Robbie Baze. The California bred stopped the clock for the 5-furlongs in 58.04.
Tribunal Love finished off a new high pay-off for the year in the 50-cent Pick 4 returning $956.45. Although it wasn't the highest pay the 50-cent Pick 5 was good for $3,387.05 and the 20-cent Jackpot Pick 6 paid $2,070.44 with a carryover of $12,266.

Claims on Friday Night
2nd Race
Antecedence was claimed for $2,500 by John Parker and goes to the barn of Candi Cryderman
CuteTip was claimed for $2,500 by Owner/Trainer Robbie Baze
5th Race
Zatter was claimed for $5,000 by Paddock Partners Ltd and goes to trainer Joe Toye.
7th Race
Drew Big was claimed for $5,000 by Matt Hughes and goes to the barn of Niccolo Troiani.
www.elisportsnetwork.com