7/19/22
After taking six years off from head coaching, former WF West boys basketball coach Ryan Robertson has been named the new boys basketball coach at his alma mater Tenino. Robertson will take over for former head coach and athletic director Joe Chirhart who announced his resignation this last spring.
Tenino was always home to Ryan Robertson ever since he was in the 3rd grade. His dad was coaching at Tenino when he was growing up and whether his dad was coaching football, basketball, or track,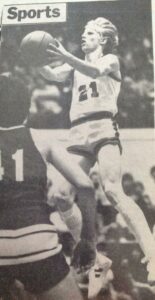 Robertson was right there with him learning the ropes.
Robertson quickly started his own athletic career and got to look forward to playing for some great coaches such as Dick Brock. Brock was especially inspirational to Robertson because he would pull the team aside after JV games to work on things and draw up plays to help them get better.
In his senior year, the Beavers had one of the best seasons in school history by winning the league title and going to the state tournament. Tenino finished 4th that year and Robertson played a huge role in that team's success. Now he gets to coach on the court named after his own high school coach.
"It's an honor. Coach Brock taught me a lot," said Robertson.
Robertson started his coaching career in Tenino as well coaching the Tenino girls basketball team. He would also help with the football team until heading to Tonasket for a short stint assisting the Tigers boys team. Next up for Robertson was becoming a head coach.
He would head to North Port High School to be the head coach of the boys basketball team which was also a stop for legendary coach Dennis Bower. Robertson took over a team that went 0-20 and lost a game by over 100 points. After three years of coaching North Port, they would finish with a 10-win season and a playoff win.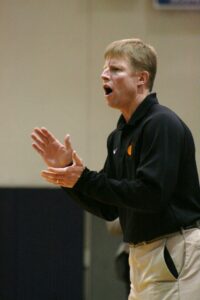 Robertson then headed to Port Townsend for five years before coaching at the largest school of his career in Eastmont. However, Robertson moved back to Western Washington to be closer to family and became the head coach at WF West.
Robertson would coach the Bearcats for 13 seasons finishing with a record of 163-139 with the Bearcats and making the state tournament in three seasons. He would finish his Bearcat coaching career with the 2nd most wins in program history trailing only the legend Tom Smith.
After leaving WF West, Robertson said he needed time away from coaching. He did coach some select teams that his daughter, Kelly Robertson, played on. There was never a rush however to get back into the high school coaching scene.
"There were some opportunities that didn't work out. It just wasn't the time," said Robertson.
While he did take a break from coaching, he couldn't stay away from high school basketball. Robertson traded his clipboard for a whistle. Robertson became a referee and was now working with some of the same referees that officiated games where he was coaching.
Robertson shared with ESN one story where he met an official that swore he had previously officiated with Robertson but Robertson denied it. That official recognized Robertson from officiating the games he was coaching in. That official asked Robertson what he learned about officiating that he didn't know as a coach. Robertson said to never try to sway an official. They are going to call the game how they see it.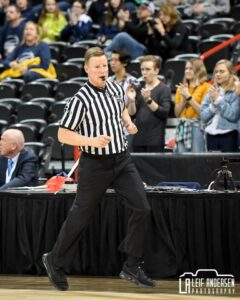 "Those guys are all out there doing the absolute best they can. They have great integrity and are going to call what they see every single time."
One of his favorite people to officiate with was his daughter Kelly. The two worked youth games in Kelso when she was 13 and ended up working varsity games together. Robertson said he could not be more proud of his daughter and loved watching her grow as an official and become more confident.
Now going back to coaching, Robertson says he has learned a lot from his time as an official. He has a lot more tools in his repertoire and he said his respect for officials has grown immensely. The key word for Robertson was adaptability. He believes he is better equipped to adapt to the trials and tribulations of the basketball season.
This was a job he had his eye on for awhile. When he saw that Chirhart was leaving he knew Tenino was where he wanted to be. New athletic director Nick Bamer offered him the job and for Robertson it was a no brainer. He was ready to coach again.
Now with a young team with good experience and a strong league, Robertson is already planning out how to attack their opponents. He sees a lot of talent with the Beavers and loves the talent and work ethic the kids have. But most importantly, Robertson is ready to return to his roots both in Tenino and as a basketball coach.
"That court is in my DNA," said Robertson. "I'm glad to be home."
www.elisportsnetwork.com