7/18/2022
Sunday featured 9 races with 2 stakes and it was the traditional Irish Day celebration. 69 horses started for an average of 7.7 per race. The bettors were busy as well with a massive handle of  $2,695,457 or an average of just a shade below 300k per race. There were 2 good 2-year-old Maiden Special Weights and the 2 Stakes races with the Kent Stakes going off as the 6th and Irish Day Stakes, both were $50,000 purses. Below is our coverage of Sunday racing with special coverage of the 2 Stakes races first followed by the other 7 races and then our Saturday re-cap and the claim box. Let's get to Sunday's races.
Kent Stakes
7 3-year-old fillies went postward in the $50,000 Kent Stakes with Slack Tide as the clear betting choice going off at odds-on 4-5. Slack Tide was coming off a spectacular 4-length win in the Seattle Stakes on June 19th. Unsolved Mysteries with Alex Cruz a 7-1 outsider broke quickly and put pressure on Slack Tide with Kevin Radke up and the two would set the pace.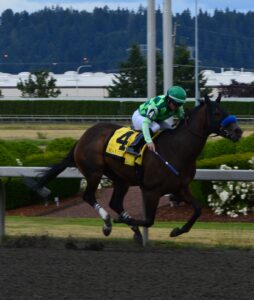 Radke had never ridden Slack Tide but got the call when Evin Roman from Northern California did not make the trip to ride so trainer Blaine Wright saw that the 2nd leading rider didn't have a mount and named Radke to jump on. Radke was told that Slack Tide can run or just off the pace and he let her relax as Unsolved Mystery was right at her throat but the duo set sensible fractions of 22.51 for the quarter and 46.23 for the half.
Meantime, Koron, a 2-time Stakes winner from 2021, had just finished 4th after pressuring Slack Tide in the Seattle Stakes, was sitting in 3rd about 2 lengths behind in a perfect stalking trip. As they turned for home Unsolved Mystery was not giving an inch and Slack Tide fought back with Koron making her move. But Koron would hit the wall and quickly faded leaving it a 2-horse battle when Slack Tide began to pull away and would post a 2 1/4 length win while Unsolved Mystery held off a late closing Gold N Glitter with Juan Gutierrez for 3rd and further back was 28-1 Ropers N Wranglers with Tiago Pereira for 4th.

Slack Tide races for the Ten Broeck Farm and is trained by Blaine Wright. It was Wright's 5th stakes win of the season, the leading stakes trainer. Slack Tide won her 3rd Stakes race all at Emerald Downs and is now 4-2-0 from 7 lifetime starts and adds $27,500 to her lifetime earnings pushing that total to $111,850.
Unsolved Mystery collected $10,000 for 2nd, Gold N Glitter $6,000 for 3rd, Ropers N Wranglers $3,000 for 4th place. Slack Tide capped off the 2nd 50-cent Pick 4 which returned a solid $179.10 considering a 4-5 shot completed the 4 in a row bet.
Stretch Run of the Kent Stakes with Slack Tide pulling away
Slack Tide Trainer Blaine Wright
Irish Day Stakes
A field of 8 lined up for the 6 1/2-furloing Irish Day Stakes for 3-year-old colts and geldings and Executive Chef went off as the 6-5 favorite with Kevin Orozco coming off his dominating 4 length win in Last months Auburn Stakes and it looked like the public was correct as Executive Chef came swooping down on the two front runners but a photo finish would determine the outcome.
Lightly raced Itsallabouttheride at 4-1 with Juan Gutierrez aboard was coming off a solid 2nd in that Auburn Stakes and 5-1 A View from Above with Leslie Mawing also coming off that Auburn Stakes where he showed speed but then faded to 7th, would go to the lead and set the fractions. A View from Above and Itsallabouttheride were literally head and head from the start to the top of the stretch.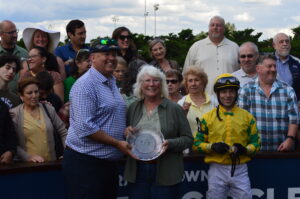 It was about this time that Orozco and Executive Chef were closing in fast and by the 1/8th pole all three were lined up in a row. It looked like Executive Chef would keep on going but both Itsallabouttheride and A View from Above refused to give an inch and as they bore down on the finish line it was Itsallabouthteride surging back and won by a head over Executive Chef in a dramatic and frenzied scramble to the wire.
It was a remarkable effort by the winner holding off a proven stakes winner that just dominated the last time they met. It was equally as devastating for the runners-up. Orozco told ESN. "I thought I had it won at the 16th but give credit to Juan and Itsallabouttheride they found another gear and we just couldn't get by.
Gutierrez said he knew his horse had a shot after a very solid performance in his last race but he was even surprised when Executive Chef came to them and he asked for more and got it. he said it was just a great effort and was thankful to be on the winner.
Lost in this spectacular finish was the effort from 3rd place A View from Above. Last time out at 6 furlongs this one finished 8 lengths behind the Executive Chef and 4 lengths behind Itsallabouttheride. This time they went an extra half furlong and battled on the lead and came up just a 1/2 length short of pulling off the upset.
9-2 shot Little Casino would finish 4th while Mr. Mischief was 5th, Midnight Mojo took 6th a disappointing effort by the 2021 Gottstein Futurity winner and just missed 2nd last month in the Auburn a head behind Itsallaboouttheride., Crystal Bandit and Smoken Shadow completed the order.
Itsallabouthteride is owned by the Friendship Stable, Q Stable and Craig Frederickson and is trained by Bonnie Jenne. The 3-year-old gelding is a Washington bred by Harbor the Gold out of Holy Rose by Touch Gold and was bred by Jennifer Weber and Kenneth Jochimsen.
This was also a very emotional win for trainer Bonnie Jenne. Jenne and her husband are long time owners of the Friendship Stable and this is the first Stakes win for Bonnie since her husband Wally passed away from Covid 19 related issues in November of 2020. Their last Stakes placer was Makah Lane in the 2020 Muckleshoot Tribal Classic. The whole ownership group had dedicated this win to Wally, the moment brought Bonnie to tears in the Winner's Circle as she was overcome with emotion. It was a great win for the whole crew but no doubt especially touching for Jenne.
Itsallabouttheride stopped the clock in 1:15.37 and paid $10.60 on the $2 win and he earned $27,500 for the win. He is now 2-1-2 from 5 lifetime starts and pushed his career earnings to $55,569.
Irish Day Stretch Run
Irish Day Winner's Circle with Joe Withee
Sunday Race Re-Caps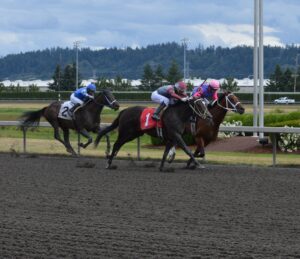 The Sunday card began with a 6-horse field going 6 1/2 furlongs. 5-1 Princess Payton with Eddie Martinez up rode a patient race sitting 3rd behind Nana's Angels with Juan Gutierrez and Miss Bella with Kevin Radke as they blazed a 21.89 and 44.68 for the half The hammer and tongs front end battle wore down the two front runners and Princess Payton rolled on by to nearly a 2 length win. Nana's Angels held 2nd while Gold Coast Girl closed well for 3rd and Toe Dancer ran 4th. Princess Payton is owned by David Thorner and Tom Wenzel and trained by Wenzel. Princess Payton paid $12 on the $2 win.
The 2nd race was the 1st of two 2-year-old maiden special weight races with 9 set to and 7 1st time starters. The favorite was Ask Alice, a Washington bred by Nationhood out of Great Mom by Pioneer of the Nile bred by Connie Belshay. Ask Alice was pretty wound up in the paddock to the point trainer Frank Lucarelli stepped in to walk the horse and worked to settle her down. Lucarelli depending on his former groom skills got it to work as Kevin Orozco got aboard and got her out of the gate in good position sitting in 3rd to the outside. Turning for home Orozco got Alice going and she quickly engaged the leaders then left then in her wake to win easy by 3 1/2 lengths.
Chippewa with Alex Cruz led to the stretch and held well for 2nd, Grazed and Confused with Gutierrez placed 3rd and in 4th was Ila View Too with Edgar Velasco. Ask Alice is owned by Chad and Josh. Lucarelli is the trainer and he trained the 3rd place finisher Grazed N Confused. In an oddity David Martinez trained the 2nd and 4th place horses so the the Lucarelli/Martinez superfecta paid 653.90 on the $1 bet.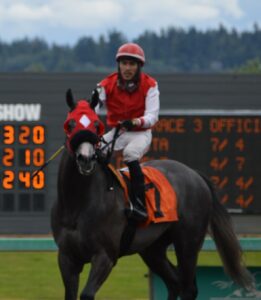 In the 3rd Kevin Orozco used a similar tactic but laid a little closer to the front speed in 2nd with 7-1 Book Smart, took the lead by a head at the top of the stretch and held off all challengers to win by a length. The 3-year-old gelding ran the 6-furlongs in 1:10.05. The Where We At Stable are the owners and Book Smart is trained by Kay Cooper.
Poverty Bay ran 2nd with Gutierrez, Brannigan and Cruz were 3rd and Napoletano with Leslie Mawing was 4th. The Kevin Orozco Daily Double paid $28.30.
In the 4th race, Orozco was shooting for his 3rd straight and 2nd win on a 1st time starting 2-year-old. He was aboard Wirewyre and breaking out of the 10 hole and was bet down to 7-2. When the gates open Wirewyre didn't break quickly and settled into 6th place but only about 2 lengths behind. He did get carried wide but Orozco wanted to keep the youngster clear and he did just that and at the top of the stretch unleashed the beast and Wirewyre blew past the field including his stablemate JC's a Legend with Radke held on by a head for 2nd. Supermax with Eddie Martinez closed well for 3rd and Contejos with Tiago Pereira was 4th.
Wirewyre is owned by Chad and Josh and trained by Frank Lucarelli for his 2nd win on the day. Wirewyre ran the f-furlongs in 58.06 and is a Washington bred by Harbor the Gold out of Meant to be Mia by War Chant and was bred by Antonio Mendoza. The Lucarelli $1 exacta paid $46 and the 50-cent Orozco Pick 3 paid $$65.65.
In the 5th the 2-1 favorite Union Bliss with Alex Cruz up battled Lochness with Radke to wire and Union Bliss pulled out the win by a neck. Mancuso at the Mic with Matias was 3rd and Rough Ride with Gutierrez was 4th. Union Bliss is owned by Lynn Hebdon and trained by Jorge Rosales. Cruz and Rosales connected twice on Sunday helping each maintain their leads in the jockey and trainer standings.
Former rider now owner Eliska Kubinova got her 1st win at Emerald Downs with Hydrogen in the 7th race. The 5-2 2nd choice stalked and closed to win by a half length under a well timed ride by Alex Cruz. Complicate at 12-1 with Jose Zunino got 1st run and nearly pulled the upset settling for 2nd, betting favorite Missed the Boat with Radke was 3rd and completing the superfecta was Bronze Warrior with Orozco. Hydrogen is trained by Jorge Rosales and he ran the mile in 1:35.83.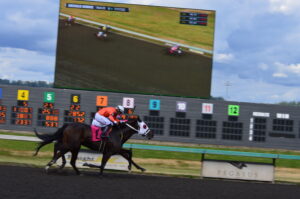 In the finale a tight race and another disappointing loss for Kevin Orozco. Coming off a loss by a head in the Irish Stakes (story above), this time he comes flying on the outside with 6-1 Patricia L, of race favorite Maggie Fitzgerald with Alex Cruz and Cruz got the perfect head bob. The finish seemingly fooled the camera guy who showed Patricia L and also fooled Cruz who told Orozco "I think you got me" but after an examination of the photo this may have been the closest win margin of the meet and Maggie Fitzgerald and Cruz got the win. Noosita with Mawing was 3rd, Sharp Curve and Gutierrez 4th and capping the Super Hi-5 was Easy Does it with Zunino. The winner is owned by Horseplayers Racing Club and trained by Tim McCanna.
The 6-5 favorite paid $4.20 on the win and the 20-cent Jackpot Pick 6 returned $289.24 but with multiple winners it means that $17,747 will carry over to Friday.
Claims
3rd Race
Poverty Bay was claimed for $25,000 by John Parker and goes to the barn of Candi Cryderman
9th Race
Sharp Curve was claimed for $5,000 by Dawn Spillman for trainer Robbie Baze
Saturday Racing
Saturday had 8 races on the card with 46 starters for an average of 5.75 per race. 2 late scratches in the 5th race hurt the average and dropped the field to 4 and cancelled show wagering. Overall the betting handle $845,822 and the bettors had plenty of chances of making some good money with only 1 favorite winning over the 8 race card.
Muckleshoot Casino Feature Race
6 3-year-old and up fillies and mares went 6 1/2 furlongs in Saturday afternoon's feature race and it was all about pace. 7-1 Pearl River Delta with Kevin Radke went to the front and had an uncontested pace setting fractions of 22.65 for the quarter and 45.41 for the half which was leisurely enough for Radke and Delta to have plenty for the stretch run.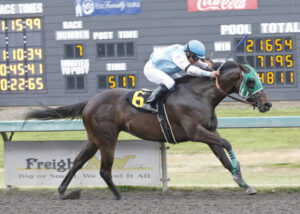 Pearl River Delta led by 1 1/2 early and maintained about that lead all the way holding off betting favorite Oreo's Dream by more than a length. Oreo's Dream with Juan Gutierrez was a clear 2nd while Unsinkable Molly B with Leslie Mawing rallied up the rail for 3rd and Jacana and Kevin Orozco placed 4th.
Pearl River Delta is owned and trained by Alan "The Boz" Bozell and is a Washington bred by Abraaj out of Atta Girl Pearl by Atta Boy Roy and was bred by Pat and Mullan Chinn. Pearl River Delta earned $13,750 for the win and is now 2-1-1 from 6 lifetime starts and has now earned nearly $25,000, more than doubling her career earnings in this race.
Pearl River Delta rewarded her backers with a $17.40 $2 win return while leading a $1 exacta worth $23.50, the 50-cent trifecta paid $25.70 and the $1 superfecta was good for $139.70.
Saturday Race Re-Caps
In Saturday's opener Classic Leah went straight to the lead and Kevin Radke set the pace with the 5-1 overlooked speedster and drew off to win an easy 4 1/2 length 6-furlong sprint in 1:09.50. Odds on choice Queen Breezy with Alex Cruz was clearly 2nd while Blowing Bayou and Kevin Orozco took 3rd and capping the superfecta in 4th was Willing To Burn with Juan Gutierrez. Classic Leah is owned by Paul Johnson and trained by Vince Gibson.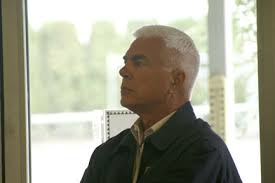 The 2nd race was 6 1/2 furlongs and Naval Escort with Alex Cruz was the 2nd choice in the betting at 5-2. The favorite Nationhood went to the lead but ended up fading to last while Ididntseethatcomin with Gutierrez took the lead at the top of the stretch but Cruz and Naval Escort had all the momentum rolling on by to win by 3 1/4. 10-1 Warriors Hero with Javier Matias got up by a head for 3rd over 15-1 Mileys Bluecoat  with Orozco. Naval Escort is owned by the Oak Crest Farm and trained by David Martinez and is a Washington bred by Coast Guard, out of Cape Grace by Abraaj and was bred by Oak Crest Farm.
The only favorite to win on the day was here in the 3rd with odds-on choice Miss Kitness with Alex Cruz aboard. Miss Kitness has good early speed but Cruz got her to sit just off the front speed of Mean Sharon then took command in mid-stretch while Radke was trying to get Mean Sharon to hang on then held off 16-1 Daniel the Dreamer with Leslie Mawing who got up for 2nd. Clochard Street with Gutierrez finished 4th. Miss Kitness ran the 6-furlongs on 1:10.39 and comes from the Jorge Rosales barn for owners Tsujikawa Racing.
The 4th race was a 5-1 trifecta with 7 3-year-old fillies going 6-furloings. 1st time starter Sadie's Snowstorm ran like a pro stalking just 1 1/2 or so off the pace in 4th early on. Eddie Martinez made sure Sadie had clear sailing and took over the lead at the top of the stretch and drew off for a convincing 4-length win. Lassie Cat with Radke was a clear 2nd and First Time Player with Javier Matias ran 3rd. The top 3 finishers were all 5-1. Aly's Nation with Cruz was 4th at 3-1.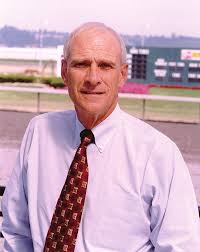 Sadie's Snowstorm races for Ron Crockett, his 2nd win of the meet and trained by Tom Wenzel, Sadie's Snowstorm is a Washington bred by Abraaj out of Sadie's Snowflake by Posse and was bred by Crockett. The all 5-1 exacta paid $30 and the all 5-1 50-cent trifecta returned $71.55.
The 5th race began as a 6 horse field but with 2 late scratches ended up with just 4 and the show wagering was cancelled and refunded. Gabby Hayes and Kevin Radke went straight to the front and as the 3-1 3rd choice never gave the other 3 a chance winning by 2 1/2 and running the 6-furloings in 1:10.56. The 5-1 longest shot on the board Mayhem and Chaos with Orozco ran a solid 2nd while odds on choice American Buddha with Cruz ran an even 3rd and Northern Blend at 5-2 with Gutierrez never got out of 4th. Gabby Hayes races for Glyn Kelly, Anne MacLennan and Dan Markle and trained by Markle.
A late scratch left 6 to go 6 1/2 in the 6th race and it was a scramble at the end. Awesome Daze with Jose Zunino took the early lead and the 3-1 shot led all the way to the 1/8th pole and looked like the 3-year-old filly was home free but she then hit the wall leaving the door open for a stalker and a closer.
Mo Connelly with Kevin Radke got 1st run just off the pace while winding up from further back was I Am Yours with Kevin Radke and the 3 of them would surge together at the finish line with Mo Connelly getting the win by a head, I Am Yours 2nd by a neck over Awesome Daze and it was a deadheat for 4th with La Popis with Matias and Moscow Lady with Gutierrez. Mo Connelly races for Horseplayers Racing Club, Rakoczy Racing and Saratoga West and is trained by Jeff Metz.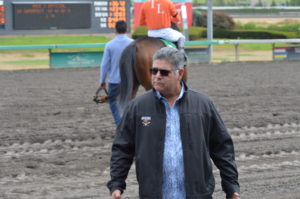 And in Saturday night's finale Kevin Orozco popped out of the gate with 1st time starter Swing First and never stopped. Orozco set fractions in the 5 1/2 furlong dash of 22.51 and 46.23. 5-2 Silver King Bain with Mawing came after the 9-1 outsider at the top of the stretch and got to within a head but Orozco and Swing First had plenty left stretching their lead back to a full length at the wire. Favorite Bobby Buckets at 2-1 with Cruz was 3rd, Love That Kid and Javier Matias ran 4th and completing the Super Hi-5 was Hermiston with Radke.
Swing First stopped the clock in 1:04.84 and is owned Charles Peterson and Ron Hagan and trained by Frank Lucarelli. The 3-year-old Washington bred is a gelding by War Envoy our of Sweet Swinging Ms by Swing and Miss and was bred by the owners.
Swing First surprised the bettors paying $20.20 on the $2 win and keyed a $3,695.45 50-cent pick 5 and the 50-cent Super Hi-5 bounced back from a $20 pay on Friday to returning $1,143.95 for having the top 5 finishers all in order.
Claims
3rd Race
Mean Sharon was claimed for $5,000 by Brent Stapley for trainer Kenneth Person
Miss Kitness was tagged for 5k by new owner Dennis Townsend, Marko Wollschlaeger and Ken Kendrick for trainer Dan Markle
4th Race
Sadie's Snowstorm was claimed for $8,000 by Still Dreaming Stable for trainer Vince Gibson
8th Race
Swing First was claimed for $15,000 by Richard Larson and goes to trainer Vince Gibson
Hermiston was taken for $15,000 by Lusk Racing and also goes to the Vince Gibson barn
Silver King Bain was tagged for 15k by John Parker for trainer Candi Cryderman
www.elisportsnetwork.com