7/21/2022
The Power Rankings are meant to be fun and to focus on the human competition between these awesome athletes. Moreover it's a chance to focus more on each rider and their accomplishments each week. We stress there is nothing "official" about these rankings and we know there will be varying opinions which is also great and we hope it does create more conversations about our sport and our athletes.
Alex Cruz dropped to #2 last week and he quickly turned that around to re-take the top spot! Here is our 10th edition of the Emerald Jockey Power Rankings:
#1 Alex Cruz (last ranking #1)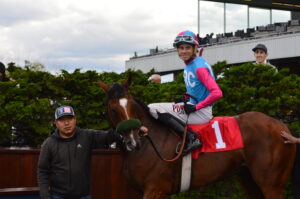 The 2-time defending Champion is putting the pressure on the others extending his lead in standings winning 6 races pushing his total to 50 wins, 9 in front of Kevin Radke. Cruz finished the week 6-4-5-1 from 20 starts which is a 30% win clip, 75% in the top 3 and 80% in the superfecta's.
#2 Kevin Radke (last ranking #3)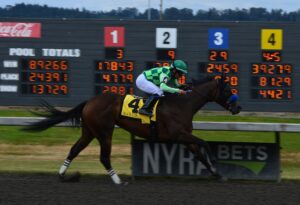 Kevin Radke moves back up to the 2nd slot keeping pace with Cruz but still has a gap to make up in the 2nd half of the season to try and make a run at the riding title. Radke had 23 rides and went 6-4-4-1 for a 26% win rate, 61% in the top 3 and 65% in the top 4.
#3 Juan Gutierrez (last ranking #4)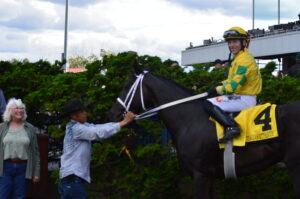 Juan Gutierrez nosed out Kevin Orozco for our 3rd spot because of the nose difference in the Irish Day Stakes that Gutierrez won over Orozco. Gutierrez was 3-5-3-6 from 22 starts. A 14% win rate, 50% in the trifecta and a top 4 percent of 77%.
#4 Kevin Orozco (last ranking #7)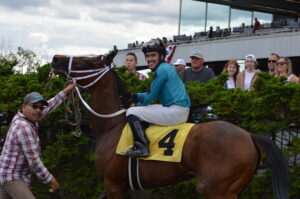 Kevin Orozco had a very good week and may have been a bit motivated as he will have to sit out on Friday night serving a 1-day suspension for the new crop rule infraction. Orozco won 4 and just missed 2 more wins in the Irish Day Stakes on Executive Chef and then in the Sunday finale losing both by a nostril. Orozco rode 18 races and was 4-5-1-4 for a 22% win percent, top 3 finish of 56% and was part of the superfecta 78% of the time.
#5 Leslie Mawing (last ranking #2)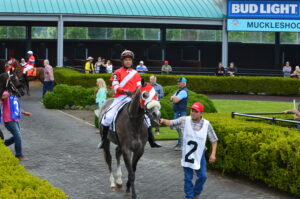 Leslie Mawing had a solid week and moves down a few because others just had a little bit better weeks. Mawing had solid numbers of 2-3-4-2 from 18 starts. That's an 11% win clip, top 3 of 50% and top 4 at 61%.
#6 Javier Matias (last ranking #6)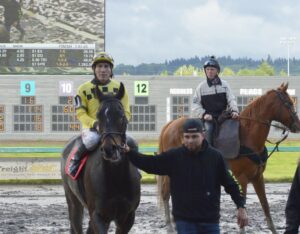 Javier Matias had one off week but is right back what a longtime veteran does and that is to be extremely consistent. Matias had 1 win, 1 place, 4 shows and 2 4ths from just 11 rides. His win percent was just 9% but top 3 finish was 55% and top 4 finish 73%.
#7 Eddie Martinez (last ranking 7)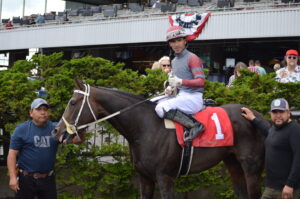 Eddie Martinez is up 1 spot this week doing so on the strength of getting a pair of wins. He had the same number of mounts as the week before with 8 but placed 5 times and had no wins. This week he won twice and showed twice for a 25% win clip, and 50% top 3 and 4 finish.
#8 Jose Zunino (last ranking #5)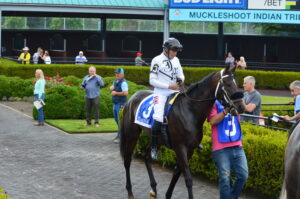 Jose Zunino was hurt a bit by having to sit out on Friday night for a 1 day suspension of the new HISA rules which cost him chances to ride. He did get 8 mounts but did not get a win and placed once and showed once from 8 mounts.
Power Rankings Notes:
This week we only went 8 deep as there were just no other riders that did enough to get on the rankings. It is a tough colony with limited chances so it will be increasingly tough for riders to shine on a regular basis.
Alex Anaya has been dealing with some health issues and rode 4 on Friday but just 1 on both Saturday and Sunday. We checked in with Kassie Guglielmino's agent Aldo Matias and he says she is coming along in her recovery from a broken leg from a spill earlier this season and is now in a walking boot. Tiago Pereira was the latest jockey to visit from Southern California and rode 5 times trying to poach some wins but found out that is not an easy undertaking as he ended up with only a pair of 4th place finishes.
A new rider is set ride on Friday night who just got his career started at Grants Pass earlier this month. Oracio Muro has a couple of rides for trainer Rigoberto Velasquez on Friday night. Also returning to the saddle at EmD is James Wooten, he has rides over the weekend as well.
www.elisportsnetwork.com