8/8/2022
The 1st week of August racing saw the number of races get back to normal with 24 and 2 stakes races along with quarter horse trials. The handles were   for Sunday, $823,492 for Saturday's 8 race card and a solid $915,826 for Friday nights 7 race card. It was the 2nd round of stakes for the 2-year-olds with the Barbara Shinpoch for the girls and the WTBOA Lads Stakes for the boys. We'll start with the 2 Stakes races, re-cap the quarter horse trials and review the entire weekend's races.
Sunday Stakes
Barbara Shinpoch Stakes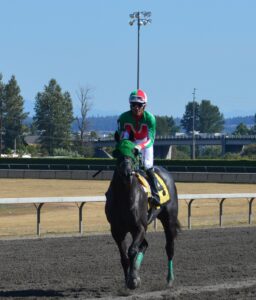 6 went to the gates in the 6th race of the 6 1/2 furlong challenge and all eyes were on Miss Dynamic and Juan Gutierrez in the 6 hole and went off as the overwhelming odds-on favorite at 3-5. Miss Dynamic had won both her starts by a total of 15 1/2 lengths, her maiden special weight by 10 and the Angie C Stakes by 5 1/2.
Aloha Breeze ran 2nd to Miss Dynamic off her MSW win and most did not believe she could make up that 5 1/2 lengths in this one despite the extra furlong. Trainer Tom Wenzel and owner George Todaro along with jockey Eddie Martinez had teamed up to surprise in a stakes before with Midnight Mojo in last season's Gottstein Futurity.
Aloha Breeze in the 1 spot broke alertly and engaged Miss Dynamic immediately and those 2 would pair off setting sizzling fractions on what has been a bit of a dull racing surface going 21.92 for the quarter and 44.66 for the half mile. 7-2 2nd choice Ask Alice with Kevin Orozco then made a bid on the far turn taking 3rd and looked like was ready to roll but flattened out at the same time Aloha Breeze found another gear and pulled away from the competition.
Miss Dynamic clearly wasn't on her game but did hold well to be 3rd just holding off the tiring Ask Alice who placed 4th. 13-1 Driveway who was claimed from the Kay Cooper barn after her only start for $25,000 by Joe Burke and trainer Jose Navarro made a nice late run right up the rail with Alex Cruz aboard to be a clear 2nd.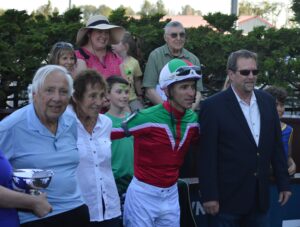 Aloha Breeze went off at 5-1 and paid $12.00 on the $2 win. She finished the race in hand and in a time of just 1:18-flat. Alo0ha Breeze is owned by George Todaro and trained by Tom Wenzel who won his 3rd straight stakes race after sweeping the Legislators Stakes with Dontkissntell and the Governor's with Slew's Tiz Whiz on July 24th. This was Eddie Martinez's 1st stakes win of the season.
Aloha Breeze collected $30,250 for the win and runs her career numbers to 2-1-0 from 3 starts and has earned $55,500 in her young career. She is a Kentucky bred and up next could be the Washington Cup Juvenile Fillies set for August 28.
Stretch Run of the Shinpoch Stakes
Jockey Eddie Martinez on his winning ride aboard Aloha Breeze
The W.T.B.O.A Lads Stakes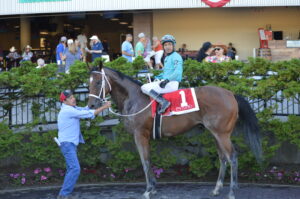 This was raced as the 8th on the card and again just a field of 6 going 6 1/2 furlongs. The race was really wide open with the dominant winner in the King County Express, Runnin Out of Days, not entered for the Lads. Trainer Blaine Wright said some common 2-year-old issues popped up and they did not want to risk it and held him out.
Deshambeau with Kevin Orozco up and had run 2nd to Runnin Out of Days although 10 lengths behind in the KC Express ended up being the favorite taking a lot of money late knocking his odds all the way down to 6-5. Chuckanut Bay with Alex Cruz was the 2nd choice at 3-1 while J C's a Legend with Kevin Radke was next at 4-1. Supermax was the same team that won the Shinpoch, Todaro-Wenzel-Martinez and they were 6-1 then came It's Turbo and Leslie Mawing at 12-1 and at 17-1 was Mister Midas with Juan Gutierrez.
Trainer Frank Lucarelli sent out Deshambeau, J C's a Legend and It's Turbo. As they were loading for the race It's Turbo acted up and smashed jockey Leslie Mawing's foot and he was walking it off behind the gate with a noticeable limp. Mawing re-mounted and the crew got him in the gate. Deshambeau then tossed jockey Kevin Orozco out of the back of the gates and there was another delay but again the crew got him settled and Orozco got aboard.
When the gates flung open Deshambeau bobbled and hesitated at the break and was well back. Chuckanut Bay went to the lead, JC's a Legend was handy while It's Turbo sat off the pace with Deshambeau and Supermax further behind. Chuckanut Bay carved out fractions of 22.35 for the quarter and 45.32 for the half and it would be tough to reel in the front runner.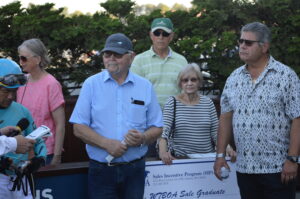 JC's a Legend got 1st run, Supermax came rolling up on the outside while DeShambeau made a mid-race move and then flattened out and It's Turbo sat patiently on the rail. As they swung for home a more than big enough hole opened up on the rail and Leslie Mawing, sore foot and all was ready to pounce and hit the Turbo switch and It's Turbo exploded down the stretch and up the rail to catch Chuckanut Bay inside the 16th pole and pulled away for a 3/4's length win.
Chuckanut Bay held 2nd, J C's a Legend battled hard down the stretch and just missed 2nd to take 3rd and Supermax after a nice move on the turn flattened out in the stretch to finish 4th.
It's Turbo ran the 6 1/2 in 1:17.60 and returned a healthy $26.60 on the $2 win for his backers and earned $27,500 for his owners, R. E. V. Racing LLC. It's Turbo broke his maiden with the win and is now 1-0-1 from 3 starts and has put $33,300 in the bank.
The stretch run of It's Turbo in the Lads Stakes
Trainer Frank Lucarelli on It's Turbo's big win
Other Sunday Results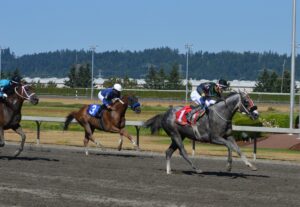 The 1st 4 races were all quarter horse trial races for the quarter horse stakes races set to be run on August 28th. We have a re-cap of those races below, so we will start here with the 1st thoroughbred race which was the 5th race on the card.
In the 5th race odds-on choice Hydrogen came from off the pace to easily run down the early leaders tgo post a 2 1/2 length win. Alex Cruz timed the ride perfectly. Close to Midnight ran 2nd while Mahi Mahi was 3rd and Jedi Knight ran 4th. Hydrogen is trained by leading trainer Jorge Rosales and owned by Eliska Kubinova and ran the 1-mile in 1:36.36.
In the 7th race Juan Gutierrez wanted the lead on Fire Escape in the 6 1/2 furlong race and he got it and never gave it up winning by an easy 5 lengths. 18-1 Awesome Daze ran a nice 2nd, Big Fashion finished 3rd and completing the superfecta was Tyche Awaits You at 41-1. Fire Escape is owned by Finger Gun Racing #2 and trained by Blaine Wright. The 3-year-old filly ran the 6 1/2 in 1:16.78.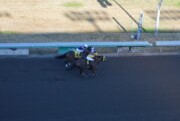 In the 9th 15-1 Stand To with Jake Samuels nearly pulled off the big upset but Kevin Radke on Missed the Boat got him in the final strides to post the neck victory. Missed the Boat was 7-2 and paid $9.80, coupled with Stand To it was a nice $43.70 $1 exacta. Heredia Boxer closed late to get 3rd by a neck over 4th place Dutton. Missed the Boat is owned by Thomas Sauvageau and trained by Candi Cryderman.
In the Get-away race of the week leading rider Alex Cruz with another perfectly timed ride from just off the pace as Prince of Luck ran down The Metal Man in the final 50-yards for a 1/2 length win. Norski ran on to be 3rd, Orcadian Storm was 4th and Miso Fast completed the Super Hi-5. Cruz won again for leading trainer Jorge Rosales and for owner Michael Radovich.
Sunday Claims
5th Race
Hydrogen was claimed for $15,000 by Hern/LePley Racing and goes to trainer Tim McCanna.
7th Race
Fire Escape was taken for $20,000 by new owner Tsujikawa Racing and Rosales Racing F1 and will be trained by Jorge Rosales.
9th Race
Heredia Boxer was tagged for $25,000 by BDW Racing and to trainer Blaine Wright's barn.
10th Race
Dusalut was claimed for $3,500 by owner and trainer Valentin Garcia.
Miso Fast was red tagged for $3,500 by owner Daisiel Escobar Castro for trainer Sergio Perez.
Prince of Luck went for $3,500 to Dawn Spillman for new trainer Robbie Baze
The Metal Man also taken for $3,500 by Dennis Trenkenschuh and heads to the barn of Tena Birdwell.
Quarter Horse Trials
There were 4 trial races on Sunday with 2 races as qualifiers of the $30,000 John Deere Juvenile Challenge and 2 races as qualifiers for the $40,000 Bank of America Challenge both races to be contested on August 28th. The top ten times out of the 2 qualifying trials advanced to the Stakes races later this month.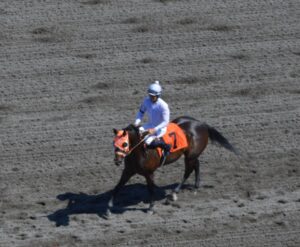 The 1st 2 races were for the John Deere Juvenile and in the 1st race Dash to the Flash T took the lead out of the gate and jockey Alex Anaya kept the pressure on for the 350-yards and won by a comfortable 3/4's length. CCR Pengra Road ran 2nd as those 2 paired off and were 1 1/4 and 2 lengths in front of the others. The Weekend ran 3rd, Corona Wagon Train was 4th followed by Good Candy Cash and Corona Crystal JP. Fancy Lyke was a late scratch when he broke through the gate and had to be corralled by an out rider. Dash to the Flash T is owned by Jose Luis Torres and trained by Freddy Ibarra and was bred in Oregon by the owner.
In the 2nd trial for the John Deere Bee a Freight Train broke quickly took control and jockey Guillermo Suarez cruised to an easy 1 3/4 length win. Cottonwood Blossom ran on to be 2nd, Check the Cartel was 3rd while Rebalicious ran 4th. The rest were Jess After Midnite, Piece of Calico, Dash for Five T and Ruby Dash. Bee a Freight Train is owned by Alberto Avila and trained by Edwin Rosales and the breeder was Darian Burt.
The 10 Qualifiers in order of their time for the August 28th $30,000 John Deere Juvenile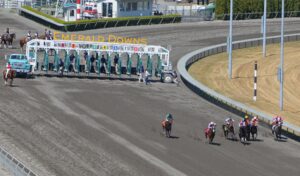 1 Bee a Freight Train  18.05
2 Cottonwood Blossom 18.38
2 Dash to the Flash T 18.38
4 Check the Cartel 18.49
5 Ccr Pengra Road 18.53
5 Rebalicious 18.53
7 Jess After Midnight 18.69
8 Piece of Calico  18.75
9 Corona Wagon Train 18.88
10 Dash for Five T 18.91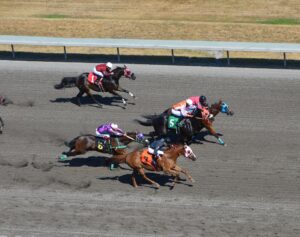 The trials for the Bank of America Championship Challenge began in the 3rd race with a field of 7. Jesstifiably Jess with Alex Anaya broke 3rd but then from his outside post ran down the leaders to get up and win by a head. Super Bowl Sunny Day just missed holding on for an upset win at 27-1 while 13-1 Fast Movin Freight was a neck out of it and a neck back was 4th place runner Dr Tool. The rest of the runners in order were overwhelming favorite CM Boom Shakalaka, No Juans Fool and Messenger. Jesstifiablilty is owned by Malon Cowgill and trained by Benito Curiel. The 6-year-old Washington bred gelding was bred by the owner.
In the 2nd trial Cm Once ina Blue Moon was the heavy favorite but came up short by just a nose as 6-1 Arizona Favorite and Santiago Jimenez nailed the favorite on the finish line. Alabama Hills got off a step slow but closed well to be 3rd and Skyywaalker ended up 4th. Then came Lionized and Heza Southern Cartel. Arizona Favorite is owned by Tryn Magallanes and trained by Hector Magallanes. The 6-year-old Arizona bred was bred by the owner.
The 10 Qualifiers in order of their time for the August 28th $40,000 Bank of America Championship Challenge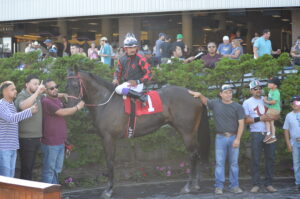 1 Arizona Favorite  22.40
2 Cm Once ina Blue Moon  22.40
3 Jesstifiably Jess  22.43
4 Super Bowl Sunny Day  22.45
5 Fast Movin Freight  22.48
6 Dr Tool  22.54
7 Alabama Hills  22.58
8 Skyywaalker  22.65
9 Lionized  22.66
10 CM Boom Shakalaka  22.72
___________________________________________________________________________
Saturday Racing
Muckleshoot Casino Feature Race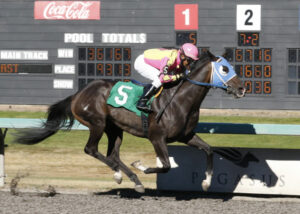 Classic Leah was the clear front speed in Saturday's feature race and the 2-1 favorite under jockey Leslie Mawing did not disappoint as she went straight to the lead and never looked back. In fact all Classic Leah and Mawing did was to add to their lead at every call of the 6-furlong dash and set all the fractions. At the quarter she led by 1 in a time of 22.37, at the half her lead was up to 3 lengths in a time of 45.04. She led by 4 at the top of the stretch and won by 5 3/4 stopping the clock at 1:09.78.
7-2 shot Brilliant Bird with Alex Cruz ran a nice ground saving race on the rail and was clearly 2nd best but could not threaten the Classic Leah. In the Vault with Kevin Orozco was 3rd by a nose over 4th place Lady O'Prada with Javier Matias.
Classic Leah races for Paul Johnson his 5th win of the year. Johnson is having a great season with 5 wins and 2 seconds from 9 starts. Vince Gibson is the trainer. Classic Leah earned $9,075 to push her career bankroll to more than $81,000. This was her 3rd win in a row and her lifetime record is now 8-6-2 from 28 starts.
Other Saturday Results
1st race saw Cutetip not be denied with a nice rail run for jockey Jose Zunino and pulled out the neck win as the 1-1 favorite in a 4 horse race. Talkingnonstop at 9-2 was 2nd by a neck over 3rd place Lovely Hussar while Fully Compliant was 4th. Cutetip races for owner and trainer Jesus Garcia which was Garcia's 1st win of the year in his 3rd start.
The 2nd race was also sniffed out by the bettors and Eddie Martinez who had his best week of the season last week kept the pressure on with a win aboard Gypsy Gun in wire-to-wire fashion by 5 1/2 lengths. Danny Zuko was a clear 2nd, Assurance ran 3rd and in 4th Alphabetical. Gypsy Gun is trained by Tom Wenzel and owned by Round Table Stable #1. The 3-year-old gelding is a Washington bred by Maimonides out of Queen of War by War Front and bred by Florence Vinton Fleming.
5 went in the 3rd and another easy front wheeling runner goes gate to wire in Annette Marie with Juan Gutierrez. Annette Marie won by 6 3/4 running the 5 furlongs in 58.30. Sparkles and Spurs was 2nd, Shelby Gold finished 3rd and Shesrsecretweapon was 4th. Annette Marie is a 2-year-old filly trained by Candi Cryderman and owned by leading owner John Parker. Annette Marie is a Washington bred by Gold Rush Dancer, out of Mo'orea Island by Midnight Lute.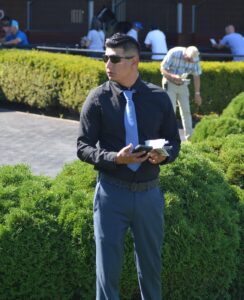 Antecedence scored her 3rd win of the season in the 4th race with Alex Cruz guiding the 4-year-old filly with a just off the pace win by a 1/2 length. Ashley Beautiful ran a solid 2nd at 12-1, Ineedamanlandapedi was 3rd and completing the superfecta was Whata Flirt. Antecedence runs for Lynn Hebdon and is trained by leading trainer Jorge Rosales.
Lassie Cat scored well from just off the pace with Kevin Radke up in the final 16th to get the win over Signature Colors in the 5th race. Dontforgetthesugar ran 3rd and Summer Pudding finished 4th. Lassie Cat ran the 6-furlongs in 1:11.88 and is trained by Dan Markle and races for owner Bruce Cudahy.
In the 6th race Iron Rob broke last and then roared down the stretch to roll to a 3 1/2 length win on a well timed ride from Kevin Radke at 7-1. 12-1 Freestone ran a solid 2nd and 18-1 Roman Rush finished 3rd while Warfront Fighter was 4th. Carbon River Racing owns Iron Rob and Jennifer Nunnally was the winning trainer.
In Saturday's 8th and final race jockey Clayan Millwood got his 2nd win since shifting his tack from Florida to the PNW and did it on 15-1 Continue On Victor holding off Bobby Buckets. Tribunal Love just got up for 3rd by a nose while Balius ran 4th and capping the Super Hi-5 was Bennyandthechicks. Continue On Victor races for Edmund Learned and trainer Kenneth Stubblefield got his 1st win of the season in his 3rd start of the year.
Saturday Claims
1st Race
Talkingnonstop was claimed for $2,500 by the Still Dreaming Stable and goes to the Vince Gibson barn.
2nd Race
Danny Zuko was tagged for $8,000 by new owners Two Putts for the Win #21 or Dennis Snowden or Lucarelli Racing Corp for Frank Lucarelli.
4th Race
Whata Flirt was purchased for $2,500 by owner/trainer Sergio Perez.
8th Race
Balius was red tagged for $5,000 by Victoria Reyes Mora and Santos Rosales for trainer Jorge Rosales.
Bennyandthechicks was claimed for 5k by the Emerald Racing Club and goes to the barn of Jeff Metz.
_________________________________________________________
Friday Night Racing
Muckleshoot Casino Feature Race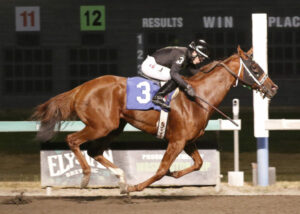 Oreo's Dream with Juan Gutierrez aboard sat the perfect stalking trip behind 4-1 Pearl River Delta with Kevin Radke who set the early fractions of the 6 1/2 furloing Muckleshoot Casino Feature race. Pearl laid down times of 22.39 for the quarter and 45.08 for the half but by the top of the stretch 3rd favorite Oreo's Dream at 3-1 was ready to pounce and rolled by the front runner with little resistance and pulled out to a comfortable 2+ length win.
Princess Payton with Eddie Martinez at 10-1 rallied late and got up for 2nd over Pearl River Delta while Suddenly Winning the longest shot on the board at 19-1 with Kevin Orozco was 4th. The top 2 favorites finished out of the money. This made for some decent pays in the 6 horse field as the $1 exacta paid $33, $1 trifecta paid $98.70 and the $1 superfecta a whopping $437.40.
Oreo's Dream stopped the clock in 1:16.85 and races for MoSaWi Racing, James and Ellen Moore and is trained by Greg Moore. It was Moore's 1st training victory of the season from just 9 season starts. Oreo's Dream is now 3-3-3 from 13 lifetime starts and earned $13,750 with the win to push the 4-year-old filly's earnings to a little more than $54,000. Oreo's Dream is a Washington bred by Coastguard, out of Oriental Dream by Orientate and was bred by Ron and Nina Hagan.
Other Friday Night Races Re-Cap
In the week's 1st race of the night Willing to Burn became the season's 1st 4-time winner when the 5-year-old mare set the pace, lost the lead and then ran down Collecting Stars for the win under Juan Gutierrez. Collecting Stars was 2nd, Lookout Taylor and Cocoa Cents completed the superfecta. Willing to Burn is owned by Joe Burke and Joe Crawford and trained by Charles Essex.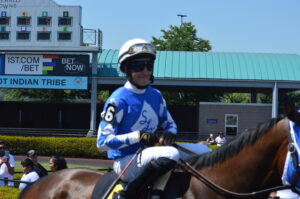 Jake Samuels returned to riding last week after a 22-month break and picked up a win last week. He picked up win #2 on Friday night in the 2nd aboard Pistol Power at 9-2. Mike Operator was 2nd, Upo and in 4th was Stephen James. Pistol Power races for Lisa Baze, Kyrie Patino and the S and M Stable and is trained by the red hot Rigoberto Velasquez. Pistol Power is a Washington bred by War Power out of Pistolpackin'gal by Tribunal and was bred by Donald Lawrence.
In the 3rd race Brony Boy with Kevin Radke sat in 4th while the pace was being determined by others and got up late to win by a half length. Tumac Mountain was 2nd,  Goldie's Hills was 3rd and Rousing Rubble ran 4th. Brony Boy ran the 5 1/2 furlongs in 1:03.65 and races for James Carter and trained by Jill Soranno.
4th race went to 16-1 2nd longshot After the Candy and was Jake Samuels 2nd win of the day. The front running 3-year-old gelding held on by a neck for the win and paid $34 on the $2 win. Mischief Road just missed and was 2nd, Moogie Son ran 3rd and Whatsthediff was 4th. After the Candy is owned by Letha and Steve Haahr and Lynn and John Perry and trained by Jeff Metz.
5th race saw owner/trainer Mike Thompson get his 1st win of the year with Lochness when Kevin Radke got the 7-year-old gelding up in time for the victory by a neck. Mosquito Fleet ran 2nd and just missed, 3rd place went to New Every Morning and Lastbesthope took 4th. Lochness ran the 6-furlongs in 1:09.60 and is a Washington bred by Salt Water out of Deco by Marquetry and was bred by Steve Fisher.
In the finale, leading rider Alex Cruz got the win with Lightning Star taking the lead at the top of the stretch and then holding on for the 3rd win of the night by a neck. Mystic Mag closed from far back to take 2nd, Moon Circumference was 3rd, Validate 4th and completing the Super Hi-5 was Whisper and Wink. Joe Ortega owned and trained Lightning Star.
Friday Claims
2nd Race
Mike Operator was claimed for $8,000 by Oscar Heredia and goes to the Jorge Rosales barn.
4th Race
Swing First was tagged for $15,000 by Ron Hagen and Charles Peterson and goes to trainer Steve Bullock.
Whatsthediff was also taken for 15k by new owner Rancho Viejo and Juan Martinez for trainer Rigoberto Velasquez.
www.elisportsnetwork.com