8/15/2022
It was Championship Sunday at Emerald Downs on Sunday highlighted with the 87th running of the Longacres Mile. The Mile was the 4th of 4 straight Stakes races with the Oaks first followed by the Distaff and the Derby. Stunning wins, huge pay-offs and keeping it local. All four Stakes races were won by local horses, trained by local trainers and owned by local owners. Our coverage of all 4 races is below beginning with the Longacres Mile.
The Longacres Mile
A field of 12 broke from the gate in the 87th running of the Longacres Mile. $150,000 was on the line when Emerald Downs starter Mark Gibson pressed the button to start the most prestigious race in the Northwest. After the previous 2 races it was unknown how this would all play-out. Front speed dominated the 1 1/16 Distaff followed by a winner who was last in a field of 11 and trailed by 16 lengths at one point.
The one sure thing was #12 Papa's Golden Boy would go to the lead and try to throw water on the theory he can't get the 1-mile distance. Papa is the prolific sprint champion at Emerald Downs for several seasons now but has not been able to pull in that elusive 8-furlong contest called the Longacres Mile.
When Mark Gibson let the field go Papa was pressured a bit from just his inside in #11 Spittin Image and carried him a little wider than jockey Kevin Radke wanted but he was still able to clear and take the front end position where he is comfortable. This year no one went with Papa and he was out on the front setting all the fractions leading by as much as 3 lengths. He ran the quarter in 22.70, the half in 45.17 and 3/4's in 1:08.97.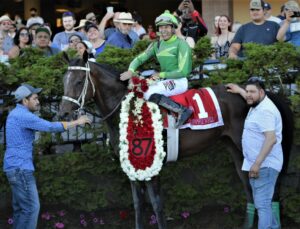 Race favorite 3-1 Top Executive with Evin Roman aboard had last year's Emerald Downs Horse of the Meet up closer than usual sitting in 2nd place but in position to get that all important 1st run. Spittin Image was also in the front trio but would fade and finish 8th. Last year's Champion Background with Geo Franco aboard was in good position as well in 4th about 4 lengths behind Papa. Then maybe the hottest horse in the race and the bettors jumped on the closer Slew's Tiz Whiz with Jose Zunino making him the 2nd favorite at 3-1 sat midpack in 6th along the rail while in 7th was Five Star General with Leslie Mawing.
Further back were 9-2 Majestic Eagle with Declan Cannon, Torpedo Away and Alex Cruz, Unmachable with Kevin Orozco, Kingmeister and Javier Matias, Hard to Deny with Jake Samuels and trailing was Huge Bigley and Eddie Martinez. None of these ever really got into the race and either ran flat or simply trailed with no response and finished 6th to 12th with Spittin Image in 8th. 
As they approached the quarter pole the 11-1 Papa's Golden Boy was in position to finally answer his critics who say he can't get the distance as he sat on a 3 length lead over Top Executive with Background next. This was when those two were supposed to launch but both began to dog paddle a bit and would finish 4th and 5th respectively. It looked like Papa was clear except the one that got him in the Governor's Stakes Slew's Tiz Whiz began to wind up inside the quarter pole.
Zunino had been well aware of his position and although on the rail always made sure his pathway didn't get shut off and as he swung into the stretch he again angled Slew off the rail and had a wide open lane to take his shot at Papa and man did he kick it into overdrive and exploded at the 1/8th pole to take the lead at the 16th pole and pull away for a 2 3/4 length win and stopped the clock at 1:34.46. This is the 8th fastest time of the 27 Longacres Mile's run at Emerald Downs since 1996.
Papa's Golden Boy did everything he could but simply could not withstand the furious rally of Slew but had to settle for a clear 2nd, his best run of 3 in the Longacres Mile. Owner Gary Lusk told ESN how excited he was for how Papa ran and says "you know it may be too far for him and he may never win it but this is our big race and he's a local horse so we're gonna keep trying. Maybe one time he won't get caught but we know someone will have to pass him for us to lose." Lusk says after watching the replay that you have to be impressed with Slew's Tiz Whiz, he said, "man that was an amazing turn of foot, really impressive." He was also happy that if it wasn't Papa's turn that it would be a local and congratulated Mrs Krieg and the connections.
Five Star General at 15-1 had a nice late run as well catching Top Executive in the final strides to get 3rd by a head and Top Exec beat Background for 4th by a neck so a blanket finish for 3rd-5th. Those 3 were 2 lengths in front of the rest of the field.
Slew's Tiz Whiz is owned by K D Thoroughbreds who are Karl and Darlyne Krieg. Karl Krieg passed away in September of 2019 after a battle with cancer. K D Thoroughbreds got their first stakes win since his passing last month in the Washington State Legislators Stakes with Dontkissntell and then on the same day won the Governor's with Slew's Tiz Whiz. (Link to stories of those two wins here) The Governor's dominate win led Mrs Krieg and trainer Tom Wenzel to target the Longacres Mile. Jose Zunino has ridden each of those races for the connections.
Karl Krieg bred Slew's Tiz Whiz. Slew is a 4-year-old gelding by Slew's Tiznow out of Ros's Girl by Rosberg. Slew's Tiz Whiz is now 6-1-1 from 12 career starts and picked up an $82,500 paycheck and nearly doubles his lifetime earnings to $170,707. This win coupled with the Governor's Stakes certainly puts Slew's Tiz Whiz at the top of the list for Horse of the meet. There is one more Stakes he could run in this season and that's the Washington Cup on September 18, closing day. 
Slew's Tiz Whiz paid $8.80 on the $2 win and also keyed a 1 winning ticket 50-cent All-stakes Pick 4 pay-off of $67,847.05. More on the betting results in the Betting window below.
The 87th Longacres Mile and Winner's Circle Festivities
Our Interview with Longacres Mile winning Jockey Jose Zunino
Our Interview with Longacres Mile winning Trainer Tom Wenzel
Our Interview with Jockey Kevin Radke on 2nd place Papa's Golden Boy
Muckleshoot Derby
The Muckleshoot Derby was the 7th race on the card for 3-year-olds and up going 1 1/16th miles and a field of 11 was eyeing the $75,000 purse. Certainly now after a 21-1 and then a 23-1 winner in 2 of the largest Stakes Purses of the year sanity would return and expect a reasonable favorite or at least say 6-1 or lower was due to come through in this day of Champions. That assumption would again be wrong and in fact exceptionally wrong.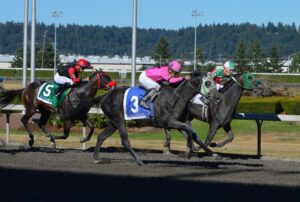 Nothing made sense in this race. Zippin Sevenze just went wire-to-wire on a track that is known for speed and front end wins. The track was tightening and you would need to be close to the lead. Certainly the longest shot on the board who was just claimed 2 races ago for $8,000 had no business sniffing a top 4 finish let alone the Winner's Circle. But the connections of You're the Cause had decided why not take a shot. There had been few 2 turn races this season in Auburn and certainly the 1 1/16th distance you could count on one hand and that's the kind of race You're the Cause was looking for. His late closing kick might pick off several in the stretch and a 4th place finish would pay close to what a win in an $8,000 claimer would pay.
And You're the Cause was used to being overlooked as he won for his new owners the next race being stepped up to a 10k race and going off at 18-1 new rider Javier Matias took him back and came charging for the win. They decided this was the correct strategy again despite the previous race front running win they couldn't change how You're the Cause runs so Matias took him back last at the break and afterall that's where a 55-1 shot is supposed to run.
Going to the front was 4-1 Smiling Goodbye with Evin Roman in for the day riding and he was joined by Little Casino with Kevin Radke just a head behind. Those two would lay down fractions of 22.31 for the quarter, 45.10 for the half and the 6-furlongs in 1:09.31. Smoken Shadow, Big Paper Daddy and Wear the Crown would all be that next level sitting 3rd thru 5th but in the end all would falter and that trio would finish 9th, 10th and 11th.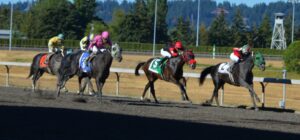 Last year's Gottstein winner Midnight Mojo with Eddie Martinez was also biding his time down along the rail looking for a repeat in how they won the last Stakes race of 2021. On the far turn Smiling Goodbye began to edge away from Little Casino while 8-5 race favorite Executive Chef with Kevin Orozco had also begun to move along with 6-1 Itsallabouthteride with Juan Gutierrez and now it looked normal. 4-1 Smiling Goodbye would try to hold Executive Chef and the one to beat Chef in the Irish Day Stakes as they wheeled into the stretch it would be one of these three….so we thought.
While all of this was going on two big moves were happening from far back. First Midnight Mojo and Martinez were getting the same trip as they did in the Gottstein as the rail opened up and they had they aim dead on the leading group. Meantime, you can't even see You're the Cause on the screen until about the quarter pole and Matias veers to the far outside and takes his own clear path at the leading trio.
At the 1/8th pole you can see the leading 3 begin to flatten out and by the 16th pole Midnight Mojo had grabbed the lead and Martinez no doubt thought he was home free for a big win also at a price at 11-1. But You're the Cause and Matias were so far outside Martinez did not even see him until they took the lead and they had a little more momentum than Mojo and roared to the win by 3/4's of a length to stun the large Mile day crowd. Midnight Mojo was 1 1/2 lengths in front of Smiling Goodbye who held on well for 3rd just a head in front of Executive Chef.
Midnight Mojo's trainer Tom Wenzel was certainly disappointed not getting the win but was pleased with the effort he got from both his horse and rider but perhaps set the table for what was going to happen in the next race but more on that in our coverage of the Longacres Mile above.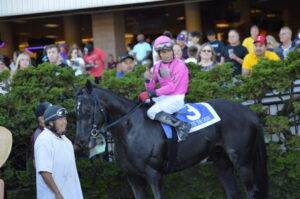 You're the Cause ran a last to first in a time of 1:43.53 and earned his biggest paycheck of his career of $41,250 pushing her total earnings now to more than $66,000. Not a bad $8,000 claim for owners WillWin Stable and Trainer Debbie Van Horne. Jockey Javier Matias has had been wins including the Longacres Mile on Barkley so he knows how to get a win in the big races and the longtime journeyman showed he's got plenty of juice left in him.
Speaking of Juice and there's more coverage of this in our "Betting Window" section below but You're the Cause paid the 2nd highest $2 win in a stakes race in Emerald Downs history of $115.60, 2nd only to No Giveaway who paid $122 pay-out in the 2005 Longacres Mile. The 23-1 Zippin Sevenz to 55-1 You're the Cause also set a record in the highest $1 Daily Double pay-out in track history of $3268.90.
The Stretch Run of the Muckleshoot Derby
Winner's Circle Ceremony with Joe Withee
The Emerald Distaff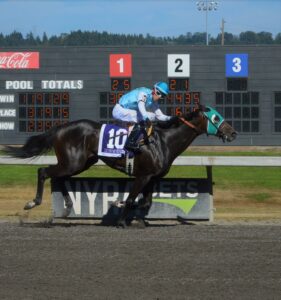 After the upset in the Oaks fans were ready for a more reasonable outcome…but they would not get it. Fillies and Mares, 3-years-old and up contested 1 1/16th miles for the $75,000 purse. There was a late scratch, Prospera dropping the field to 9. #10 Zippin Sevenz with leading rider Alex Cruz broke fast and went straight to the lead. The 23-1 shot set all the fractions the quarter in 23.12, the half in 46.02 and 6-furlongs in 1:09.58.
Heavy favorite and defending champion Princess of Cairo with Geovanni Franco was in great position sitting 4th early and then had moved up to 2nd on the far turn and looked ready to pounce. Instead Zippin Sevenz had more in the gas tank and entered the stretch with a 2 length lead. The Princess was all out but was making up just a minimal of ground and Zippin Sevenz finished what he started going gate to wire winning by more than a length in a final time of 1:42.15.
Princess of Cairo tried her best but settled for 2nd and second favorite Buyback with Evin Roman had also moved into position to close but ran even down the stretch to hold 3rd while deeper closer Our Lyla Grace made a nice run to get 4th.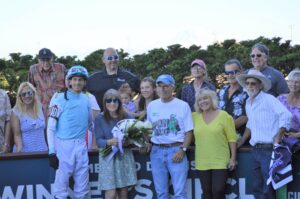 Zippin Sevenz had been running in allowance and optional claimers but saved her best effort for the Distaff. She improves her lifetime record 4-2-2 from 12 starts. This was her 2nd stakes race she finished 4th in the Kent Stakes last year. Mike Phillips is the winning owner and Alan Bozell is the winning trainer. This is technically Bozell's 2nd stakes win as he had one as the host trainer of a shipper but says this one is all his and was overwhelmed with excitement on the victory.
Zippin Sevenz earned $41,250 to push her career earnings to nearly $92,000. She paid $49 on the $2 win and the $1 daily double of 21-1 Tiz a Macho Girl to 23-1 Zippin Sevenz returned $429.70.
Stretch run of the Emerald Distaff
Winner's Circle activities with Joe Withee
The Washington Oaks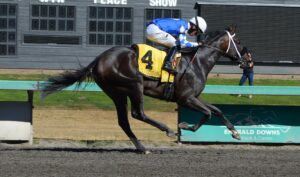 Strictly for 3-year-old fillies the Washington Oaks began the 4 Stakes Races in a row in the 5th. 9 fillies went 1 1/16th miles chasing the $75,000 in purse money. Second favorite Unsolved Mystery with Alex Cruz took to the lead at once with race favorite Slack Tide at 1-1 with Kevin Radke breaking 2nd. Surprisingly 21-1 Tiz a Macho Girl also broke in the front bunch with Jake Samuels aboard.
As they headed into the 1st turn Unsolved Mystery was setting the fractions going the first quarter in 23 flat. Tiz a Macho Girl shifted down to the rail while Radke got Slack Tide relax and settle into 3rd place. The rest of the field was headed by Big Java with Geo Franco aboard running in 4th, Koron and Kevin Orozco between horses with longshot Let Reign and on the rail Gold N Glitter with Gold Coast Girl and Princess Payton far back.
As they settled down the backstretch Unsolved Mystery continued to set the pace but Tiz a Macho Girl really wanted to go and Samuels thought it was best to let her have her way and cruised up next to Unsolved Mystery and the two set the 1/2 mile at 46.65. Samuels had plenty of horse on this 21-1 shot and let her out a bit more as she took control at the quarter pole and began to pull away as Slack Tide began to close along with Big Java.
Tiz a Macho Girl never looked back and rolled to the Oaks Championship going the 1 and 1/16 in a time of 1:42.17 and races for Letha and Steve Haahr and Saratoga West and is trained by Jeff Metz. Tiz a Macho Girl paid $45 on the $2 win. She just broke her maiden in her last race and now has won 2 in a row and more than doubled her bankroll from $20,380 to $61,530. Tiz A Macho Girl is a Kentucky bred by Mucho Macho Man out of Courtizanna by Tiz Now.
Washington Oaks Stretch Run
Joe Withee talks with the Oaks winning connections
Mile Consolation The John Parker Racing Purse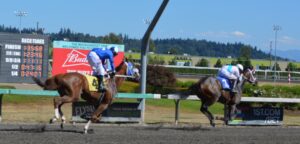 The 4th race ended up being a pseudo Longacres Mile consolation race. The 7 horses in the race had nominated to be in the Longacres Mile and wanted to run so the Emerald Downs management put together this 1-mile race and offered a $40,000 purse which attracted 7 of them to run in this race instead of the Mile.
In a well matched field House of Lords with Kevin Orozco up was the slight favorite at 5-2 over Fantastic Day with Alex Cruz also at 5-2 but about $1,000 more dollars on House of Lords. Take Charge Deputy with Kevin Radke at 7-2 went to the front with the outside post El Alto Hombre with Leslie Mawing and that pair set the fractions to the far turn of 24.07, 47.16 and 1:11.11.
The mid-pack and deep closers began to stir with 2nd favorite Fantastic Day and House of Lords while 5-1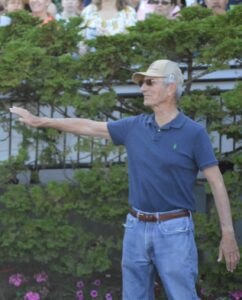 Complicate scooted up the rail with Jose Zunino. Back further came Rocky Tough and Javier Matias. As they swung into the stretch the speed was beginning to falter and Zunino angled Complicate to the outside and he burst to the lead with House of Lords rallying on the far outside with Kevin Orozco. Complicate had another gear though and drew off for an easy win, House of Lords closed well for a clear 2nd while El Alto Hombre held on well for 3rd and Rocky Tough was 4th.
The final time for Complicate was 1:35.77 and he paid $13.20 on the $2 win. Complicate is owned by Missed the Boat Racing and trained by Kenneth Person. Complicate took home $22,000 and now has lifetime earnings of more than 100k with a 5-1-5 record from 16 starts.
Stretch run of the John Parker Racing Purse
The Betting Window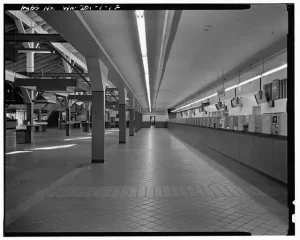 The big bet of the day was the all-stakes 50-cent Pick 4. It was hard to imagine anyone being alive heading into the Longacres Mile with a 21-1, 23-1 and 55-1 shot all winning the 1st 3 races. But there were 3 live tickets and all to the top 3 favorites in the Mile. Slew's Tiz Whiz, Top Executive and Majestic Eagle. Had Papa's Golden Boy held on the pot would have been split to those with 3 winners but instead Slew got the job done and the single winning ticket paid $67,847.05.
That was the big one but now let's back up and start from the beginning. The 1st 3 races were pretty straight forward with a 2-1, 6-5 and 3-1 shot winning. But in the 3rd race it was a field of 10 2-year-olds and it was a solid betting race with a 13-1 running 2nd paying $10.60 to place and $6.60 to show the 3rd place runner was 13-1 and paid $6.20. The 50-cent trifecta was good for $137.40 and add the 3-1 favorite running 4th and the $1 superfecta returned $1,752.60 or a healthy $175.26 on the dime bet.
The 4th race was the pseudo Mile consolation race and 5-1 Complicate won it paying $13.20 on the $2 win. It also kicked off a 50-cent pick 4 just prior to the All-Stakes pick that began in the 5th race. Complicate also capped the 1st pick 4 which returned $141.50.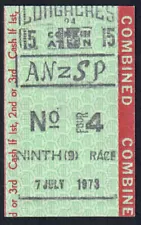 In the 5th the Oaks the $2 win was $45 for Tiz a Macho Girl and the $2 combo paid $62.20 but the old green ticket with red trim $5 combo would have paid $155.50. With the heavy favorite Slack tide running 2nd the exacta was decent at $63 and the $1 super of 21-1 to 6-5 to 3-1 to 5-1 was a hearty $621.90.
The 6th saw things get even more interesting with the $2 win at $49 and the $2 W-P-S good for $67. Also in this race the place horse was 6-5 followed by an 8-5 with a 14-1 finishing 4th. The $1 exacta paid $55.20, the 50-cent trifecta returned $82.60 and the 10-cent superfecta $62.59.
The $1 Daily Double of 5-1 to 21-1 paid $429.70 add the 23-1 and the 50-cent Pick 3 returned $1,262.30. Or back in the 80's when the Pick 3 bet was introduced and was a minimum $3 bet that would have paid $7,573.80.

The Tote board literally exploded after the 7th race when 56-1 You're the Cause ran past the field for the win with 11-1 Midnight Mojo running 2nd followed by a 4-1 and the betting choice at 8-5 running 4th.
You're the Cause paid a whopping $115.60 to win, $45 to place and $21.20 to show. The old $2 combo or $6 bet gave you $181.80. Midnight Mojo returned a solid $11.00 to place and $6.40 to show and the 4-1 Smiling Goodbye paid $5 to show.
The $1 exacta paid $924.30 or in the old days with the $5 minimum blue exacta ticket the pay would have been $4,621.50. The 50-cent trifecta was good for $4,770.75 back to the glory days of racing and the tri was a $3 minimum bet and would have paid $28,624.50. The 10-cent super was $2,862.92 or $28,629.20 for the $1 super.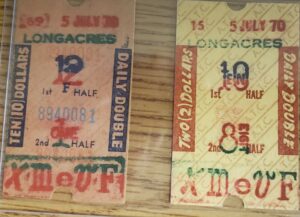 The Pick 3 only paid $137.45 because no one had all 3 winners on their ticket so 2 of 3 got you $137.45. Believe it or not 1 person had all 4 but did not have the pick 3. The single 50-cent Pick 4 paid $29,970.30. Finally the $1 Daily Double paid a track record of $3,268.90. Or say you bet one of these tickets, your only choices back in 1970 the $2 pay-off would have been $6,537.80 and the $10 double would have returned $32,689.
Even though the 2nd favorite at 3-1 Slew's Tiz Whiz won the Mile there was still money to be made with 11-1 Papa's Golden Boy 2nd, 15-1 Five Star General 3rd and favorite Top Executive at 3-1 running 4th. Slew paid $8.80, $5 and $3.40 while Papa paid $11.20 to place and $7.80 to show and the General was good for $7 to show.
The $1 exacta paid a decent $60.90, the 50-cent trifecta $214.7- and the 10-cent super $214.38 or $2,143.80 on the $1 bet. The $1 daily Double was good for $375.30, the 50-cent pick 3 was a stunning $4,180.60 and again the 50-cent pick 4 more than 67k.
In the 9th race the 56-1 shot to 3-1 to 2-1 fueled a huge 50-cent pick 3 of $3,411.65 and then in the finale the late 50-cent pick 4 again starting with the 56-1 to 3-1 to 2-1 to 3-1 paid $9,867.75. The 50-cent pick 5 only paid $223.25 because no one had all 5 so 4 of 5 paid the consolation but nearly $29,000 will carryover to next Friday. The 20-cent Jackpot Pick 6 also did not have anyone hot all 6 or 5 of 6 but 4 of 6 paid off $821.36 with a $2,190 carryover to Friday.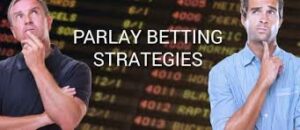 Another fun bets some folks like to do include a show parlay. If you did not want to bet the favorite but were uncomfortable with the longshots a show parlay on the 2nd favorite would have been very profitable. Let's go with a $20 start. In race 5 your $20 show bet would have been on Unsolved Mystery who ran 3rd and paid $3 giving you $30. Up next you would have bet all $30 on Buyback who also ran 3rd and paid just $2.40 which gets you up to $36. In the Derby your $36 show bet would have been on Smiling Goodbye again running 3rd and this time paying $5 giving you $90. Slew's Tiz Whiz was the 2nd favorite in the Mile and won paying $3.40 giving you a total of $153 or a $133 profit.
Now let's say you're feeling it and there are 2 more races and want to keep it going your next bet of $153 to show would have been on 3-1 Hunter's Ghost who ran 2nd and paid $3.80 which turns your $20 bill into $290.70. Your final bet would be $290 since you can't bet the 70-cents to show and it would have been on Senor Fabuloso who won and paid $3.20 and your final winnings from a single $20 bill would have been $464.70 or a $444.70 profit betting show bets on the 2nd favorite in each race with all these longshots coming in.
By the way, the 2nd favorite placed 1st, 2nd or 3rd 9 out of 10 races with only Fantastic Day in the 4th not hitting the board.
Money Stays Home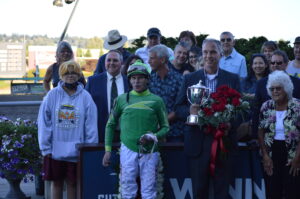 All 4 winners of the Stakes races yesterday were all owned, trained and ridden by Emerald Downs folks. The win money of all 4 stakes races a combined total of $206,250 will stay local. The winner of the Oaks, Tiz a Macho Girl is owned by Letha and Steve Haahr and Saratoga West and was their 2nd win from 3 starts. This moved the ownership group up to #16 based on money won in the owner's standings. Jeff Metz is the winning trainer and is so local that he is the trainer for the publicly owned racing stable "the Emerald Racing Club" with several hundred members. The win is his 15th and he is 7th in both wins and money earned in the trainer's standings. Meantime, jockey Jake Samuels just began riding again a few weeks ago after a 22-month break this is Samuels' 4th win from 30 rides and has moved him to 11th in both wins and money.
In the Distaff Zippin Sevenz was ridden by 2 time defending riding champ Alex Cruz, trained by Alan Bozell and owned by Mike Phillips. For Phillips got his 1st win of the year and has a 1-1-1 record from 4 starts. His bankroll jumped from about $11,000 to more than 52k and with just 1 win cracks the top 20 in owner earnings at #17. Bozell has had a solid season but win #6 has turned it into a great season. Bozell is 6-4-4 from 27 starts this year and has now earn well over a 100k at $119,291 moving him to the #12 position in money and tied for 10th in wins. Alex Cruz now has 69 wins, 56 places and 43 shows and $917,170 in his bankroll. #1 in wins and money earned.
In the Muckleshoot Derby the owners of the 55-1 You're the Cause was the WilWin Stable who grabbed their 4th win from 13 starts and have reached earnings of more than 64K. This has moved WilWin up to #12 on the owners earning standings. Trainer Debbie Van Horne got her 4th win of the season and sports a 4-3-2 record from 16 season starts and earnings that topm70K at $71,932 to put her 20th in trainer earnings. Rider Javier Matias with the big win got his 18th win that puts him in a 3-way tie for 5th and 7th in jockey earnings.
And in the Mile the winning owner was K D Thoroughbred who got their 4th win of the season with 3 of those wins in Stakes races. K D is 4-2-2 from 13 starts and getting that 82k in 1st place purse money has jetted K D all the way to 2nd in owner earnings with $174,360. They trail only John Parker who has 18 wins and an 18-21-15 record from 85 starts. Trainer Tom Wenzel is now 17-12-10 and 7th in wins but now 2nd in trainer money standings leaping over Frank Lucarelli and about 20k short of catching #1 Blaine Wright. Wenzel has racked up $429,476 is winnings. Jose Zunino is having his best year ever at Emerald Downs winning his first Mile and 3rd Stakes of the season. He's in a 3-way tie for 5th in wins and takes over 5th in the jockey earnings with $446,653.
Van Horne owns 55-1
Debbie Van Horne is a long time veteran conditioner and started her career in 1977 as a trainer, that's 44 years in the biz. She no doubt is celebrating her 55-1 You're the Cause win in the Derby yesterday.
Van Horne spent the 25% of her career on the Portland Meadows, Salem, Grants Pass, Boise, Coure d' Alene, Playfair and Yakima circuit. It wasn't until 1991 when she ran at Longacres on a consistent basis. Her first win was on Thursday, May 23rd in the 10th race with a horse named Half Lash. Half Lash was ridden by Luis Jauregui who went gate to wire in a front running win. The odds on Half Lash…55-1. Lesson is when Van Horne is 55-1 bet the farm!
Lots of years at Emerald Downs
The 4 winning trainers have all spent many years at Emerald Downs. Both Tom Wenzel and Debbie Van Horne have been here from the first year in 1996. Alan Bozell began in 2002 and the newcomer is Jeff Metz who actually began training in 1991 but has been at Emerald regularly since 2013. Combined the 4 have 121 years of training experience and 81 combined years at Emerald Downs.
The 4 winning jockeys are not quite as experienced as that with Alex Cruz riding for 9 years and 3 at Emerald Downs, Jake Samuels has ridden for 10 years with parts of 4 years at Emerald. Jose Zunino came to the United State in 2003 after having ridden in South America but we are not sure how many years he was there prior to coming to the U-S. Since being here he as ridden 19 years and been at Emerald Downs for 17 straight years. Javier Matias has been riding in the U-S since 1997 and has been at Emerald Downs for the last 23 years. All total the 4 have 63 years of U-S and Canada riding experience and 47 years at Emerald Downs. Just Zunino and Matias have a total of 44 years riding and 40 years at Emerald.
Photo Gallery
www.elisportsnetwork.com