8/15/22
Another fantastic pitching matchup was the talk of game one of the three game set between the Seattle Mariners and Los Angeles Angels. Luis Castillo and Shohei Ohtani were set to collide. By the time the final game was over, all people could talk about was the insanity that was the 9th inning and the Angels meltdown and some umpire controversy.
The game started fairly normal. Angels nemesis Jesse Winker stepped up against the Angels best pitcher and it would be Winker winning the battle. Winker would hit a 3-2 slider into the stands in right center for his 12th home run of the season. Seattle took the early 1-0 lead.
It wouldn't last long as we got our first taste of the bizarreness that was this game. Luis Rengifo hit a deep fly ball to right center, and it looked like both Mitch Haniger and Julio Rodriguez looked to have a play on it. The bad news was that there wasn't communication, and they would collide and knock the ball off the wall for a triple. The umpires would review it and change the ruling to a home run (which was the right call) to tie the game at 1-1. It was Rengifo's eighth home run of the year.
In the 3rd, we got some more wackiness. Julio Rodriguez would drive an 0-2 pitch to right field for what was initially called a home run. The umpires would review the call and it looked like the ball clearly wrapped around the foul pole but New York saw it differently. It would be ruled a foul ball and J-Rod would then strikeout instead.
Later that inning, a two out single by Winker followed by a walk by Mitch Haniger, set the table for J.P. Crawford. Crawford would stay red hot with a base hit to center to score Winker and put the Mariners back on top 2-1.
The Angels got that run back in the bottom of the 4th. A leadoff double by Taylor Ward but Luis Castillo in a tough spot. Jared Walsh would then line one to right for a base hit. Ward would score from second and an error on the relay allowed Walsh to get to second with nobody out and the score even at 2-2. Castillo would make a nice play on a comebacker and the Mariners would have another successful rundown to erase Walsh and help Castillo escape the inning.
Both Ohtani and Castillo weren't bad but both had to throw a lot of pitches which limited their innings. Both aces would get through six innings with two runs each and one walk. Ohtani would tally eight strikeouts while Castillo would strikeout the side in the 6th to finish with nine punchouts on the night.
Both bullpens would keep things even headed into the 8th. Andres Muńoz would find himself in some hot water in the bottom of the 8th. After a leadoff infield single by Ohtani, Muńoz would retire the next two batters. Jared Walsh would single to left to put runners on the corners with two outs. The Mariner reliever would settle down and strikeout Steven Duggar looking to get out of the jam and head to the 9th at 2-2.
Then things got weird. A one out single by Sam Haggerty was normal. Then Angels relieve Aaron Loup would throw one in the dirt and it would kick away from Max Stassi a little bit. Haggerty decided to not try for second and headed back to first. Stassi didn't get the memo and would grab the ball and throw it down to second, but the throw would sail into center to allow Haggerty to get to second. Haggerty would then steal third on the next pitch to put the go-ahead run 90 feet away with one out. Carlos Santana then got confused by the count which he thought was 3-1 but the umpire had it 2-2. Santana talked the umpire into the 3-1 count which replay showed was not correct. The count should have been 2-2, but the next pitch missed which allowed Santana to walk down to first despite it only being ball three.
Things weren't done yet. Dylan Moore would pinch run for Santana with Julio Rodriguez coming to the plate. J-Rod lined one towards second baseman Luis Rengifo. Rengifo would have it momentarily, but the ball would pop out. Instead of stepping on second, Rengifo would throw it home to catch Sam Haggerty in a rundown between third and home. Nobody would cover home after a throw to third which allowed Haggerty to score and Dylan Moore to move to third. The M's now had runners on the corners with one out and a 3-2 lead.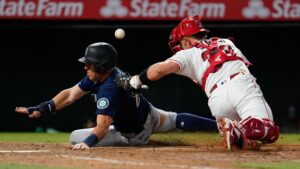 It can't get worse right? That's what most thought but we were all wrong. Ty France would hit a grounder to shortstop Andrew Velasquez for what looked like an easy double play. Velasquez decided to try to get Moore at the plate instead and looked like they had Moore out easily. As catcher Max Stassi applied the tag, he would lose the ball which allowed Moore to score to make it 4-2 Mariners.
With Rodriguez on third and France on second, Jesse Winker would groundout to third basemen Jose Rojas, who would slip trying to throw home and had to just take the out at first instead and allow Rodriguez to score to make it 5-2. Crawford would then get a base hit to left to score France and add some insurance to make it 6-2 Seattle.
Paul Sewald would come in and strikeout Max Stassi and get Magneuris Sierra to pop out to J.P. Crawford at short. Jo Adell would then pinch hit and fall behind 1-2. Adell would then check swing on a ball that hit him on the fingers and put him in a lot of pain. However, the umpires ruled that he went, which he clearly did, for a strikeout to end the game while Adell was getting checked on by an athletic trainer. Nobody realized the game was over at first, but it would be for a 6-2 Mariners win.
The Mariners (63-54) capitalized on a Blue Jays loss to take over the top Wild Card spot once again. Seattle sits ahead of both the other Wild Card teams in Toronto and Tampa Bay by just half a game and head of the first team out in Baltimore by two games. The Mariners and Angels (51-65) continue the three-game set on Tuesday at 6:38p. It will be Robbie Ray (8-8, 3.90 ERA) getting the start for Seattle against Jose Suarez (4-4, 4.04 ERA) for Los Angeles.
Matt's Takeaway
This game was just…weird. I really don't know any other words to describe it. From Castillo and Ohtani being dominant but having to throw so many pitches to the defensive issues on both sides and some umpiring controversy. It was just awkward to watch and never felt like either team wanted to take control of the game until the 9th. Pretty is not a word I would use to describe the win, but the Mariners needed that win. It was classic Mariners chaos ball. After a flat series in Arlington, the Mariners needed to get some momentum back on their side. Also, this could snowball for the Angels. The Mariners are now in a prime position to take this series and get everything back on track.
Top Performers
Mariners
Jesse Winker- 2-5, HR, 2 RBI, 2 R
J.P. Crawford- 2-4, 2 RBI, BB
Luis Castillo (ND)- 6 IP, 6 H, 2 R, 2 ER, 1 BB, 9 SO
Angels
Jared Walsh- 2-3, RBI, BB
Luis Rengifo- 1-4, HR, RBI, R
Shohei Ohtani (ND)- 6 IP, 7 H, 2 R, 2 ER, 1 BB, 8 SO, 1-4