9/27/2022
Tumwater 3, Aberdeen 0
(Tumwater, WA) The Tumwater T-Birds came into their match with a perfect 3-0 league mark and facing an always tough Aberdeen squad who was 3-1 and a big chance to push the EVCO 2A standings into a frenzy.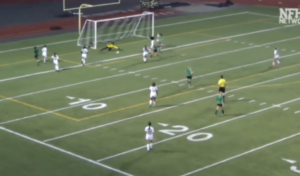 The T-Birds got off to a fast start especially Regan Brewer who got things rolling in the 13th minute. Ava Jones set it up with some great footwork off the left side and sent a shot across the Brewer finished off into the net for the 1-0 lead.
The T-Birds then took advantage of a fortuitous bounce after a shot on goal that the Bobcat keeper stopped but couldn't reel in the ball that rolled out and Brewer again was in the right spot knocking it in for a 2-0 lead in the 24th minute and that's how it would stay to the half.
Aberdeen needed to keep it close if they were to have a chance to make a comeback in the 2nd half. Bobcat keeper Dominique Trevino rose up and punched up the shot and then caught it to keep the T-Birds from adding to their lead. 
Tumwater would clinch the match in the 62nd when Lucy Bergford fired a shot from the top of the box and lasered it to the back of the net pushing the lead to 3-0 which would be the final score. 

The T-Birds are now 6-0-2 overall and 4-0 in EVCO 2A league play. Tumwater's Regan Brewer was named the Thorbeckes MVP of the game. The T-Birds are on the road at Rochester on Thursday. Aberdeen drops to 2-2 in league play and 3-2 overall. They will look to get back in the win column on Thursday with a home match with Shelton.
Video Highlights
T-Birds Regan Brewer knocks in the 1st goal
Bobcats keeper comes up big early in the 2nd
Tumwater clinches with laser shot from Bergford
www.elisportsnetwork.com