09/29/2022
Timberline 36, Gig Harbor 34
by Alex Benzegala
(Purdy WA) – On a night where Timberline and Gig Harbor were both missing catalysts to their respective offenses, it was one defensive stop in overtime that was the difference as Timberline went on the road to Roy Anderson Field Thursday night and knocked off Gig Harbor 36-34 in overtime.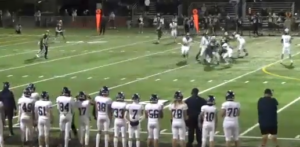 Both offenses struggled in the early going, with Tides star running back Blaze Herbert missing the game despite being in the initial starting line up, and both defenses dominated the first couple of minutes. Jacob Nadaeu, who has been the starter for the Blazers at quarterback was injured last week and in his place was junior receiver Cedric Ragland, and like Gig Harbor, Timberline could not do much offensively on their first couple of drives.
Gig Harbor struck first with a long pass from Senior quarterback Will Landram to Gavin Nash for a 41-yard TD to make to make it 7-0, Tides.
The Blazers responded immediately on a 3-play 81-yard TD drive capped off by a 6-yard TD rush for Ramar Reid, the 2-point conversion failed and it remained 7-6 after 1 quarter.
Landram kept on heating up as he found Benji Parks for a 4-yard TD pass put put Tides up two scores at 14-6.
Timberline again came back late in the 2nd with a Cedric Ragland TD pass to Jackson Brown for 28 yards, 2-point was good and it was tied at 14-14 at halftime.
The 2nd half saw the defenses face off but like most of this game big plays impacted the direction throughout the night and Gig Harbor struck first with the second Landram to Benji Parks connection, this time from 49 yards out to give GH an early lead in 3rd quarter 21-14.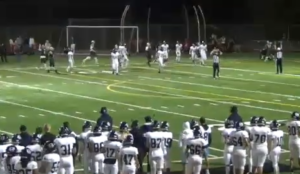 The Blazers offense was not getting much going in the 2nd half, but their defense kept Timberline within 1-score until the ESN Turning Point of the Game,  a Jerrell Larkins 55-yard punt return TD, the 2-point attempt was good to give the Blazers their first lead in Purdy 22-21.
Timberline continued their momentum by stopping Gig Harbor on a 4th down attempt, and it seemed they would ice the win with another score late in the game to end it. That is not how it happened though, a Ragland deep pass to Larkins set up what appeared could be a game ending score, but it appeared that the Tides had allowed Kaleb McNeely to walk into the end zone for a 1-yard score. After Timberline failed a 2-point try with 2:01 to play in the 4th, Gig Harbor had a chance trailing 28-21.
Jayden Mayes, who started at RB for GH with Herbert out, had a big drive to set up a game tying TD, as Landram delivered another beauty of a pass, this to Carson Griffin and the extra point tied it with 32 seconds in the 4th.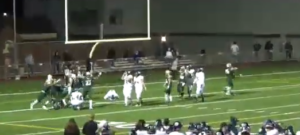 They went to OT where the Blazers added another McNeely run, this from 2 yards out, and another 2-point conversion to give them an 8 point lead at 36-28.
Landram answered the bell like he had all night and all season with a 2-yard TD run, but the 2-point try failed on an attempted screen pass to Gavin Nash and Timberline got the stop they needed to preserve the road win.
Timberline improved to 4-1 overall and 3-0 in the South Sound Conference, while Gig Harbor fell to 3-2 overall and 1-2 in the SSC. The win for the Blazers ended a 2-game losing skid to the Tides, and delivered a tough blow to a Tides team that will try to regroup against River Ridge, and Timberline takes on North Thurston to try to stay unblemished in conference play.
Video Highlights
Timberline takes the lead on a Punt Return
Gig Harbor ties it up with 32 seconds to play
In OT the Tides need this 2 point conversion to push it to a 2nd OT
www.elisportsnetwork.com