10/25/2022
The SPSL 4A Football league looks like a car wreck with one vehicle slightly damaged that can be driven away and then a 4 car pile-up right behind them. Sumner put themselves in great position to clinch the tough SPSL by rolling over Bethel to improve to 7-1 and now are a win away from clinching the league Championship. The rest of the league is still a question with Graham-Kapowsin, Emerald Ridge and Puyallup all at 6-2, Curtis right behind at 5-3 and Bethel at 4-4. Puyallup and Curtis play each other as do G-K and Bethel. Sumner finishes with South Kitsap, Emerald Ridge plays Rogers and Olympia hosts Bellarmine Prep.
The top 6 will qualify for the crossovers with potential match-ups to be determined. Below are last week's scores, current standings, next week scores and our coverage of games we did with stories and video highlights.
Week 8 SPSL 4A Scores
Graham-Kapowsin 35, Emerald Ridge 25
Sumner 42, Bethel 0
Bellarmine Prep 13, Puyallup 12
Curtis 48, South Kitsap 6
Olympia 45, Rogers 15
Updated Standings

Week 9 Schedule
Thurs 10/27 Graham-Kapowsin at Bethel 7p
Fri 10/28 South Kitsap at Sumner 7p
Fri 10/28 Rogers at Emerald Ridge 7p
Fri 10/28 Bellarmine Prep at Olympia 7p
Sat 10/29 Puyallup at Curtis 7p
Week 8 Coverage
Graham-Kapowsin 35, Emerald Ridge 25
Coming into week 8, the Emerald Ridge Jaguars looked to be the team in the driver's seat of the SPSL 4A. With a stacked league however, anything was possible any given week. Enter the reigning 4A state champions in the Graham-Kapowsin Eagles. The reigning champs came in looking to send a message to the rest of the classification and they would do just that with a perfectly executed game plan that ended with the Eagles knocking off the 2nd ranked Jaguars 35-25.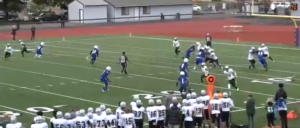 The game started off with both offenses having long, time consuming drives that would both end with touchdowns. Emerald Ridge stayed extremely balanced on their opening drive mixing not only run and pass, but also mixing who was running the ball between Logan Lisherness and Tayshaun Micks. It would end up being junior quarterback Jake Schakel finding the endzone on a two-yard score. An offsides moved the Jags closer and they would punch it in for two to go up 8-0.
Graham-Kapowsin would answer right back. The Eagles struggled to get the run game going due to great defense up the middle by the Emerald Ridge defense. A pass interference call kept the G-K drive moving and Daveon Superales used his legs for a 13-yard pickup to put the Eagles at the 11. Fullback Mikey Toa finished it off on the very next play with an 11-yard score to get the Eagles on the scoreboard trailing 8-7.
Emerald Ridge started the second quarter with the ball and they once again had a solid drive going. That would be when the first big swing of momentum would occur. A fumbled snap was recovered by Graham-Kapowsin to give the Eagles the ball at the Emerald Ridge 48. That drive would end on a play action pass where Superales saw absolutely nobody on the left side of the field and took it himself for a 14-yard score to put G-K up 14-8.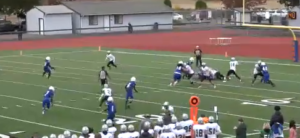 Defenses would hold on the next few series but a good punt by G-K would have the Jaguars backed up to their own 15 and a penalty moved them back to the 10. It would not matter. Jake Schakel would have a golden opportunity as Tony Harste was wide open deep downfield and Schakel would find him and Harste would win a foot race for a 90-yard touchdown to light up the Emerald Ridge crowd. A 29-yard field goal just before halftime by Brady Peterson had Emerald Ridge up 18-14 at the break.
It would be Eagle football to start the 3rd quarter and they would quickly retake the lead. On the opening drive of the half, Daveon Superales and Jabez Woods were completely in sync as they marched down the field through the air. Superales would finish things off himself with an eleven-yard touchdown run for his second of the game to put G-K back in front 21-18.
The Eagle defense forced a punt on the next drive and the offense was back to work. The offensive line of G-K was outstanding the entire game giving their quarterback all sorts of time to work and read what the defense was showing him. It paid off when Superales found Khristian Norris for a 44-yard gain to set them up a the three-yard line. Mikey Toa once again showed how important fullbacks can be as he pounded in a three-yard score for his second of the game to extend the Graham-Kapowsin lead to 28-18.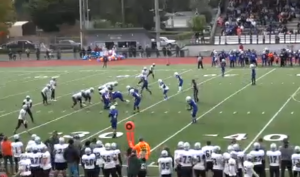 With the game in the 4th quarter, Emerald Ridge really needed a score on the next drive. It would end up being the G-K defense getting the score as Caden Smith jumped a route and picked off a pass taking it all the way back for a 37-yard pick six to extend the lead to 35-18. Emerald Ridge would find the endzone one more time on a Logan Lisherness three-yard score, but Mikey Toa and the Eagles killed the rest of the clock to earn the 35-25 upset win over Emerald Ridge.
Our MVP of the game was Daveon Superales who played mistake free football for Graham-Kapowsin. With a big assist to his offensive line, the junior went 12-16 for 142 yards through the air and added five carries for 53 yards and two touchdowns. Superales never tried to be the hero or force any throws which is exactly what coach Jeff Logan loves to see from his junior QB.
Mikey Toa led the Eagles rushing attack with eight carries for 57 yards and a touchdown. Jalen Davenport added 15 carries for 33 yards and Demitrius Taape had five carries for 15 yards. Jabez Woods led the Eagles receivers with nine catches for 79 yards while Khristian Norris and Spencer Bonter each had two catches for 48 and 25 yards respectively.
For Emerald Ridge, Logan Lisherness was outstanding on offense and defense as he slowed down Superales run game acting as a QB spy throughout the game. On the ground, Lisherness had 13 carries for 75 yards and a touchdown while adding a 19-yard reception. Tayshaun Micks had six carries for 23 yards and an 11-yard reception. Jake Schakel went 13-26 passing for 220 yards and a touchdown while rushing for another score. Tony Harste was his go-to receiver as Harste had six catches for 152 yards and a touchdown. Kajon Babcock added two catches for 28 yards and Gio Kafentzis had three catches for ten yards.
Video Highlights
G-K 14 Yard QB scramble
Bombs away for Emerald Ridge a 90-yard strike
G-K defense rises with huge play
Sumner 42, Bethel 0
(Sumner, WA) – The night could not have gone any better for the Sumner Spartans on Saturday as not only did the Spartans win their 5th straight game on Senior Night in a 42-0 shutout of the Bethel Bison.
Sumner knew they had to take care of business at Sunset Stadium, and they started fast, forcing a taking advantage of a bad snap that hurt Bethel, and Sumner scored quickly with hurry up offense lead by a 25-yard run by Matthew Spurbeck, a shovel pass from Kayden Bodine to Dylan Coffey for 10-yards capped off by a 15-yard TD run by Spurbeck.
On the next Spartans drive Bodine found receivers Kaden Malesis and Kade Jindra on big pass plays to set up another Spurbeck TD run from 9 yards made it 14-0.
Early in the 2nd quarter, Bethel got their first stop on 3rd down but a fake punt by Spartans caught Bethel off guard as Diego Collie found Malesis on a pass to get the first down. 3 plays later, Collie hooked up with Jindra on a TD pass for 10 yards to get the lead to 21-0 early in the 2nd quarter.
Bethel responded on their next drive as they got their first big play of the game, a Nathaniel Negron Harrison pass to Zaydrius Rainey-Sale for over 40 yards to give the Bison a 1st and goal.  Sumner defense stiffened though and got a turnover on downs on 4th goal to keep the score 21-0 at the half.
The 2nd half was all Spartans as Diego Collie ran for a 16-yard TD to push the lead to 28-0 and effectively put the game out of reach early in the 3rd quarter. Kayde Bodine added another TD pass to Malesis, and Bodine found the endzone again on a quarterback sneak to make the final 42-0.
Bethel is a run heavy team, but after trailing big they aired it out in the 2nd half and threw 3 interceptions, two by Sumner cornerback Brayden Adcox and 1 by Garrett Farmer. They were also hurt by the loss of two-way starter on the offensive line and defensive line Kaden Robness, a University of Idaho commit.
There were many players worthy of the ESN Player of the Game for the Spartans, but the broadcast crew gave it to running back Matthew Spurbeck who continues to tear up opposing defenses, as he piled up 100 yards rushing and two touchdowns in just the first half alone.
The win for Sumner was their 5th consecutive to improve their record to 7-1. Sumner wraps up the regular season on Friday at home against 1-7 South Kitsap. Bethel lost their 3rd straight game to drop to 4-4, and hosts 6-2 Graham-Kapowsin on Thursday.
Video Highlights
Sumner scores 1st
Spartans extend their lead
www.elisportsnetwork.com