10/26/2022
The Metro League divided into two divisions with and upper level and lower level. The top 3 teams in the Metro Mountain division get byes this week and advance to the 32 team crossover bracket awaiting their seed from the match-up committee. The other 5 teams will get a chance to play to get into the crossover round and a chance to get into State.
Eastside Catholic is the Metro Mountain Champs, O'Dea was 2nd followed by Rainier Beach. Garfield will host the lone team coming out of the Metro Sound division with a chance at State and as of this writing there was a 3-way tie between Franklin, Ingraham and Lincoln (Sea). The team who emerges from that 3-way tie will play Garfield for a chance to get in the crossovers. Meantime, Roosevelt takes on Seattle Prep and Ballard faces Bishop Blanchet all in loser out, winner to the crossover round.
Below are last week's results, standings, this week's schedule and our coverage of Eastside Catholic's clinching of the League title over Rainier Beach with video highlights.
Last Week's Scores:
Eastside Catholic 41, Rainier Beach 21
O'Dea 33, Garfield 6
Bishop Blanchet 33, Ballard 28
Seattle Prep 2, Roosevelt 0 (forfeit)
Metro (Mountain)
Metro (Sound)
This Week's Schedule:
Thursday, Oct 27 Chief Sealth vs Nathan Hale
Thursday, Oct 27 Lakeside (Sea) vs Cleveland
Friday, Oct 28 Roosevelt vs Seattle Prep
Friday, Oct 28 Ballard vs Bishop Blanchet
Eastside Catholic 41, Rainier Beach 21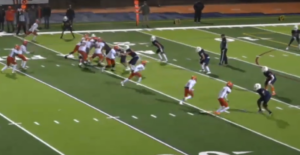 The Eastside Catholic Crusaders and Rainier Beach Vikings faced off with the Metro Mountain league title on the line. E-C and the Vikings took a little bit to get going but the Crusaders hit the board first and never trailed. Rainier Beach was able to stay close with 1 great drive and then opportunistic defense and special teams. E-C really didn't put the game away until the 4th quarter.
For a full re-cap with scoring plays and individual stats are all in our extended Post Game show you can listen to on the link below. 
ESN Post Game Show with full re-cap and stats
Video Highlights
E-C opens the scoring
Rainier Beach gets back in the game
Crusaders with a huge special teams play
www.elisportsnetwork.com