12/30/2022
Tumwater's Head Football coach Bill Beattie announced his retirement earlier this month and could open the door for all the longtime assistants to decide it is time to turn the program over. Beattie took charge 6 years ago for legendary coach Sid Otton who remains the winningest coach in Washington state history. Beattie played for Coach Otton back in the 70's and was an all-state defensive tackle before going on to be a multiple year starting offensive tackle at Central Washington University.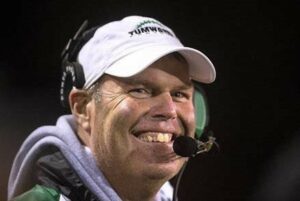 Beattie gave the pro's a shot with a work-out for the Philadelphia Stars of the original USFL back in the early 80's and made it late in the try-out process but ultimately did not get signed. So Beattie came back home to begin his career as a teacher and football coach. Now after 35 years as a head coach with stops in Elma, Olympia and finishing at his alma mater Tumwater he has decided it's time to step away.
During his 6 years at the helm he held the tradition that was entrenched under Otton. He won his only State Championship as Head Coach of the T-Birds in 2019 when they defeated Steilacoom.
This also could end most if not all of the direct connections from the Otton era if the other longtime assistants decide it is also their time to step away. The process of longtime assistants stepping away began with 2 retiring with Otton in 2016 in Pat Alexander and Steve Shoun. Then longtime offensive coordinator Jamie Weeks retired last year leaving Tim Otton, Rob Hinkle, Rick McGrath and Tony Prentice as the long time assistants still on the staff this season.
Tim Otton has stated clearly he has no desire to be the Head Coach and now he is dealing with a personal tragedy as his wife Sally Otton who suddenly passed away earlier this Fall after battling Parkinson's for many years. Otton's two sons are still playing football with Cade in Tampa Bay as a rookie tight end for the Buccaneers and his younger son Ryan in his first year at the University of Washington. With all that on his plate it would be no surprise if Tim decided it was a good time to focus on his kids.
Hinkle, McGrath and Prentice have all put in decades of work and dedication and it seems like the perfect exit ramp for all of them. The accomplishments of all these coaches have been part of will be in the record books forever. That being said none of them have given their formal notice they intend to stepdown.

This is not the only change coming to Tumwater. Athletic Director Tim Graham is set to retire at the end of the year. Graham has been a steadying force behind the scenes for Tumwater athletics for decades as well. Graham has been the co-director of District 4 for many years and has been extremely active in the WIAA and had been a huge help in putting on and organizing many of the WIAA state tournaments are just a few of Graham's extensive list of accomplishments.
We talked with Graham on replacing Beattie as head coach and he told us they will post the position for 30 days minimum as he formulates an interview team with the goal of the new Head Coach in place by the Spring so they can begin working with any current assistants wanting to stay on and hire on some of their own key assistants in time for Spring Football.
So, Tumwater is in store for many changes over the coming months but the EVCO 2A league that Tumwater plays in is also in for additional big changes. Black Hills long time Athletic Director Don Farler is retiring at the end of this year. WF West AD Jeff Johnson has not officially announced his retirement at the end of the year but when contacted he said he'd bet he'd be out camping next Fall and not scheduling games.
Last year former Olympia AD Tim Ahern had left the state but returned and took the Centralia AD job after Scott Chamberlain left to take the AD job in Shelton. Chamberlain was the AD at WF West before going to Centralia and Johnson took over for Chamberlain at WF West.
Potential further changes to the EVCO 2A could come with the next student count done by the WIAA. Both Tumwater and Shelton have been close to the 3A classification, in fact Shelton dropped down from 3A in the last count. If one or both end up over the limit in 2A they would likely seek to become part of the 3A South Sound Conference which has all 3 North Thurston schools, Capital, Peninsula, Gig Harbor, Central Kitsap and Yelm. The other likely move would be south to the Greater St Helens 3A league.
No doubt there is change coming to the EVCO 2A over the next few months and even more change could be in the offing over the next couple of years. Once guaranteeing the only thing you can count on is change.
Photo Gallery
www.elisportsnetwork.com