1/11/2023
Eatonville 70, Tenino 63
(Tenino, WA) The Eatonville Cruisers and Tenino Beavers met for the 1st time this year in a big early EVCO 1A showdown. The Cruisers came in 1-0 in league play tied with Elma also 1-0 while the Beavers already got 3 league games in the books and were sitting at 2-1.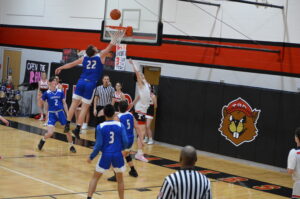 The Cruisers were set to again rely on their big guys and in Shay Brannon and Kyle Cox and guard Walker Bruun. The Beavers with a tight rotation needed big efforts from Noah Schow and Austin Gonia. In the end all 5 came through with monster games.
They two teams battled back and forth early in the 1st quarter but the Cruisers edged away for a 7 point, 19-12 advantage. Brannon was cleaning the boards and had 5 offensive rebounds in the first 8 minutes. He also led scoring 6. The Beavers had a split scoring between Schow and Gonia each with 5.
Cox and Brannon continued to dominate the paint with a combined 15 rebounds while Bruun had sticky fingers with 3 steals. Brannon led with a halftime double-double of 11 points and 10 boards. Bruun had 7 and Cox 6. Bruun also scored as time expired on a sweet put-back to give the Cruisers an 8 point halftime lead.
Tenino hung in with again big scoring efforts from Schow with 15 at the break and Gonia with 9. Brody Noonan had the other 2 points. Gonia had 6 boards by the break.
Tenino came out firing in the 3rd and cut the lead in half but the Cruisers bounced right back with a big quarter from Griffen Clevinger with 7 of his 13 points. Eatonville led by 14 after 3, 53-39.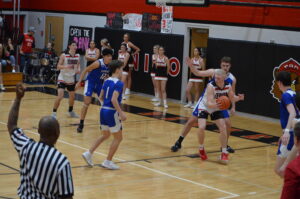 This was the tipping point of the game and as the 4th quarter began the Beavers refused to let it tip the wrong way and closed the gap down to just a 2 point game with about 4 minutes to play. Schow heated up hitting a pair of 3's and driving the lane consistently scoring and hitting 5 for 5 from the free throw line. Gonia also had a huge 2nd half with a double-double of his own with 22 points and 13 rebounds.
But at the 2:12 mark left in the game and the Cruisers pushing their lead back to 5 Schow fouled out. He finished with 33 points, 8 rebounds and 3 assists. This left the Beavers in a big offensive hole. The Cruisers took advantage and were able to hold Tenino at the arms-length to secure the 7 point win.
Our Thorbeckes MVP went to Shay Brannon of Eatonville who finished with 23 points, 17 rebounds, 2 steals, 2 blocks and 2 assists and had both 3-point and 2-point field goals and went 7 for 10 from the line.
Eatonville is now 2-0 in league play and 6-5 overall under new Head Coach TJ Cotterill. Tenino drops to 2-2 in league and 8-5 overall under their new Head Coach Ryan Robertson. The Cruisers will host Hoquiam on Friday and Tenino is at home again on Friday against Elma.
To watch the full game you can do so with a subscription to the NFHS. All our games are saved in the on-demand page on the NFHS Network website. Click here for a direct link to last night's replay, if you need to you can also subscribe at this link.
Scoring
Eatonville: Brannon 23, Bruun 14, Clevenger 13, Cox 12, Klumpar 6, Nueva 2
Tenino: Schow 33, Gonia 22, Noonan 4, P Snider 2, Feltus 2
Video Highlights
Photo Gallery
www.elisportsnetwork.com