2/1/2023
Gig Harbor 73, North Thurston 58
(Gig Harbor, WA)
The Gig Harbor Tides came into Tuesday night's South Sound Conference matchup with North Thurston tied in the SSC standings with identical records at 10-2, but it was a career night for Tides Senior Will Landram as guard had a career-high 34 points to give GH their 2nd straight victory.
North Thurston gave Gig Harbor issues throughout the contest as the Rams finished off the first quarter on a run to lead 16-15. Gig Harbor dominated the 2nd quarter by using turning their defense into offense and building a big lead before North Thurston again used a mini run to end the half to get within 11, 37-26.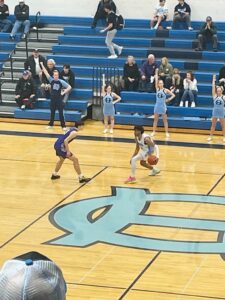 The Tides continued to extend the lead in the third quarter as the brought it to 58-41 entering the fourth quarter. The Rams kept going on little spurts to get within 13 points, but Gig Harbor always had an answer as Gig Harbor took the victory by 15 points 73-58. Landram was unstoppable offensively getting to the basket while also hitting outside shots, Kevaughn Harvey had 17 points while Luke Brown had 11.  The Tides also shot the ball well from the free throw line going 28-34. North Thurston was led in scoring by Jackson Luske with 18, Ray Adams with 9 and Ahren Bee-Richards with 8. Julian Lee came off the bench in the 4th quarter with a flurry of 7 points for the Rams.
Gig Harbor improved to 11-2 in the SSC and 18-2 overall while North Thurston dropped to 10-3 in SSC and 14-6 overall. Tides finish the Regular season at home against rival Peninsula while the rams host Timberline with both games on Friday