(10/5/2023)
The Tumwater T-Birds came into Centralia Tiger Stadium with a 9-0-1  overall record and coming off of a 0-0 tie with 4A Union. Centralia came in 6-3 overall but off a 3-1 loss to Aberdeen but still sitting in 2nd in EVCO 2A play.
Centralia Coach Luis Magana came in with the plan of make it hard for the high powered T-Bird offense to score. That plan hit a big speed bump when junior defensive captain Rexy Mejia went down with an injury just a few minutes into the game. The Tigers defense was stout until the 23rd minute when Kayla Pope hit a rocket from distance to give Tumwater the lead. Centralia rallied and it looked like they would take that score into halftime but and unfortunate handball in the box would result in Emalyn Shaffer hitting the penalty kick and giving the T-Birds a 2-0 halftime lead.
In the 2nd half the T-Birds somehow managed to up the tempo and came out firing from the start of the half. Ava Jones would add two goals in the 2nd half in the 58th and 65th both set up by crosses from the Tumwater wings. The T-Birds would end up taking 10 corners in the match.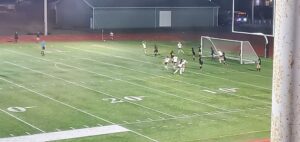 Kayla Pope would bookend the game with goals hitting an absolutely perfect freekick in stoppage time to give Tumwater their second 5-0 win over Centralia this season. 
Kayla Pope was named our Thorbecke's Game MVP and Centralia's Bella Gomez had our Takin' it to the House Play of the Game. Tumwater is now 7-0 in league play and 10-0-1 overall they will host the Black Hills Wolves at TDS on October 10th. Centralia is now 4-3 in league and 6-4 overall they travel to Rochester on October 10th.

To watch the full replay on the NFHS (subscription) network click on this link: Tumwater at Centralia 10/5/2023
Alderson's Awards West Post Game Show
Tumwater's Kayla Pope with the Perfect Freekick
Takin it to the House Play of the Game
Photo Gallery
elisportsnetwork.com