7/12/2022
(Auburn, WA) The 2-year-olds had their first taste of Stakes races on Sunday and the 2 winners had two things in common, first they were both exceptionally quick and both had the all-time leading jockey at Emerald Downs, Juan Gutierrez aboard.
The Angie C for fillies were up first in the 6th of 10 races on Sunday and the King County Express went as the 8th race. Both races are up first followed by race re-caps of the other 8.
Look for another follow-up story on news and notes from last week later this week.
The Angie C Stakes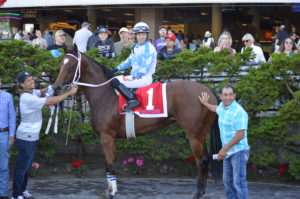 The $60,000 Angie C Stakes is named after Emerald Downs founder Ron Crockett's beloved mother. Serving as the honorary steward was Angie's granddaughter, Carrie Slavin.
The 5 1/2 furlong sprint had 6 break from the gate but it was 7-5 2nd favorite Miss Dynamic with Juan Gutierrez who grabbed the early lead and quickly extended it to a full length. Miss Dynamic set fractions of 21.46 for the quarter and a blazing 44.53 for the half.
6-5 favorite Aloha Breeze with Eddie Martinez was right behind from the start but as they hit the top of the stretch Miss Dynamic held a 3 length lead and had plenty left extending to a 5 1/2 length win stopping the clock at 1:03.89.
Aloha Breeze could not keep up and began to tire late but held off a closing Stickinittotheman with Kevin Orozco by a half length for 3rd. Shelby Gold with Jose Zunino finished 4th.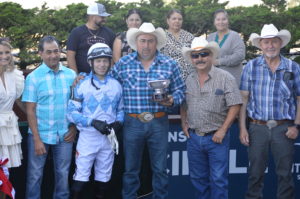 Miss Dynamic is a Washington bred by Dynamic out of Miss Salome by Harbor the Gold was bred by Antonio Mendoza and owned by Mendoza. Rigoberto "Jesse" Velasquez trains Miss Dynamic. Velasquez has been training at Emerald Downs full time since 2002 and this was his 1st Stakes win of his career at Emerald Downs.
Velasquez came the closest in 2014 with a 2nd place finish in the Muckleshoot Tribal Classic with Dare Me Devil. Coincidently, Dare Me Devil lost to Mike Man's Gold who actually ran in Sunday's finale for his 1st start of his 12-year-old year.
Miss Dynamic is now 2 for 2 winning her maiden by 10 lengths on July 2nd. Miss Dynamic picks up a $33,000 check and now has career earnings of $47, 975.
Joe Withee talks to the winning connections of Miss Dynamic
The King County Express Stakes
8 colts and geldings went postward in the 5 1/2 furlong $50,000 King County Express Stakes. Longtime King County Council member Pete Von Reichbauer was the honorary steward.
There were 3 1st time starters in this race including #1 Runnin Out of Days from the Blaine Wright barn but still attracted the betting public as the 2nd favorite at 2-1. Juan Gutierrez was up and it was extremely important to get a quick start and that's exactly what he did.
Barreling out to a length lead over Gold Rush Junior with Kevin Radke and was followed by the 7-5 betting favorite Deshambeau with Kevin Orozco. Runnin Out of Days set fractions of 21.62 and 45-flat but picked it up even more building a 4 length lead over Deshambeau while Gold Rush Junior began to give way.
Gutierrez let out the reins and Runnin Out of Days exploded down the stretch to win by a blistering 10 1/4 lengths. Deshambeau was clearly 2nd best while It's Turbo with Leslie Mawing closed well to be 3rd by a neck over Gold Rush Junior.
Runnin Out of Days ran the 5 1/2 in 1:03.32 and is owned by Blaine Wright. Wright was ready to be sole owner when  2 of his friends convinced him to let them in so it's Wright along with Abel Pulver and Shawn Sudo.
Runnin Out of Days is a Washington bred by Abraaj out of Annie Over by Atta Boy Roy and was bred by Tom and Becky Birklid. Runnin Out of Days snapped his maiden in his 1st race and 1st Stakes race and collected $27,500.
Runnin Out of Days blows them away in the King County Express
The Winner's Circle Festivities with Joe Withee
Race Re-Cap
Sunday began with a nice price as 7-1 Lonsdaleite with Kevin Orozco came from just off the pace to overcome odds-on choice Mia Casa with Kevin Radke for a 3/4 lengths win. 3-1 Coastin In with Jose Zunino ran 3rd and Talkingnonstop with Alex Cruz completed the superfecta. Lonsdaleite is owned  by Bean Acres and trained by Robert Bean and she ran the 6-furlongs in 1:12.64.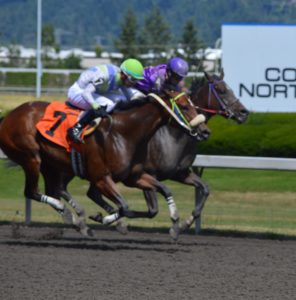 2-1 2nd choice Let It Reign with Cruz up battled with favorite Margarita Mist with Eddie Martinez and surged at the right time to win by a neck. Luvahappyending took 3rd with Juan Gutierrez and She Said My Way rolled in 4th with Leslie Mawing. The $1 Daily Double paid a solid $30.10.
7 went to the gates in race 3 with one of them owned by the Emerald Racing Club. Onefineday with Zunino took the early lead out of the gates and led by a 1/2 length turning into the stretch when she drifted out into the path of Simply Perfect with Radke up. Onefineday would finish 3rd but then get DQ'd and placed 5th behind Simply Perfect. Meantime, Cautious Sensation with Cruz took advantage of the rail opening up and zoomed through to win by a neck over Gold Supply with Gutierrez who also took off up the rail to just miss. 12-1 Beau Rocks with Mawing finished 4th and then was pushed up to 3rd after the DQ. Terra Firma Farm owns Curious Sensation and is trained by Joe Toye.
This past week was certainly favoring front speed but one rider figured out how to come from well off the pace and Javier Matias did a total of 4 times and twice more on Sunday. Matias and Lady O'Prado broke last and was 7-8 lengths off the pace. Matias had drawn within 3 lengths turning for home and then found a gap on the rail and blew by the field to win by 2 3/4 at 10-1. Brilliant Bird and Mawing got up for 2nd, 6-5 favorite Collecting Stars with Gutierrez was 3rd and completing the super Judicial and Cruz. Lady O'Prado ran the 6-furlongs in 1:09.47 and is owned by leading owner John Parker and trained by Candi Cryderman. Lady O'Prada paid $34.40 on the $2 combo ticket and the 1st pick 4 paid a handsome $835.45.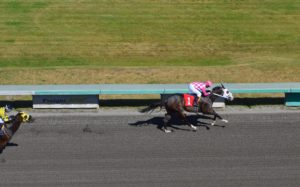 After the 3rd race Emerald Downs honored trainer Frank Lucarelli for winning his 2,000th career win earlier in the day at Lonestar Park. He in fact won 2 and was sitting at 2001 wins when his 1st of 6 horses ran at Emerald Downs. Had he come up short in Texas, Ms Parkside with Leslie Mawing would have made sure he got to 2,000 with a dominate wire-to-wire win. The public knew it too making her the 1-2 odds on choice. Big Fashion with Cruz took 2nd, Smiling Salsa and Zunino 3rd and Lafonda with Orozco finished 4th. 
Mike Hill owns Ms Parkside and she is a Washington bred by Sixthirteen out of Caliente Gold by Harbor the Gold and bred by Bar C Racing Stable.
John Parker and Candi Cryderman got their 2nd win of the night when La Waun won by 1 1/2 lengths. Gutierrez was aboard and never far behind took over the lead at the top of the stretch and won b y 1 1/2. Makah Lane rallied late to get 2nd with Cruz, Radke on Mahi Mahi took 3rd and 4th place went to early speed Dutton and Jennifer Whitaker. Parker picked up his 3rd win of the week to extend his lead in the owner standings and Cryderman remains in the mix at the top of the trainer standings tied for 2nd with Lucarelli at 13 and both trailing Blaine Wright and Jorge Rosales each with 15.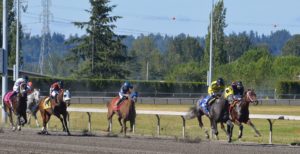 There were 2 9-5 shots in the 9th and Slew's Tiz Whiz with Zunino aboard timed it perfectly coming from last in the 6-furlong race got the momentum rolling and burst past the front runners to pull away for an easy 2 1/2 length win. Fantastic Day with Alex Anaya ran a great race but could not overcome the winner. Take Charge Deputy with Cruz faded to 3rd and El Alto Hombre with Radke faded to 4th. Slew's Tiz Whiz is owned by K D Thoroughbreds and trained by Tom Wenzel. Slew is a Washington bred by Slew's Tiznow out of Ros's Girl by Roseberg.
The 10th race of the long day was filled with fireworks. Nicole Disdier picked up a ride on 22-1 Rousing Rubble when Eddie Martinez needed to take off. Disdier had ridden regularly 2016-18 but from 2019-2021 she had only ridden 10 total races. This year she is more active and this was her 12th ride. Her last win was in April of 2018.
When the gates opened Disdier and Rousing Rubble went straight to the lead by a head and that's how they would finish. They led every step of the way by a head and then held off a bold close from Brony Boy with Matias. Orcadian Storm got up for 3rd, Blood Red Moon with Gutierrez was 4th and Keep On Danzing with Edgar Velasco took 5th to complete the Super Hi-5.
Julio Garcia-Ruiz and Elodio Madrigal own Rousing Rubble and Madrigal trains. The tote board exploded with pay-offs as Rousing Rubble paid $46.80, $20.40 and $6.20 across the board. The $1 exacta paid $136.50, 50-cent tri $214.15, the 10-cent super $137.78, the 50-cent pick 4 $2,078.95, the 20-cent Jackpot Pick 6 $2,531.24 with a carry-over of $7,803, the 50-cent Super Hi-5 $4,217.10 and a new 50-cent pick 5 high pay-out of $9,124.10.

Claims
3rd Race
Simply Perfect was claimed for $2,500 by Lusk Racing and new trainer Vince Gibson.
4th Race
Brilliant Bird was tagged for $12,500 by Rancho Viejo and Juan Martinez for trainer Rigoberto Velasquez.
Collecting Stars was taken for $10,000 by Hillary Durham and Tsujikawa Racing LLC for trainer Jorge Rosales.
7th Race
Makah Lane was claimed for $15,000 by Friendship Stable, Q Stable and Craig Frederickson for trainer Bonnie Jenne.
10th Race
Blood Red Moon was claimed for $3,500 by Dawn Spillman and goes to trainer Robbie Baze.
Brony Boy was taken for $3,500 for new owner James Carter and trainer Jill Soranno.
www.elisportsnetwork.com