Sumner 40, Puyallup 10
(Puyallup, WA) After being outscored in the 1st half 51-17 in the first halves of their 3 games this season, the #9 Sumner Spartans finally played 4 strong  quarters of football to dismantle previously unbeaten and then #3 Puyallup Vikings 40-10 inside Carl Sparks Stadium in Puyallup. In was an ominous start for the Vikings, as on the 2nd play from scrimmage Sophomore quarterback Kaden Rolfsness threw a deep pass down the field where star safety and receiver Jay Mentink intercepted the pass for Sumner at the Spartans 40. 4 plays later, Sumner quarterback Kayde Bodine took a deep shot himself to guess who, Mentink who got free and raced 44 yards to give the Spartans a 6-0 lead.
Puyallup answered on their next drive that lasted over 6 minutes, but the Sumner defense stiffened in the red zone and forced a 33-yard field goal from Luke Faccone that got the Vikings within 3 at 6-3.
The Spartans offense, which has sputtered all season early in games continued to cook, driving down the field to end the 1st quarter and finished it off with a Bodine 2-yard touchdown run to give Sumner a 13-3 lead with 9:18 remaining in the half.
Puyallup continued to match Sumner with their balanced offense, hitting short passes and building up runs capping off another long scoring drive with a Dylan Hite rushing score to once again get Puyallup within a field goal at 13-10 with  1:34 to play in the 2nd quarter.
That was the closest the Vikings would get however, as Senior Diego Collie came in at quarterback and delivered the ESN turning point of the game, a 40 yard pass to Kano Borden, followed by his touchdown pass to Kaden Malesis to push the lead to 19-10 at half.
Sumner got the ball to start the second half and took control of the game by adding to their lead, and with Bodine back at QB made a couple moves and scored a 16 yard rushing to make it 26-10 Sumner with 8:52 in the 3rd.
Sumner had a bend but not break defense all night, and a Matthew Spurbeck sack of Rolfsness at the Sumner 25 on 4th down was huge.
The Spartans made the big plays when they needed them all night, and Diego Collie made another big play on a 4th and 2 at midfield. Coming in for Bodine who was injured on the previous play, Collie threw a perfect ball on a slant to Dylan Coffee for a 50 yard TD, and basically was the nail in the coffin for Puyallup at 33-10 with 1:52 in the 3rd.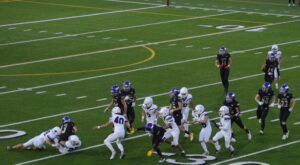 The Sumner Spartans defense came up with another 4th down stop and Bodine finished it off with another rushing score, to make it 40-10 with 32 seconds left in the 3rd and that would be the final tally.
The Sumner offensive line in this one lead by Senior all-league center Kyle Martin took over this game, as the Spartans ran for 243 yards, 131 of those by Matthew Spurbeck who had another outstanding game, his 4th straigh contest with over 100 yards rushing. Both Spartans quarterbacks were great  as Bodine had 3 rushing touchdowns and 1 long TD to Mentink, and Collie went 3-3 passing with 2 monster touchdown passes.
Sumner scored a season high 40 points but also held Puyallup to a season low 10 points, well below their 29.0 Points Per Game average. Sumner outgained Puyallup in total yards 438 to 235.
3 star recruit receiver Mal Durant did have a solid game with 92 yards on 9 catches for PHS, but Puyallup did not make enough explosive plays on Friday night to stay unbeaten.
The win for Sumner not only keeps their 4A SPSL title hopes alive, but it also creates a log jam at the top of the conference. Sumner, Puyallup, Emerald Ridge, Bethel and Graham Kapowsin are all tied at the top of the league with a 3-1 record. The loss for Puyallup hurts not only because it was a rivalry game, but also because a win would have given them the inside track on the SPSL title. Now, things are a lot more complicated. Puyallup has another rivalry game next week with winless Rogers, while Sumner faces 4A defending state champions Graham Kapowsin in the game of the week in the SPSL.
ESN Final Thoughts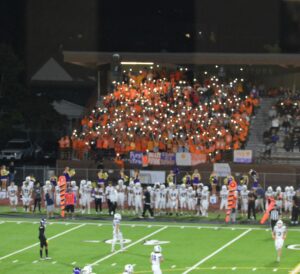 What a wild season it has been so far, with surprising results and impactful games each week, and the complexion of the league has changed more week to week than the Kardashian sisters change boyfriends. One week Puyallup is knocking off Graham Kapowsin, then Emerald Ridge, who lost to Puyallup beats Sumner who then beats Puyallup, yeah that is hard for us to keep track of too. Emerald Ridge still has to play Graham Kapowsin, and that will have heavy implications as well.
The great thing about the 4A SPSL Title race right now is that it is completely wide open, and we now know the champ out of the league will not be unbeaten. Sumner proved on Friday that when they play up to their potential and start fast, they are very elite That offensive line is NASTY.  Puyallup is still very talented and we expect them to bounce back next week against Rogers, but their final 4 games will be interesting with Olympia, Bethel, Bellarmine and Curtis, and with how they fared against Sumner, none of those games are cake walks for Puyallup.
You can watch the entire match on the NFHS Network on-demand. Subscriptions are $11.99 per month and gives you access to the entire NFHS Network all across the country to watch the live broadcasts or any on-demand games. Literally hundreds of thousands of hours of game content. Go to https://www.nfhsnetwork.com/affiliates/eli-sports-network to sign-up if you don't have a subscription or to find the on-demand replay of this game.
Video Highlights
Sumner Strikes First
Puyallup pulls within 3
Spartans add to their lead just before Halftime
Photo Gallery
www.elisportsnetwork.com